Return of the Mini: 2015 Topps Mini Baseball factory sets include parallels, 1975 bonus cards

By Ryan Cracknell | Hobby Editor
2015 Topps Mini Baseball hasn't been forgotten. It's returning as an online exclusive, only as a factory set instead of a more traditional pack-based product.
And unlike the just-released 2015 Topps Limited Baseball factory set, the minis include a couple of exclusive bonus cards.
Set to go on sale on Monday, November 16 on the Topps website, less than 1,000 sets are being made.
Each includes all 700 cards from 2015 Topps Baseball. They're printed on glossy 16 pt. card stock.
For a lot of collectors, though, it's going to be the extras that make or break the sale.
First up are 11 parallels, each numbered to 10 or less. They come in three varieties: Black (/10), Red (/5) and Gold (1/1).
There are also ten exclusive bonus cards done in the 1975 Topps Baseball design. All ten cards come with each set.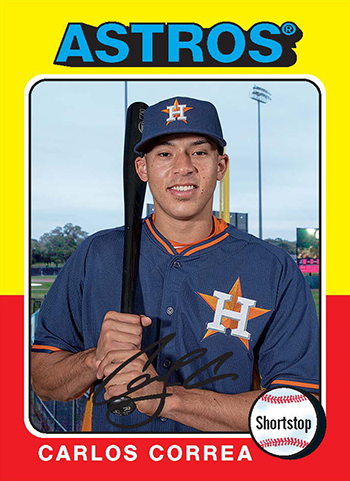 The cost of the 2015 Topps Mini Baseball set is $100.
2015 Topps Mini Baseball 1975 Bonus Card Checklist
Jake Arietta, Chicago Cubs
Kris Bryant, Chicago Cubs
Byron Buxton, Minnesota Twins
Carlos Correa, Houston Astros
Bryce Harper, Washington Nationals
Clayton Kershaw, Los Angeles Dodgers
Francisco Lindor, Cleveland Indians
Addison Russell, Chicago Cubs
Noah Syndergaard, New York Mets
Mike Trout, Los Angeles Angels