Low-condition classic comics become cut cards in new Upper Deck Marvel Beginnings set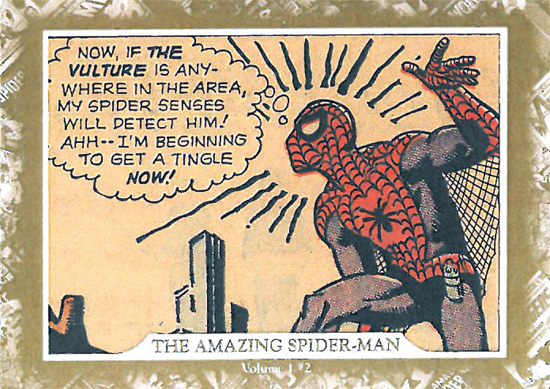 By Chris Olds | BSCM Editor
Take one single and expensive item … and cut it into many pieces to make cards.
Sports fans are probably used to this idea since many a piece of history has been cut up in the past, but one of the latest products from Upper Deck takes low-condition — yet still expensive — comic books and turns them into collectibles that can be owned by many instead of just one.
That means we can all potentially own a piece of issue No. 2 of The  Amazing Spider-Man — a book that would cost several thousand dollars in top condition —  or perhaps one of several other issues from that title … or perhaps issue No. 181 of Daredevil, which features the death of Elektra.
These Ultimate Panel Focus cards can be found in packs of 2011 Marvel Beginnings, which is in stores now. The cards have fetched as much as $80 a pop in online auctions and there are just 554 total cards made, each technically one-of-a-kind cards from particular cut comic books.
How do the comic book fans among us feel about that? Should be an interesting reaction — after all, many a sports collector still reacts harshly to the notion of rare memorabilia getting the chopping-block treatment before being placed into cards. Yet, at the same time, the allure of a cool card is obvious, too.
Before you make up your mind where you stand, though, watch this behind-the-scenes video from Upper Deck …
[youtube]http://www.youtube.com/watch?v=OhgzvLKA-ys&NR=1[/youtube]
Now that you have seen the comic's condition — and learned about the process — let us know what you think.
Chris Olds is the editor of Beckett Baseball. Have a comment, question or idea? Send an e-mail to him at colds@beckett.com. Follow him on Twitter by clicking here.