2011 Topps Update Mike Trout Diamond 1/1 Sells for Over $35,000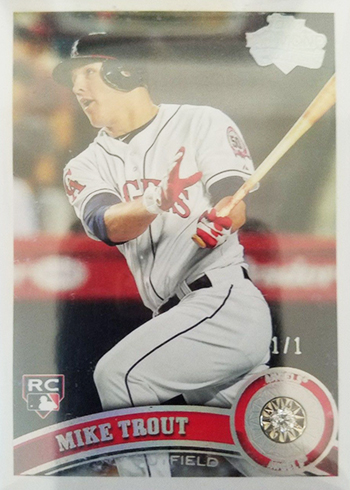 By Ryan Cracknell | Hobby Editor
It's not quite the 2009 Bowman Chrome Draft Superfractor Autograph, but one of the biggest Mike Trout cards has found its way to eBay. The 2011 Topps Update Diamond Anniversary Authentic Diamond Mike Trout carries a long name, but the card itself is one-of-a-kind.
And the price of the Rookie Card parallel reflects it. The final price was $35,200 with more than 100 total bids.
While the seller's suggestion that it is a $500,000 card may be a lot of sizzle, there's no doubt that it garnered lots of interest.
The card is graded an 8.5 by BGS.
The 2011 Topps Update Diamond Anniversary Authentic Diamond Mike Trout auction closed on Saturday, June 24.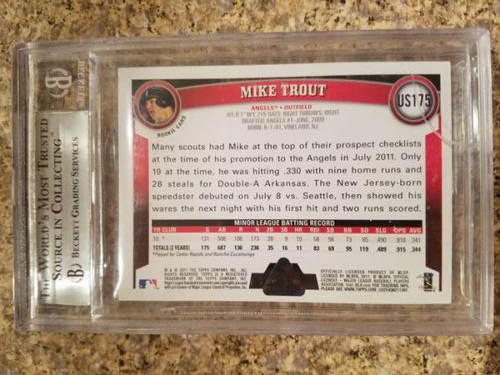 The 2011 Topps Authentic Diamond cards weren't actually inserted in packs. Rather, they were part of the Topps Diamond Giveaway code card program. In honor of their 60th anniversary in the baseball card market, in 2011, Topps included code cards in packs of Series 1, Series 2 and Update Series. These unlocked things like buybacks, exclusive inserts and these one-of-one parallels. Other prizes could also be won.
The card itself is very similar to the regular 2011 Topps Update Mike Trout, a card that has started to change how people look at modern Topps flagship Rookie Cards. In this day of high-end brands, many lower-end Rookie Cards are somewhat overlooked and carry moderate values. The 2011 Topps Update Mike Trout RC is one of the most popular cards of the last decade. And some other top-tier flagship Topps RCs like Clayton Kershaw and Kris Bryant are showing signs of following suit. Stephen Curry is another one for basketball.
The big difference between this card and the base version, other than the 1/1 serial number on the front, is that it has an actual diamond added to the front.
In the description, the seller says that they also have the 2011 Topps Update Platinum Mike Trout, another one-of-one parallel.
Comments? Questions? Contact Ryan Cracknell on Twitter @tradercracks.