USA Baseball is common thread with emerging stars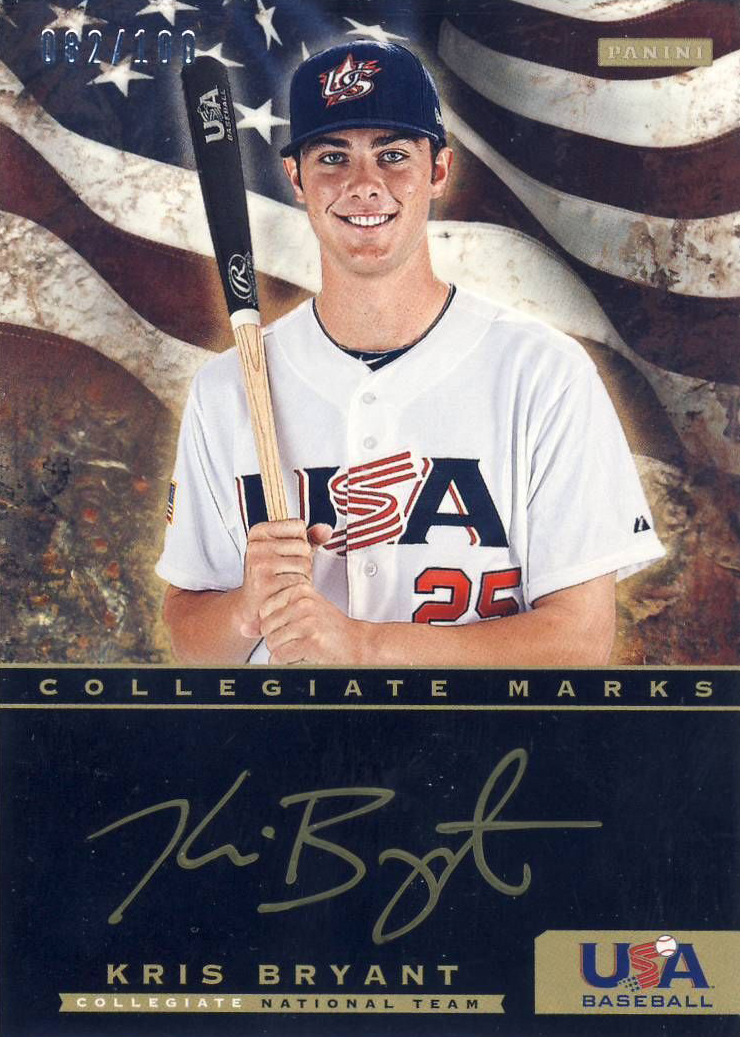 By Chris Olds | Beckett Baseball Editor | Commentary
Kris Bryant, Carlos Rodon and Addison Russell have a lot more in common than you might think.
Sure, they're all now MLB rookies in Chicago. They're all now under lock and key for another season before they can be free agents (thanks, Super Two rule!) and they're all guys who have been watched closely on cardboard for some time. But that about of time is longer than you might think. Why?
USA Baseball cards.
Each of these guys — and many, many more — appeared on USA Baseball cards in the past. They made their cardboard debuts well before they even had a professional team and professional fans to latch onto them because their team colors matched. They've literally had baseball cards for years — and yet I continue to wonder why these extra-early — and officially official — cards don't seem to resonate as well as others despite them being made by Upper Deck, Topps and Panini America in the last decade or so. (Panini is the present manufacturer.)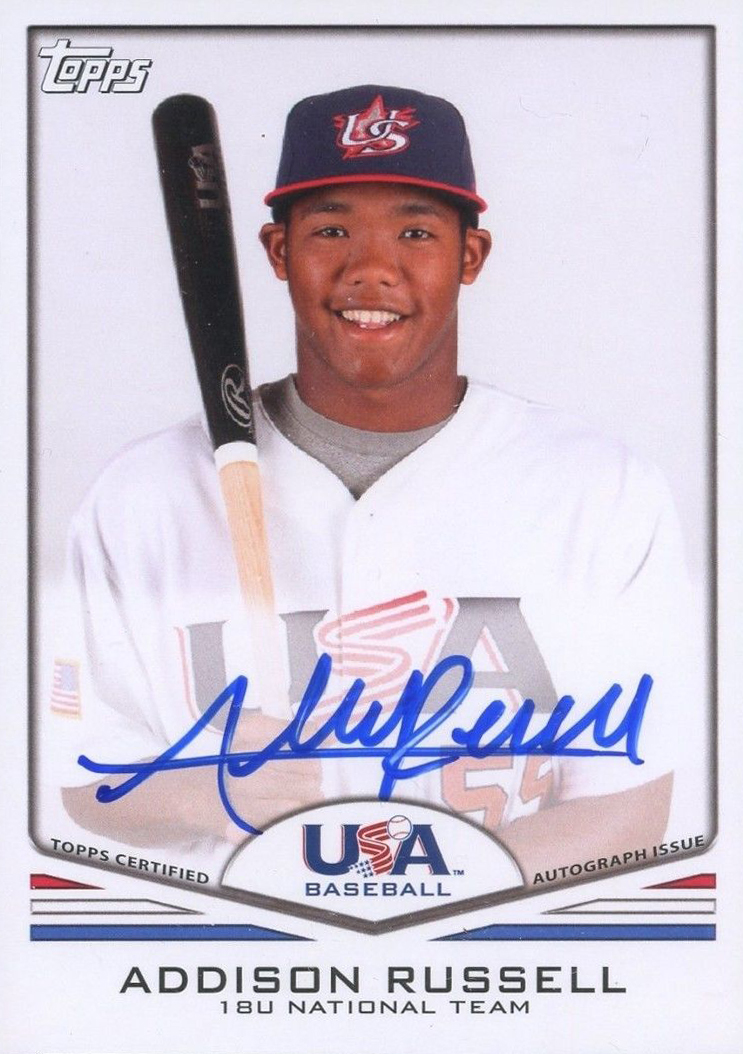 When Opening Day arrived for MLB this year, there were 164 former USA Baseball players on active rosters — none of these three were, so that shows you there are plenty more waiting in the wings. That stat also doesn't include MLB players on the disabled list — guys like my favorite, Nick Swisher, who also donned the Red, White and Blue more than a decade ago. (Click here for a USA Baseball alumni roster since 1984.)
USA Baseball cards have been present in some form in the mainstream since 1985 Topps, a year where upperclassmen Mark McGwire, Oddibe McDowell and Cory Snyder had cards found inside wax packs along with big-leaguers. We've since seen the USA presence evolve from showing an entire Collegiate National Team in Topps Traded sets or in random inserts to an annual showcase product where the year's Collegiate and its prep teams — players who have years to go before they might be drafted out of high school or college — found with their autographs as well.
They don't get paid for signing, of course, but their presence in these products — and in insert sets elsewhere —  can be a seriously affordable option for collectors who latch on early. After all, in baseball a guy can be drafted out of high school or a few times depending on whether he takes the junior college or traditional university route. Simply put, there's a much-longer shelf-life for the players found in these packs, though, admittedly, a decent number might not make the majors at all.
Russell could make his major league debut tonight in Pittsburgh, yet he made his cardboard debut back in 2011. Bryant made his debut on Friday, yet he made his in-product debut back in 2012. Rodon could make his debut tonight, meanwhile he's a 2012 guy, too.
So many big names have played for USA Baseball in the last decade and many have had their cardboard debuts — with autographs — there well before anywhere else. Clayton Kershaw, Bryce Harper, Stephen Strasburg, Gerrit Cole, Manny Machado, Matt Harvey, David Price, Freddie Freeman, Eric Hosmer, Brandon Finnegan, Max Scherzer … the list goes on and on depending on how deep you want to go.
There are presently more than 13,000 USA Baseball autographs listed in the Beckett database, and I'm sure you could field an MLB All-Star team with players on that list. It's a niche that should — and might at some point — become a prime focus for me as I struggle to keep up with all the newer stuff even for a player that doesn't have cards in every single product. (Nothing says one can't collect moving backward instead of buying everything new that arrives.) At some point, I may track down every yearly boxed set and start picking off key autos from that. (Insert cards of USA players in various products aren't as appealing to me — but there are plenty of options there.)
In a recent 20 Questions here on Beckett.com, I presented two USA-focused questions — and they reinforced my thoughts on how collectors view the cards of the Red, White and Blue. Many say they're not important — but they are — while a majority does still acknowledge that they're overlooked and under-appreciated.
—
Loading ...
—
Loading ...
—
Because of how USA Baseball signings are handled (all at once), you can find cards like team lineups that simply won't be done with big-leaguers because it would be too costly. Another advantage of companies signing a deal with USA Baseball? They're the ones who own the game-used equipment. A third cool thing? The players' autographs are signed before the barrage of demands for their ink that come with stardom — you can often actually read these guys' autographs. Or, at least it's not a super-shortened version that makes things go faster later.
In a collecting world that can be too complicated, I like the simplicity of what can be found in USA Baseball offerings — though there's plenty of creative and challenging USA sets to collect, too — simply because I can start with one basic set and explore and expand my collecting horizons from there.
You never know, I just might pull an autograph of a big name I already know without having to pay the big-name price.
Chris Olds is the editor of Beckett Baseball and Beckett Sports Card Monthly magazines. Have a comment, question or idea? Send an email to him at colds@beckett.com. Follow him on Twitter by clicking here.