First Look: 2015-16 Upper Deck Team Canada Juniors
One of the biggest hits of the 2014-15 season was Upper Deck's debuting Team Canada Juniors product which focused on some of the best young players in the game and delivered plenty of value to collectors with a strong mix of autographs and memorabilia. The release truly began to heat up during the 2015 IIHF World Junior Championship as Canada returned to glory with a long-awaited gold medal victory and several members of the squad became hot commodities within the hobby.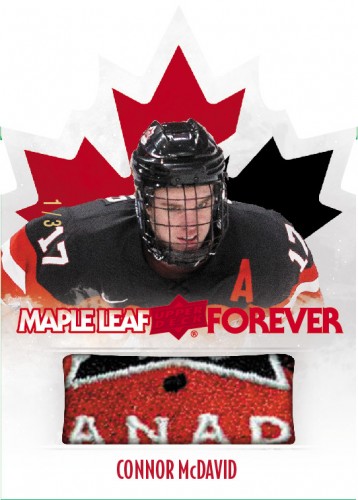 Due to that success, it was only natural that the set return for another season and Upper Deck appears to be adding some more concepts to the mix to ensure that it maintains its status as a collector favorite. Boasting a strong lineup of future stars like Connor McDavid, Sam Reinhart, and Max Domi, 2015-16 Upper Deck Team Canada Juniors has the potential to be an early-season smash. Those cracking boxes will get a combination of six autograph, memorabilia or printing plate hits and one of them is a patch card numbered to 199 or less.
What else can collectors expect to find in boxes? Find out after the jump.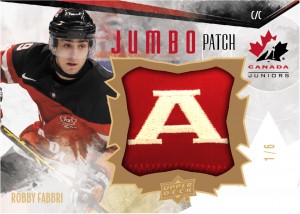 Each box of 2015-16 Upper Deck Team Canada Juniors should yield plenty of base cards from the brightest prospects and members of the National Women's Team and there will be several different parallels ranging from the common Gold (four or more per box) to numbered versions like Exclusives (#'d to 199), High Gloss (#'d to 25) and Printing Plates (one-of-ones) that cumulatively appear two to three times in a box.
While specific details regarding the Hydro inserts (four or more per box plus a limited Red parallel) were not available at this time, there is an ample amount of information on the memorabilia program. The most common pulls come from four different sets and include Canada Men's Jerseys (1:20), Canada Women's Jerseys (1:30), True North (1:24), and Local Legends (1:36). There are three Game-Worn Jersey cards inside each box.
Upper Deck appears to be loading up this release with a ton of premium hits as well. In addition to the patch card mentioned above, collectors can look for two more autograph or relic cards which could include Base Set Black Auto Parallels (#'d to 5), Dual Autos (#'d to 10 or less), National Nameplates, Tag Relics (#'d to 5 or less), Commemorative Patches, Jumbo Patches (#'d to 6), and the intriguing die-cut Maple Leaf Forever cards which can be found with pieces of a jersey or an autograph. There are even more Game-Used Jersey cards that come in Duo, Trio, Quad or even Jumbo variations and the company has also teased that there are six Retro cards per case.