The Five Holy Grail BGS Cards
Sports card collectors always want to find out which cards are the most sough- after or most valuable. When sports card grading was first introduced in the mid 1990s it would have been hard to predict the major impact it would have on card values. Getting a card graded by BGS not only ensures it's authenticity but adds a huge premium to the potential value of the card depending on the grade you receive. The BGS Population Report is a good tool to use to see which cards are both the rarest and to see how many total have been submitted. BGS has graded over 10 million total cards and the following cards are considered the Holy Grail of BGS Graded Cards.
#1 2009 Bowman Chrome Draft Autograph Mike Trout Superfractors BGS 9/10 1/1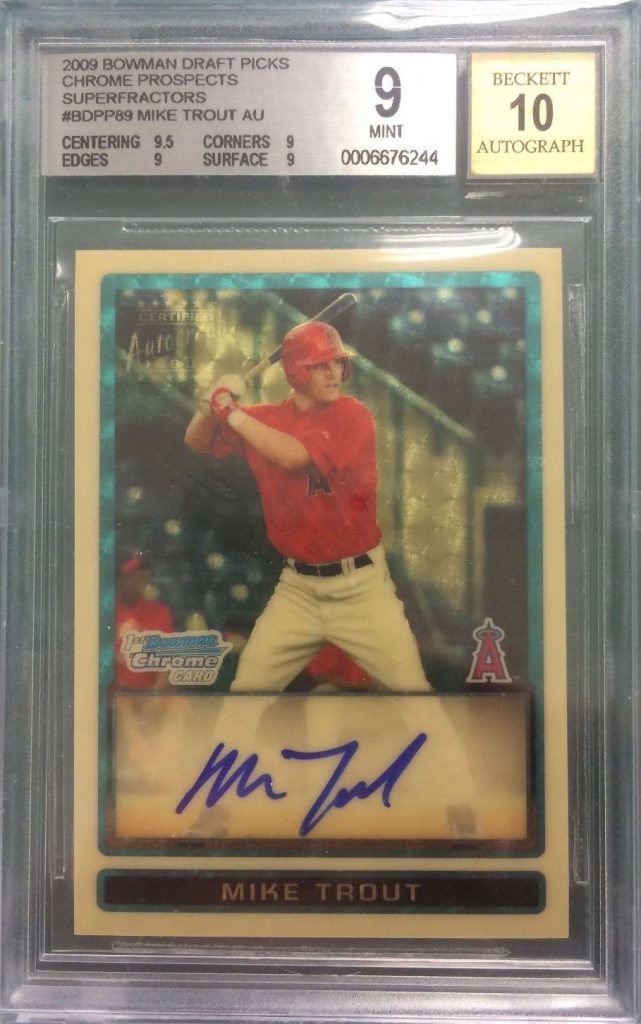 Mike Trout is the best player in baseball and has had a historic first seven years in the big leagues. Trout already has over 230 career home runs and is just 26-years-old. Many baseball historians believe Trout will go down as one of the best of all-time. This past May, Trout's 2009 Bowman Chrome Draft Autograph Superfractors sold on eBay for $450,000 in a BGS 9 with a 10 Autograph. The card ranks as the highest Bowman Chrome card sale ever. Trouts Orange /25 and Gold Version /50 Chrome versions in BGS 9.5/10 also did $100k+ recently according to eBay sales, which both are record highs. The Superfractor 1/1 card of Trout could go down as one of the most expensive cards ever in the Hobby someday and could even reach upwards of a couple of million dollars.
#2 2003-04 Exquisite Collection LeBron James Autographed Rookie Patch Parallel BGS 9.5/10 /23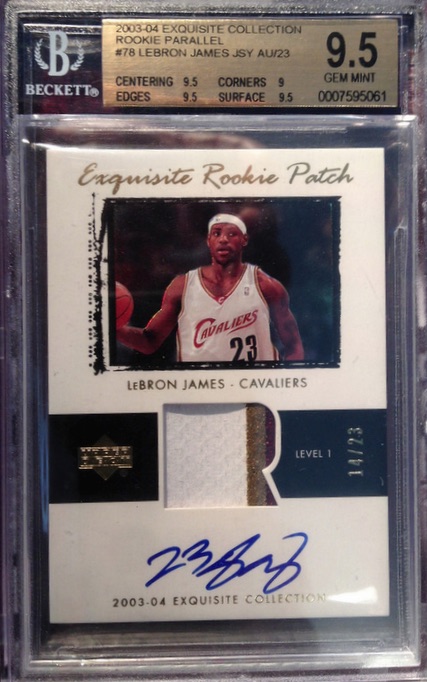 LeBron James was a phenom in high school and has fully lived up to that hype with one of the greatest careers ever. Well this particular card of LeBron could also rank as one of the greats. The card was purchased back in 2015 for $95,000 by a collector named Bill Lee. There is only one BGS 9.5/10 in existence, a total of 15 have been submitted by BGS. This is an extremely rare card to obtain and is considered LeBron's most sought-after card. Three years after this purchase was made I would value this card at $350,000-$500,000. Without question this card will be regarded as one of the most valued cards of all-time and could even reach over a million dollars someday.
#3 1993 Magic the Gathering Alpha Black Lotus R:A: BGS 10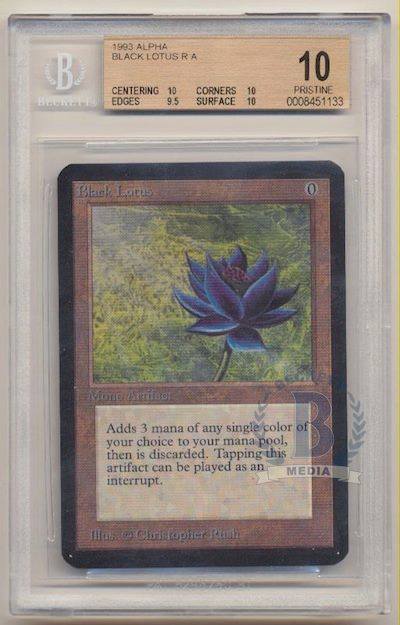 The Black Lotus is known as the most popular and valuable Magic card offered for collectors. The Black Lotus is offered in Alpha, Beta and Unlimited versions with Alpha being the most sought-after. There have been a total of 168 Black Lotus Alpha versions submitted for grading at BGS and there is only one 10 grade in existence of the Alpha version. This particular card has been valued at $500,000-1-million and was sold in a private sale with a number other high end Magic the Gathering cards. The Black Lotus is so sought after that even this card in a BGS 9.5 has an asking price of $199,000 or best offer according to eBay auction. The BGS 10 Black Lotus Alpha will always remain as one of the best BGS graded cards of all-time.
#4 1984-85 Star Michael Jordan XRC BGS 9.5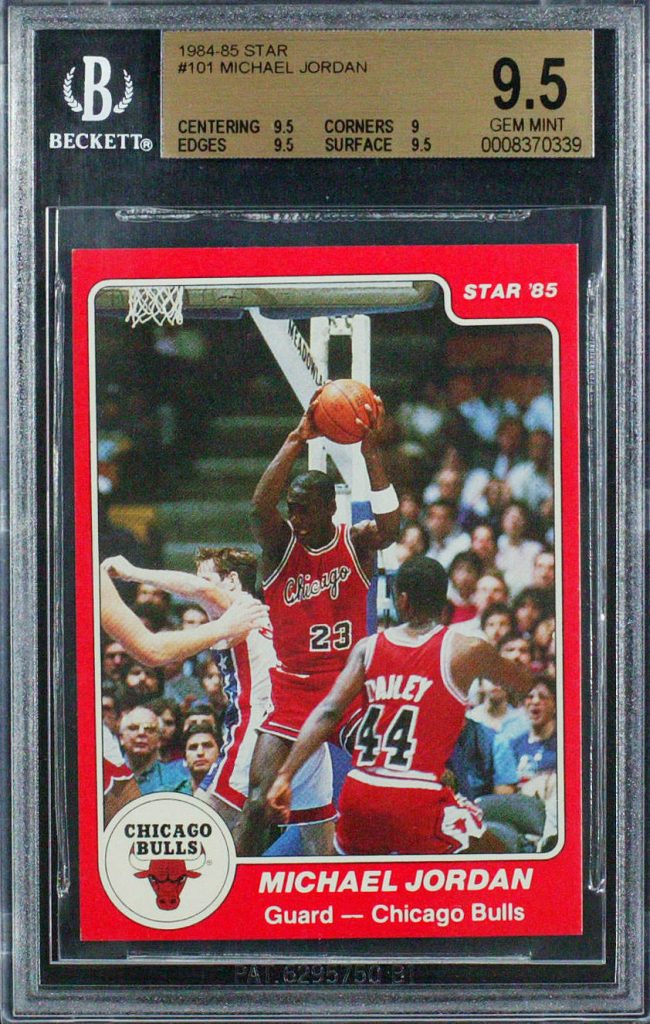 Michael Jordan is considered by many to be the greatest basketball player of all-time. The six-time NBA champion is one of the most well-known athletes throughout the entire world. Jordan's most sought-after card is his 1984-85 Star XRC card in a BGS 9.5. The first 9.5 in existence appeared in 2014 was valued at $50,000 during the time and has since gone way up in value! There are now just three total in existence that have received a BGS 9.5 grade. The card was listed on eBay in October 2017 for $1 Million by former Philadelphia Eagles guard Evan Mathis. Mathis also owned the 1952 Topps Mickey Mantle PSA 9 that sold for a record $2.8 Million through Heritage Auctions this past spring. Mathis most likely still has the Jordan card but it could reach the million dollar mark some day.
#5 2000 Playoff Contenders Championship Ticket Tom Brady Autograph Rookie BGS 9/10 /100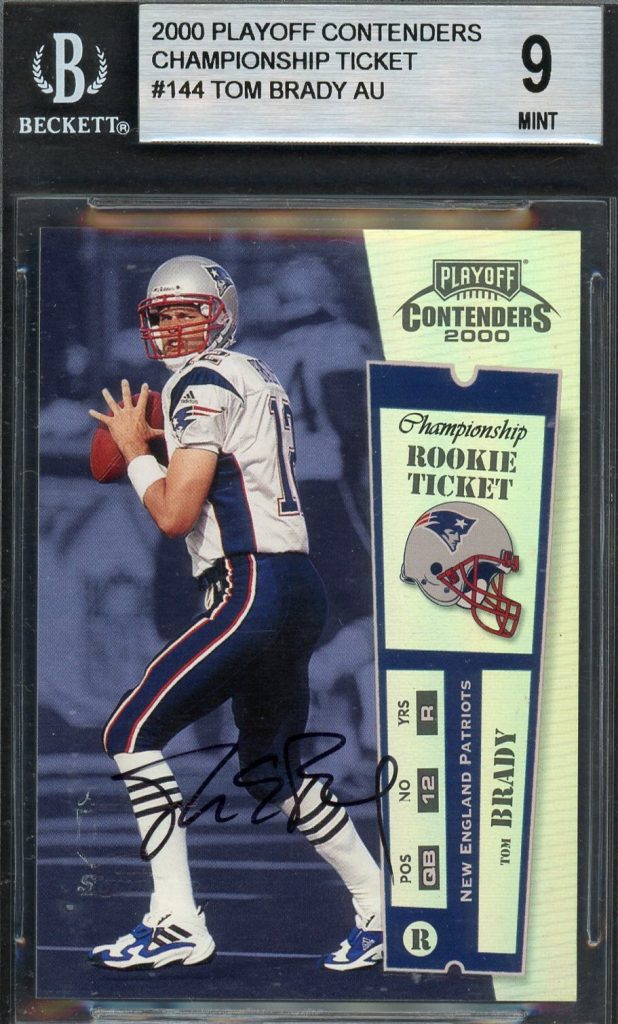 Tom Brady is considered one of the most collectible players in the entire hobby. He's also arguably the greatest quarterback of all-time. The five-time Super Bowl champ who is now set to turn 41-years-old at the start of the 2018 and is still playing at a high level. During the beginning of this past February, Tom Brady's 2000 Playoff Contenders Championship Autographed Ticket /100 Rookie graded a BGS 9/10 sold for $250,000 at eBay auction. The sale caused a lot of media buzz including being discussed on SportsCenter. Although the sale caused a ton of buzz it was unconfirmed if the sale actually went through. There is just a total of seven BGS 9s of the Championship Ticket version of Brady and none grader higher, it's safe to say that this card could easily be worth $250k and could even reach $500k someday. The regular version of the card, which is the Playoff Contenders Autograph, does have a BGS 9.5/10 including 15 total copies according the BGS Pop Report. One of the 15 graded in a BGS 9.5/10 is offered on eBay for $150,000 or best offer price tag.
Which card would you rank as the best graded cards by BGS? Also which card someday could be added to this list? Let us know in the comments or on Twitter and Facebook.