Early analysis: 2012 Prime Cuts baseball checklist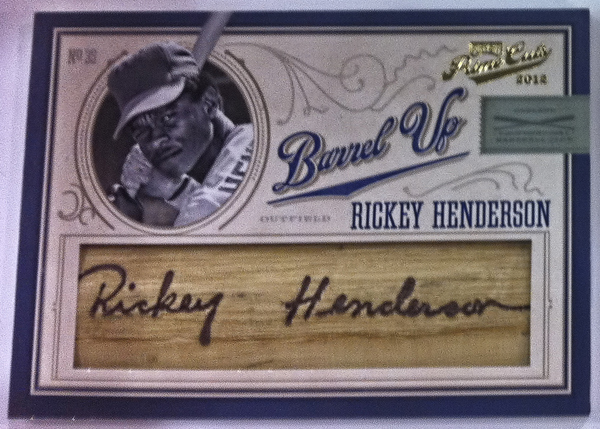 By Chris Olds | Beckett Baseball Editor | Commentary
With 2012 Prime Cuts arriving Friday from Panini America, we got our first glimpses at the final checklist for the high-end product. Here's a notebook-style rundown look at some of what it includes, according to information released by the company.
Harper's here …
The reigning National League Rookie of the Year, Bryce Harper, can be found on his first Panini memorabilia cards in Prime Cuts. He'll have five Century Gold cards, a 1/1 Century Platinum, 49 Century Silver  and 99 standard jersey cards. … While the product is chock-full of retired and Hall of Fame players, there is a crop of rookie autographs and USA Baseball players in the product. Signed USA Baseball jerseys will be numbered out of 199, while some rookies will be numbered to 199 but most are out of 149. Nearly all other cards in the product are limited to 99 or fewer copies. … AL Rookie of the Year Mike Trout will have approximately 200 memorabilia cards and fewer than 20 autographs in Prime Cuts.
Batty for barrels
There will be 25 1/1 bat barrel cards to be found in the Barrel Up set, a lineup that includes current stars such as Albert Pujols, Alex Rodriguez, Prince Fielder, Miguel Cabrera and Matt Kemp alongside legends such as Stan Musial, Kirby Puckett, Rickey Henderson and Roberto Clemente.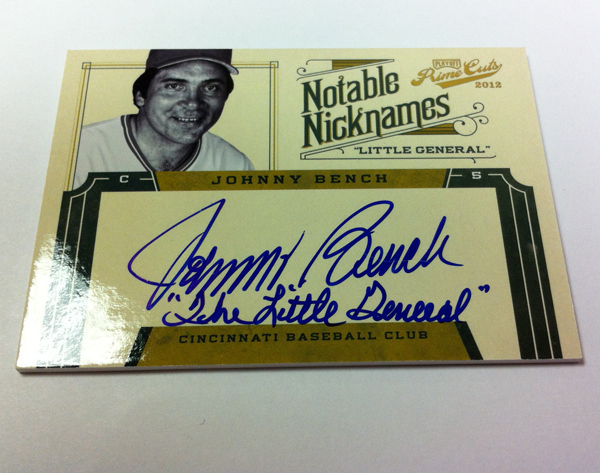 Nicknames of note
The Notable Nickname cards, a highlight in the 2011 release where the player signed a nickname along with an autograph, also return. There are nearly 30 active signers for this one — each card limited to 49 copies — while there also will be 28 cut autograph cards made, nearly all 1/1s. … Among those signing for Panini here were World Series MVP Pablo Sandoval, Bill Madlock, Austin Jackson, Johnny Bench, Josh Hamilton, Larry Walker, Ron Cey, Whitey Ford, Wade Boggs and others. Some players signed two different cards, including Mariano Rivera, Frank Howard, Ron Guidry and Tom Seaver. … Notable cuts will include Casey Stengel, Connie Mack, Cool Papa Bell (the lone non 1/1), Dizzy Dean, Frank "Home Run" Baker, Heinie Manush, Jocko Conlan, Satchel Paige and Ted Williams.
Hats Off
The use of game-used hat swatches returns in this one with nine cards in the skip-numbered Hats Off set and nine Hats off Signatures cards as well. All but two players are Hall of Famers — but Greg Maddux will be and Pete Rose is on the Ineligible List — so it's a stout lineup that also includes Cal Ripken Jr., Eddie Murray, Nolan Ryan, Ozzie Smith, Robin Yount, Tony Gwynn and new Hall of Fame inductee Ron Santo, who will be on stickered graphs.
Even more batty …
The Legendary Bats set is relatively deep at 24 cards but only 10 players on those cards can be found with autographed versions. Among them are Frank Thomas, George Brett, Josh Hamilton, Rose, Reggie Jackson, Musial and Gwynn. Another small but potent lineup. … Some of the older names on unsigned cards include Arky Vaughn, Billy Herman, Eddie Collins, Hack Wilson, Jim Bottomley, Jimmie Foxx and Joe Jackson.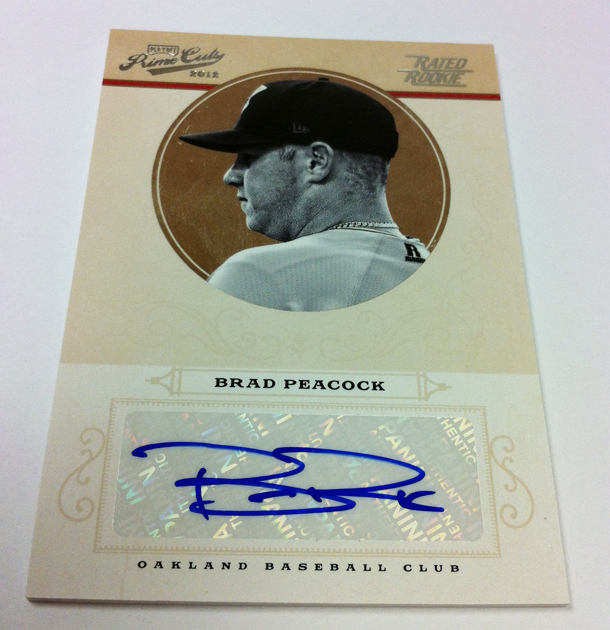 Rookie ink
Here are some of the names in the Rookie Signatures lineup … A.J. Pollock, Brad Peacock, Casey Crosby, Dellin Betances, Drew Pomeranz, Drew Smyly, Dan Straily, Derek Norris, Jarrod Parker, Jemile Weeks, Jesus Montero, Martin Perez, Starling Marte, Trevor Bauer, Tyler Moore, Willin Rosario, Will Middlebrooks and Yoenis Cespedes. Some of the more in-demand names actually have more cards available than others (Bauer and Cespedes, for example).
Signature combos & other ink
There are cards that pair players together and it's a 15-card grouping that's led off by a combo card of the 2012 Hall of Fame inductees — Barry Larkin and Ron Santo. … Four trio cards will showcase, of course, three sigs while a quads card will feature Nolan Ryan, Robin Yount, Orlando Cepeda and George Brett. (Do you know why those four are together?) … There's some signing trickle-over from 2012 Panini Cooperstown here as a few contributors to the game are found in the Significant Signatures set. Among then are Hall of Famers Doug Harvey, Pat Gillick and, as reported earlier today, Vin Scully. … That set is deep and nearly every player is in the Hall except for Pete Rose, Mariano Rivera and Fernando Valenzuela.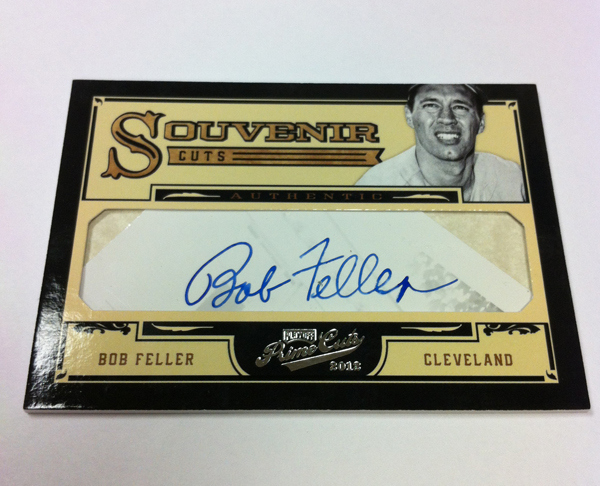 Cutting class
There's a deep checklist of about 40 Souvenir Cuts in this one with many of them Hall of Famers or notables rom the past. Among them? Catfish Hunter, Duke Snider, Eddie Mathews, Gary Carter, Harmon Killebrew, Jim Thorpe, Ron Santo, Sparky Anderson, Ted Williams, Walter Johnson, Warren Spahn and Willie Stargell. … There are some of the usual suspects here, too, when it comes to many cut autograph sets found these days – Hall of Famers who signed plenty in the past.  … There are three cuts combos to be found, the sweetest one being a 1/1 Roger Maris-Mickey Mantle card.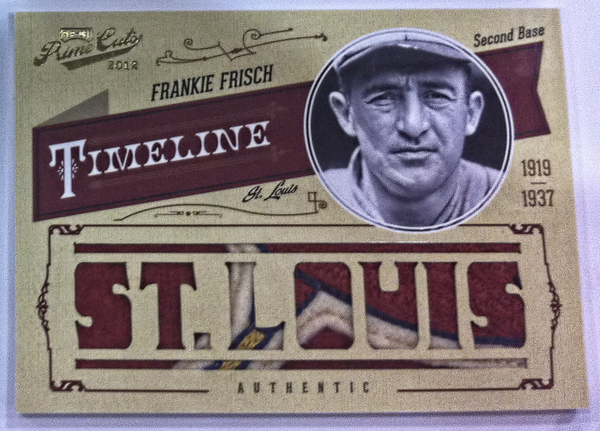 Timeline 
These cards can be pretty impressive and there are some nice cuts among more standard (though still higher-end) finds in this one.  Want a Ty Cobb game-used pants cut sig booklet card? A Ted Williams cut auto and jersey combo? Or Roger Maris, Satchel Paige, Lou Gehrig, Joe DiMaggio or Jackie Robinson? Yep, in there, too, along with a few others in standard-card and booklet form. … There also are prime versions and the cards can be found with the cutout showcasing names or stats. Timeline will be found when ripping — most in low quantities, though — and should showcase top players often.
There's plenty more than could be looked at in this thick checklist, but you can find it all on Beckett.com soon right here when it's available. 
Chris Olds is the editor of Beckett Baseball magazine. Have a comment, question or idea? Send an email to him at colds@beckett.com. Follow him on Twitter by clicking here.
—