What will 2015 bring? Hobby Predictions: Part III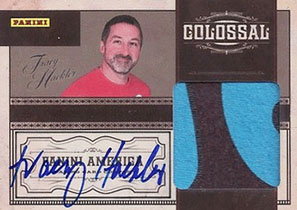 Compiled by Chris Olds | Beckett Baseball Editor
What will the hobby hold for 2015? We've asked a few industry insiders and other notable collectors. Here's what they have boldly predicted to see in the coming year.
—
TRACY HACKLER — Panini America Hobby Marketing Manager
One of the truly remarkable things about this industry is that each new year brings with it new surprises along with a handful of certainties. It's those inevitable out-of-the-blue player performances and product surprises that will continue to propel this category forward and add tremendous excitement to the weeks and months ahead. 2015 is primed to be a monster year for Panini America and, personally, I'm more excited about the coming year than any of my previous 18 years in this industry. It's going to be a wild ride. Stay tuned.
—
THOMAS FISH — BlowoutCards co-owner
1. Topps releases TEK football in 2015 and perhaps a TEK entertainment brand as well.
2. Panini releases Flawless in another sport or entertainment brand.
3. 2012-13 Panini Flawless, National Treasures, Immaculate, Preferred singles of top rookies experience major price increases.
4. 2012 Topps Chrome and Panini Contenders football hobby boxes continue to skyrocket (we are buying).
5. Online box-breaker video goes viral when cat appears in break and starts playing the piano.
6. Redemptions and sticker autos continue to frustrate and anger collectors.
7. Blowoutcards hires additional staff to expand its services and retail offerings. Please submit resume to Fish@blowoutcards.com help our prediction become a reality.
—
BRENT WILLIAMS — Long-time online card seller
With production numbers and the number of products, I would think we would see the singles market continue to be a picking-ground for collectors. Also slightly fewer people involved in the hobby, as with each year we seem to be losing collectors and shops and not gaining as many new ones, especially as exclusives and the number of products released grows and too many sealed wax prices decline after release. The hobby has always gone through cycles and it will survive as adjustments will be made by from the makers to the collectors.
—
MIKE JASPERSEN — Industry veteran and now group-breaker
We will see more Target- and Walmart-exclusive products and brands. We will see a lot more breaker-type events like the breakers pavilion at the NSCC.
—
GREGG KOHN — Leaf Trading Cards Director of Product Development
Leaf will continue to expand its innovative and value-driven product portfolio in 2015. I think the gap between the Big Three and Leaf will continue to shrink! Go Cubs in '15!
—
Look for more 2015 predictions here in the coming days.
—
Chris Olds is the editor of Beckett Baseball and Beckett Sports Card Monthly magazines. Have a comment, question or idea? Send an email to him at colds@beckett.com. Follow him on Twitter by clicking here.