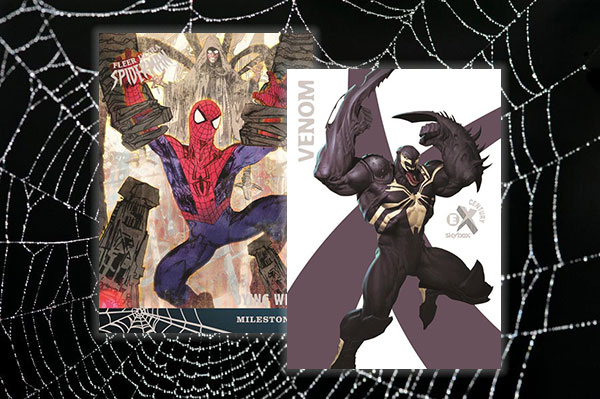 By Ryan Cracknell | Hobby Editor
While the hype builds towards the release of Spider-Man: Homecoming, the iconic hero is making another homecoming. 2017 Fleer Ultra Spider-Man trading cards revive one of the most popular comic card lines of the 1990s. And while there's certainly some nostalgia involved, stellar artwork remains a primary focus.
It starts with the 100-card base set. All use new art. That said, some of the subsets from the original 1995 Fleer Ultra Spider-Man release, as well as their designs, make a comeback and expand the checklist. Team-Ups, Milestones and Legacy all return. It also appears that the original Carnage USA subset has been tweaked to take Deadpool across America.
Artists working on the set include many big names in the world of comics and comic art. Greg Hildebrandt, Bob Larkin, Bill Sienkiewicz, Simone Bianchi, Mark Texeira and Tom Fleming are among them.
Base cards have Silver and Gold Foil parallels with the Gold cards coming signed by the artist and numbered to 49 copies. One-of-one Printing Plates are also randomly inserted.
For those who collected Marvel trading cards and Fleer-branded cards in the 1990s, many of the inserts will be familiar. Jambalaya, Metal Blaster and Holoblast Holograms are among the chase sets.
EX Century appears along with a Purple Tint parallels that are exclusive to hobby packs. These are serial numbered to the card's spot on the checklist (ie #1 = 1/1, #2 = /2, #5 = /5).
Precious Metal Gems, which have been used in a few of Upper Deck's Marvel sets over the past couple of years, appear. These come in five colors: Red (/99), Blue (/49), Green (/10), Purple (/5) and Gold (1/1).
Following a similar structure, Royal Foil and Preserved Amber cards come with different parallels and tiers. Base Royal Foil inserts are numbered to 99 while Pattern 1 cards have 25 copies each and Pattern 2 are limited to 10.
Preserved Amber Version 1 cards come numbered to 175. There's a big drop off to Version 2 (/15) and further still to Version 3 (/5).
2017 Fleer Ultra Spider-Man avoids patch cards. However, the set does introduce Manufactured Webbing cards. Those with Spider-Man are numbered to 49. Venom versions have 25 copies. Carnage is the rarest at ten copies each.
Other premium inserts in the product include sketch cards, Cut Comic Panel cards and Autographed Coin cards that have signatures from Spider-Man artists and creators. Some of the sketch cards take on the Plexi-Sketch format. These have art drawn on plastic stock.
Original 1995 Fleer Ultra Spider-Man cards are randomly inserted as foil-stamped buybacks.
2017 Fleer Ultra Spider-Man at a glance:
Packs per box: 12
Cards per pack: 5
Boxes per case: 12
Set size: 100 cards
Release date: TBA
Comments? Questions? Contact Ryan Cracknell on Twitter @tradercracks.
Images are mock-ups and subject to change.