2017 Topps Opening Day Canadian Blister Packs Have Exclusive Toronto Blue Jays Card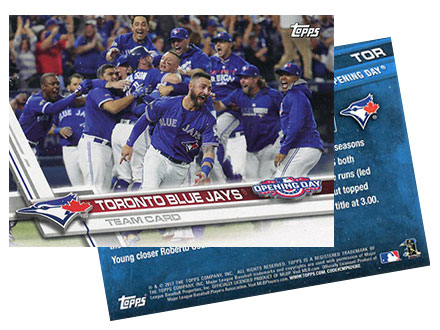 By Ryan Cracknell | Hobby Editor
If you're a baseball card collector in Canada, the struggle is real. The cards are out there, just not nearly as much as hockey. And that's understandable. When it comes to hockey card exclusives, it's tough for Canadians to complain. There's the Tim Horton's set, O-Pee-Chee wrapper redemptions and more.
But if you're more into home runs than hat tricks, living north of the 49th hasn't offered many mainstream baseball cards Americans don't have access to.
2017 Topps Opening Day Baseball is the exception. A special Toronto Blue Jays card can only be found in Canadian blister packs.
I found mine walking the aisles of Walmart hanging on the rack among all the Pokémon, Yu-Gi-Oh, a couple of mini sports repacks and more Pokémon. Think E.T. hiding in the bedroom closet among the stuffed animals.
No Opening Day blasters were found, but there was the row of blister packs. Each has three regular packs plus the Blue Jays card sandwiched between them. The Canadian-exclusive is noted on the front of the blister.
As for the card itself, it has the look of a standard team card with the 2017 Topps Opening Day Baseball base set design (which is a lot like 2017 Topps).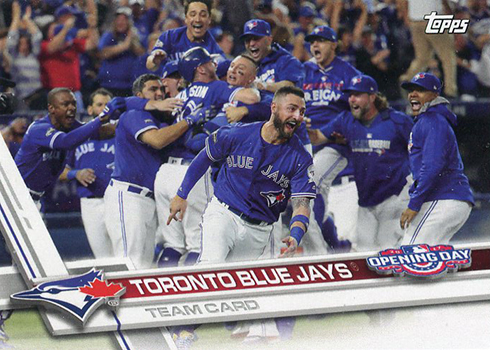 The back of the card, which is #TOR, highlights the team's accomplishments.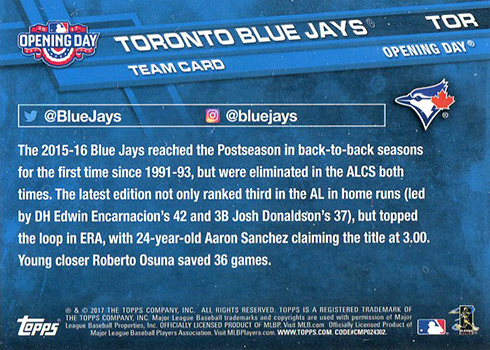 Similar blister packs were released for 2016 Topps Opening Day. And while these claimed to have an exclusive card, it appears they just included a random Blue Jays card from the set. In 2017, it really is a blister-exclusive.
Comments? Questions? Contact Ryan Cracknell on Twitter @tradercracks.