2017 Topps UFC Knockout Checklist and Details
2017 Topps UFC Knockout sticks to the high-end. It's the brand's cornerstone. To that end, the 2017 incarnation stays with a configuration similar to last year. Each pack of the hobby-exclusive product comes with an autograph and a memorabilia card.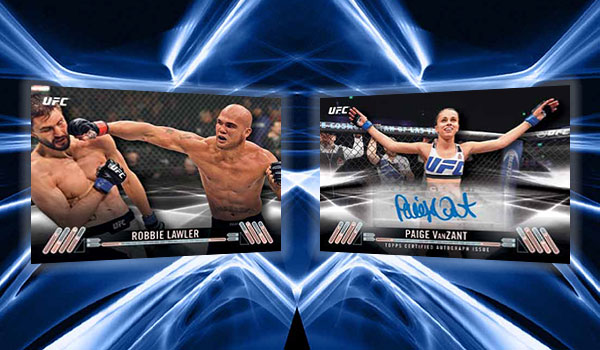 Base Set
The 2017 Topps UFC Knockout base set comes in at 100 cards. For the most part, the image dominates the design with a full-bleed fit. However, the nameplate has enough going on to give it a modern flair. Current fighters are mixed with recent Octagon arrivals and some retired stars.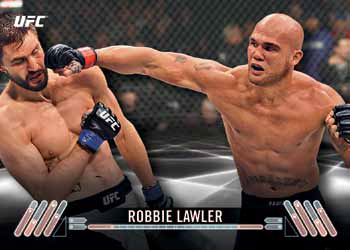 Parallels come in four colors: Green, Blue (/99), Red (/25) and Gold (1/1).
Autographs
Knockout Autographs adopt the same general design as the base set. The signatures themselves are a mix of on-card and stickers. Parallels come in Green (/50 or less), Blue (/25), Red (/10) and Gold (1/1).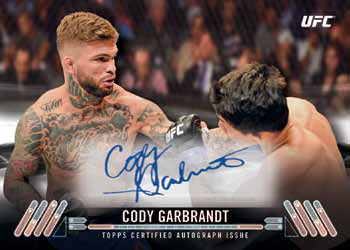 Knockout Autograph Relics have the largest number of signers for signed memorabilia cards in 2017 Topps UFC Knockout. Retired stars, veterans and young fighters are all included on the checklist, which tops 30 cards. Green, Blue (/25), Red (/10) and Gold (1/1) parallels are also available.
In the past, Topps' Museum Collection brand has been used for some of the hits in Knockout. Now that Museum has spun out into a standalone brand, Tier One has taken its place. The name should be familiar with modern baseball collectors. It's synonymous in the sport for offering an all-hits take. Here, Tier One Autographs make their UFC debut. They're highlighted with hard signatures instead of stickers. Parallels are done with Copper Ink, Silver Ink (/10) and Gold Ink (1/1).
The Tier One theme carries over into a couple of signed memorabilia inserts as well. There are basic Autographed Tier One Dual Relics, which add two swatches to the signed card. These have Red and Gold (1/1) parallels. Dual Autographed Tier One Book cards have a pair of signatures and swatches.
Fearless Fighter Autographs come with on-card autographs. Base versions have blue ink. Rather than a basic color change in the background, parallels change things up in the ink department similar to the Tier One Autographs. Copper Ink cards come numbered to 10 while one-of-one Gold Ink cards also have an inscription.
In addition to the Tier One cards, 2017 Topps UFC Knockout has a couple of other new autographed memorabilia inserts. Fight Glove Autograph have a glove piece instead of the more standard shirt. UFC Champion Autograph Relic Book cards take to the over-sized format to include an autograph and an over-sized relic swatch. As the name suggests, only title holders are on the checklist.
Memorabilia Cards
Basic memorabilia cards come in three varieties. Knockout Relics take on the namesake of the release. Tier One Relics take a similar approach, only with the broader hit theme. Finally, there are Fight Mat Relics that have pieces of canvas from matches where the fighters appeared.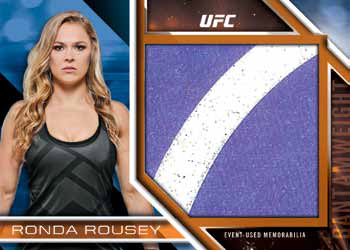 All three of these have four levels of parallels: Green (/50), Blue (/25), Red (/10) and Gold (1/1).
2017 Topps UFC Knockout at a glance:
Packs per box: 4
Cards per pack: 10
Boxes per case: 12
Set size: 100 cards
Release date: May 10, 2017
What to expect in a hobby box:
• Autographs or Autographed Relics – 4
• Memorabilia Cards – 4
2017 Topps UFC Knockout Checklist
Base Set
Base Set Checklist
100 cards.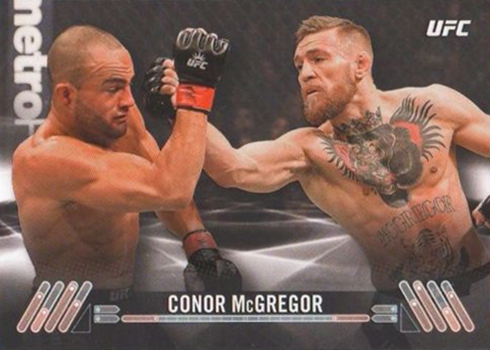 Parallels:
• Green
• Blue – /99
• Red – /25
• Gold – 1/1
1 Robbie Lawler
2 Conor McGregor
3 Paige VanZant
4 Georges St-­‐Pierre
5 Anderson Silva
6 Ronda Rousey
7 Daniel Cormier
8 Matt Hughes
9 Fabricio Werdum
10 Chuck Liddell
11 Forrest Griffin
12 Lyoto Machida
13 BJ Penn
14 TJ Dillashaw
15 Frank Mir
16 Miesha Tate
17 Frankie Edgar
18 Cris Justino
19 Arianny Celeste
20 José Aldo
21 Rashad Evans
22 Rafael Dos Anjos
23 CM Punk
24 Joanna Jędrzejczyk
25 Dominick Cruz
26 Demetrious Johnson
27 Stipe Miocic
28 Cláudia Gadelha
29 Tyron Woodley
30 Stephen Thompson
31 Michelle Waterson
32 Joanne Calderwood
33 Ilir Latifi
34 Luke Rockhold
35 Antonio Silva
36 Nate Diaz
37 Henry Cejudo
38 Cody Garbrandt
39 Joseph Benavidez
40 Amanda Nunes
41 Anthony Johnson
42 Junior Dos Santos
43 Donald Cerrone
44 Eddie Alvarez
45 Khabib Nurmagomedov
46 Holly Holm
47 Carlos Condit
48 Yair Rodriguez
49 Rose Namajunas
50 Cat Zingano
51 Yoel Romero
52 Jim Miller
53 Neil Magny
54 Glover Teixeira
55 Al Iaquinta
56 Jessica Aguilar
57 Joe Lauzon
58 Nick Diaz
59 John Dodson
60 Ovince Saint Preux
61 Andrew Sanchez
62 Robert Whittaker
63 Randa Markos
64 Julianna Peña
65 Thiago Alves
66 Uriah Hall
67 Tecia Torres
68 Johnny Case
69 Ryan Hall
70 Raquel Pennington
71 Mickey Gall
72 Jimmie Rivera
73 Thomas Almeida
74 Sage Northcutt
75 Valentina Shevchenko
76 Karolina Kowalkiewicz
77 Jessica Andrade
78 Chas Skelly
79 Derek Brunson
80 Andrei Arlovski
81 Johny Hendricks
82 Michael Chiesa
83 Dustin Poirier
84 James Vick
85 Jessica Eye
86 Louis Smolka
87 Sara McMann
88 Alexa Grasso
89 Liz Carmouche
90 Demian Maia
91 Tony Ferguson
92 Cub Swanson
93 Max Holloway
94 John Lineker
95 Raphael Assunção
96 Bryan Caraway
97 Aljamain Sterling
98 Kyoji Horiguchi
99 Wilson Reis
100 Jussier Formiga
Autographs
Autographs
Autographed Tier One Dual Relics
21 cards.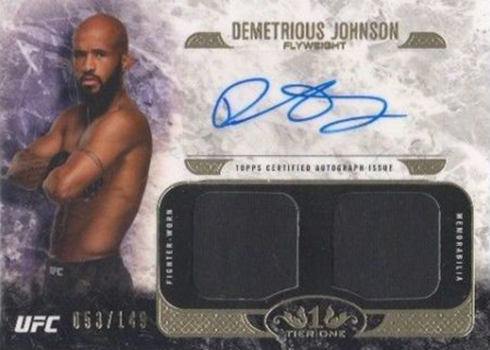 Parallels:
• Red
• Gold – 1/1
ADR-AC Arianny Celeste
ADR-AS Anderson Silva
ADR-CGR Cody Garbrandt
ADR-CJ Cris Justino
ADR-CL Chuck Liddell
ADR-CM Conor McGregor
ADR-DC Daniel Cormier
ADR-DCR Dominick Cruz
ADR-DJ Demetrious Johnson
ADR-GS Georges St-Pierre
ADR-HC Henry Cejudo
ADR-JC Joanne Calderwood
ADR-JJ Joanna Jędrzejczyk
ADR-MG Mickey Gall
ADR-MH Matt Hughes
ADR-MW Michelle Waterson
ADR-PV Paige VanZant
ADR-RL Robbie Lawler
ADR-RN Rose Namajunas
ADR-ST Stephen Thompson
ADR-TW Tyron Woodley
Dual Autographed Tier One Relic Book Cards
12 cards.
DARB-CG Dominick Cruz/Cody Garbrandt
DARB-JCE Demetrious Johnson/Henry Cejudo
DARB-JCR Demetrious Johnson/Dominick Cruz
DARB-LR Chuck Liddell/Ronda Rousey
DARB-ML Conor McGregor/Chuck Liddell
DARB-MR Conor McGregor/Ronda Rousey
DARB-MS Conor McGregor/Georges St-Pierre
DARB-SH Georges St-Pierre/Matt Hughes
DARB-SL Georges St-Pierre/Chuck Liddell
DARB-SLI Anderson Silva/Chuck Liddell
DARB-SS Georges St-Pierre/Anderson Silva
DARB-VW Paige VanZant/Michelle Waterson
Fearless Fighter Autographs
24 cards.
Parallels:
• Copper Ink – /10
• Gold Ink – 1/1
FFA-AS Anderson Silva
FFA-CG Cláudia Gadelha
FFA-CGR Cody Garbrandt
FFA-CJ Cris Justino
FFA-CL Chuck Liddell
FFA-CM Conor McGregor
FFA-DCO Daniel Cormier
FFA-DCR Dominick Cruz
FFA-DJ Demetrious Johnson
FFA-FE Frankie Edgar
FFA-HC Henry Cejudo
FFA-JJ Joanna Jędrzejczyk
FFA-JM Jim Miller
FFA-LM Lyoto Machida
FFA-MH Matt Hughes
FFA-MT Miesha Tate
FFA-PV Paige VanZant
FFA-RB Ryan Bader
FFA-RE Rashad Evans
FFA-RN Rose Namajunas
FFA-RR Ronda Rousey
FFA-SM Stipe Miocic
FFA-ST Stephen Thompson
FFA-TW Tyron Woodley
Fight Glove Autographed Relic
21 cards.
Parallels:
• Gold – 1/1
FGAR-AS Anderson Silva
FGAR-CG Cláudia Gadelha
FGAR-CGR Cody Garbrandt
FGAR-CJ Cris Justino
FGAR-CL Chuck Liddell
FGAR-CM Conor McGregor
FGAR-DCO Daniel Cormier
FGAR-DJ Demetrious Johnson
FGAR-FE Frankie Edgar
FGAR-FW Fabricio Werdum
FGAR-HC Henry Cejudo
FGAR-JJO Jon Jones
FGAR-MH Matt Hughes
FGAR-MT Miesha Tate
FGAR-MW Michelle Waterson
FGAR-PV Paige VanZant
FGAR-RN Rose Namajunas
FGAR-SM Stipe Miocic
FGAR-ST Stephen Thompson
FGAR-TW Tyron Woodley
FGAR-UF Urijah Faber
Knockout Autographs
25 cards.
Parallels:
• Green – /50 or less
• Blue – /25
• Red – /10
• Gold – 1/1
KA-AC Arianny Celeste
KA-AS Andrew Sanchez
KA-CG Cláudia Gadelha
KA-CM Conor McGregor
KA-CP CM Punk
KA-DCR Dominick Cruz
KA-DJ Demetrious Johnson
KA-FE Frankie Edgar
KA-HC Henry Cejudo
KA-JA Jessica Aguilar
KA-JB Joseph Benavidez
KA-JC Joanne Calderwood
KA-JD John Dodson
KA-JJ Joanna Jędrzejczyk
KA-JR Jimmie Rivera
KA-MG Mickey Gall
KA-MT Miesha Tate
KA-MW Michelle Waterson
KA-NDI Nick Diaz
KA-NM Neil Magny
KA-OS Ovince Saint Preux
KA-RB Ryan Bader
KA-RM Randa Markos
KA-RN Rose Namajunas
KA-ST Stephen Thompson
Knockout Autograph Relics
31 cards.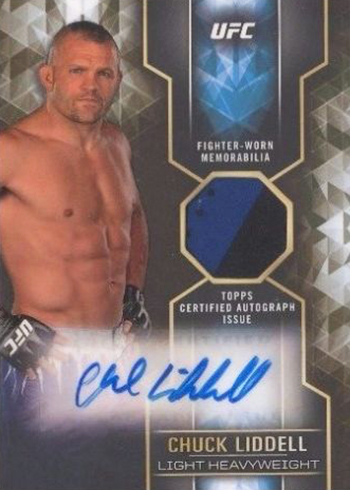 Parallels:
• Green
• Blue – /25
• Red – /10
• Gold – 1/1
KAR-AC Arianny Celeste
KAR-AS Andrew Sanchez
KAR-ASI Anderson Silva
KAR-CC Carlos Condit
KAR-CGR Cody Garbrandt
KAR-CJ Cris Justino
KAR-CL Chuck Liddell
KAR-CM Conor McGregor
KAR-DCO Daniel Cormier
KAR-DCR Dominick Cruz
KAR-DJ Demetrious Johnson
KAR-EA Eddie Alvarez
KAR-FE Frankie Edgar
KAR-FW Fabricio Werdum
KAR-GS Georges St-Pierre
KAR-HC Henry Cejudo
KAR-JB Joseph Benavidez
KAR-JC Joanne Calderwood
KAR-JJ Joanna Jedrzejczyk
KAR-JM Jim Miller
KAR-MG Mickey Gall
KAR-MH Matt Hughes
KAR-MT Miesha Tate
KAR-MW Michelle Waterson
KAR-ND Nick Diaz
KAR-PV Paige VanZant
KAR-RB Ryan Bader
KAR-RL Robbie Lawler
KAR-RN Rose Namajunas
KAR-ST Stephen Thompson
KAR-TW Tyron Woodley
Tier One Autographs
28 cards.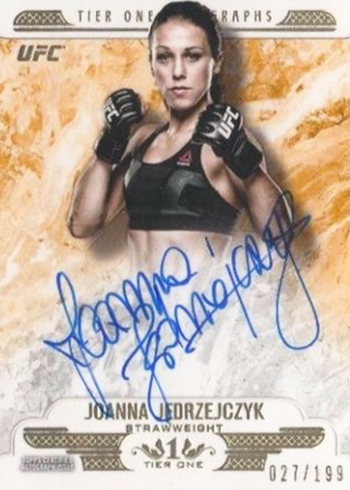 Parallels:
• Copper Ink
• Silver Ink – /10
• Gold Ink – 1/1
T1A-AC Arianny Celeste
T1A-AS Anderson Silva
T1A-CG Cláudia Gadelha
T1A-CGR Cody Garbrandt
T1A-CJ Cris Justino
T1A-CL Chuck Liddell
T1A-CM Conor McGregor
T1A-CP CM Punk
T1A-CZ Cat Zingano
T1A-DCO Daniel Cormier
T1A-DCR Dominick Cruz
T1A-DJ Demetrious Johnson
T1A-FE Frankie Edgar
T1A-FM Frank Mir
T1A-GS Georges St-Pierre
T1A-HC Henry Cejudo
T1A-JC Joanne Calderwood
T1A-JJ Joanna Jędrzejczyk
T1A-MH Matt Hughes
T1A-MT Miesha Tate
T1A-MW Michelle Waterson
T1A-PV Paige VanZant
T1A-RB Ryan Bader
T1A-RE Rashad Evans
T1A-RN Rose Namajunas
T1A-RR Ronda Rousey
T1A-SM Stipe Miocic
T1A-ST Stephen Thompson
UFC Champion Autograph Relic Book Card
14 cards.
ARB-AS Anderson Silva
ARB-BP BJ Penn
ARB-CL Chuck Liddell
ARB-CM Conor McGregor
ARB-DC Daniel Cormier
ARB-DJ Demetrious Johnson
ARB-FE Frankie Edgar
ARB-GS Georges St-Pierre
ARB-JJ Joanna Jędrzejczyk
ARB-LR Luke Rockhold
ARB-MH Matt Hughes
ARB-RL Robbie Lawler
ARB-SM Stipe Miocic
ARB-TW Tyron Woodley
Memorabilia
Memorabilia Cards
Fight Mat Relics
24 cards.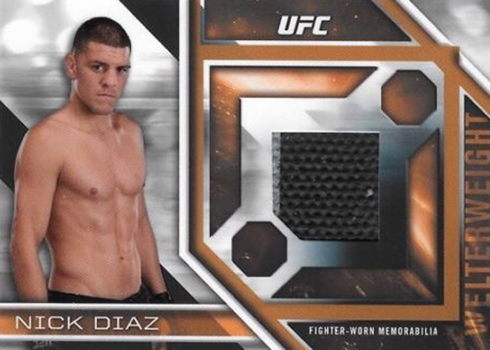 Parallels:
• Green – /50
• Blue – /25
• Red – /10
• Gold – 1/1
FMR-AS Anderson Silva
FMR-BP BJ Penn
FMR-CL Chuck Liddell
FMR-DC Donald Cerrone
FMR-DCO Daniel Cormier
FMR-DJ Demetrious Johnson
FMR-DR Dominick Cruz
FMR-FE Frankie Edgar
FMR-FG Forrest Griffin
FMR-FM Frank Mir
FMR-LM Lyoto Machida
FMR-LR Luke Rockhold
FMR-LRO Luke Rockhold
FMR-MT Miesha Tate
FMR-ND Nate Diaz
FMR-NDI Nick Diaz
FMR-PV Paige VanZant
FMR-RE Rashad Evans
FMR-RL Robbie Lawler
FMR-RR Ronda Rousey
FMR-RRO Ronda Rousey
FMR-SMI Stipe Miocic
FMR-TD TJ Dillashaw
FMR-TW Tyron Woodley
Knockout Relics
30 cards.
Parallels:
• Green – /50
• Blue – /25
• Red – /10
• Gold – 1/1
KR-AC Arianny Celeste
KR-AS Anderson Silva
KR-BP BJ Penn
KR-CC Carlos Condit
KR-CGR Cody Garbrandt
KR-CJ Cris Justino
KR-CL Chuck Liddell
KR-CM Conor McGregor
KR-DCO Daniel Cormier
KR-DJ Demetrious Johnson
KR-DM Demian Maia
KR-FE Frankie Edgar
KR-FG Forrest Griffin
KR-FW Fabricio Werdum
KR-GS Georges St-Pierre
KR-JJ Joanna Jedrzejczyk
KR-KN Khabib Nurmagomedov
KR-LR Luke Rockhold
KR-MG Mickey Gall
KR-MH Max Holloway
KR-MHU Matt Hughes
KR-MT Miesha Tate
KR-MW Michelle Waterson
KR-ND Nate Diaz
KR-PV Paige VanZant
KR-RL Robbie Lawler
KR-RN Rose Namajunas
KR-SM Stipe Miocic
KR-TD TJ Dillashaw
KR-TW Tyron Woodley
Tier One Relics
26 cards.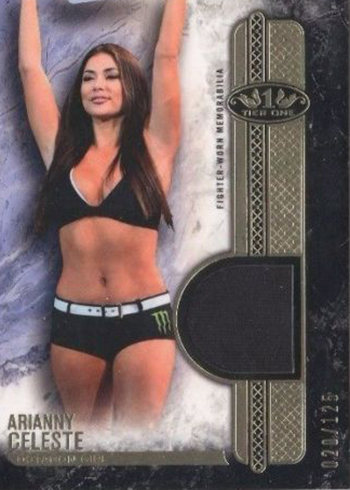 Parallels:
• Green – /50
• Blue – /25
• Red – /10
• Gold – 1/1
T1R-AC Arianny Celeste
T1R-AS Anderson Silva
T1R-BP BJ Penn
T1R-CGR Cody Garbrandt
T1R-CJ Cris Justino
T1R-CL Chuck Liddell
T1R-CM Conor McGregor
T1R-CP CM Punk
T1R-DCO Daniel Cormier
T1R-DJ Demetrious Johnson
T1R-DM Demian Maia
T1R-FE Frankie Edgar
T1R-FG Forrest Griffin
T1R-FM Frank Mir
T1R-GS Georges St-Pierre
T1R-JJ Joanna Jędrzejczyk
T1R-KN Khabib Nurmagomedov
T1R-LR Luke Rockhold
T1R-MH Max Holloway
T1R-MHU Matt Hughes
T1R-MT Miesha Tate
T1R-MW Michelle Waterson
T1R-ND Nate Diaz
T1R-PV Paige VanZant
T1R-RL Robbie Lawler
T1R-RN Rose Namajunas