Grand Papis: 10 Awesome David Ortiz Cards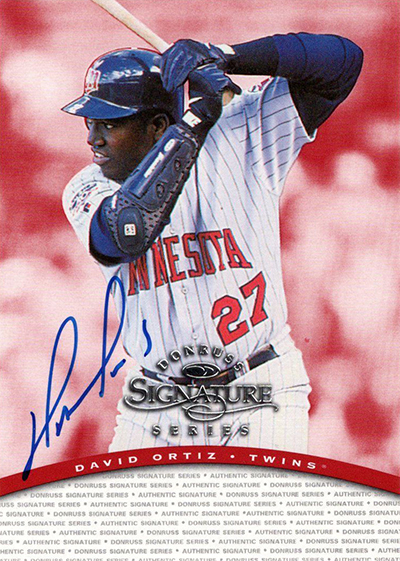 By Ryan Cracknell | Hobby Editor
The Hall of Fame has yet to enshrine someone who spent the majority of their career as a designated hitter. David Ortiz is making a case for himself that's tough to overlook, even after getting implicated for PEDs. Not only are his career numbers strong, but he's been a leader on multiple championship Red Sox teams.
While certainly one of the more popular players in the hobby, he's still a step below the top-tier stars. Room for growth might be tough at this point. However, becoming a part of the 500 Home Run Club definitely helps cement his legacy with collectors. Induction into Cooperstown is really all that's left for the slugger during what's likely the twilight of his career.
With that in mind, we've selected 10 key cards from David Ortiz's career.
Top 10 David Ortiz Cards Worthy of Your Attention
1996 Wisconsin Timber Rattlers Midwest League All-Stars Best David Ortiz
What's more shocking — that fact that David Arias Ortiz looks so young or that there's a card of him fielding? One of Ortiz's first major cards is somewhat ironic. It's also not very easy to find. Like many minor league cards, it falls under the category of overlooked gems. Ortiz also has a tough 1996 Wisconsin Timber Rattlers Best card as well.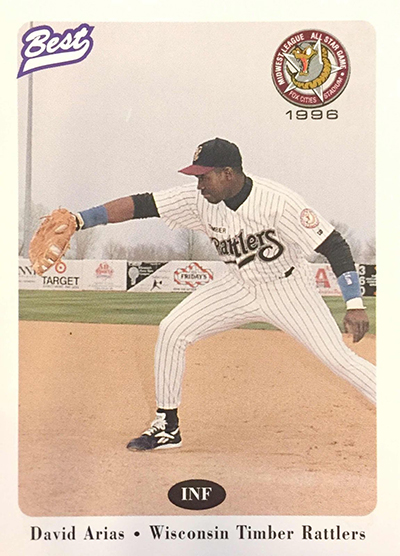 1997 Donruss Signature Series Autograph David Ortiz /3900
This card carries quite a bit of significance. Most will go right to the signature as it's the slugger's first signed card. It's also the first card to have 'David Ortiz' instead of 'David Arias.' The base version (red background) of the insert has 3,900 copies while the Millennium parallel (green background) has 1,000 copies. If you're looking for the most valuable David Ortiz cards, the 1997 Donruss Signature Series Century Autograph (blue background) will be near the top of almost any list. It's numbered to 100, which made it a rare find, even back then. The one knock on this card, in all of its versions, is that Ortiz failed to sign in the designated area. All appear to be towards the side of the card instead of at the bottom.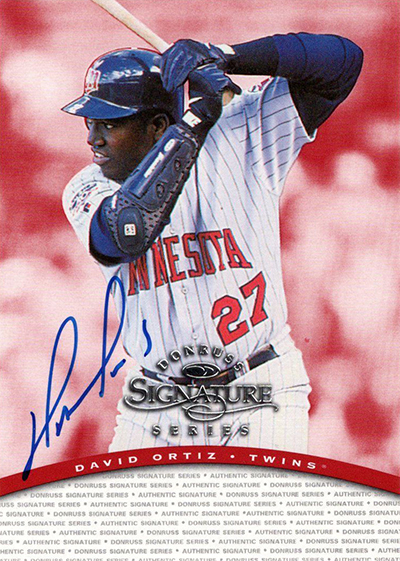 1997 Flair Showcase Wave of the Future David Ortiz
Here's an early David Ortiz card that looks cool but doesn't cost a lot. As an insert, it doesn't get the rookie card tag. However, the embossed design has a certain charm to it, particularly if you're a fan of how loud things got in the 1990s. This is the easiest insert set in the popular product, landing 1:4 packs. This means there are still plenty available.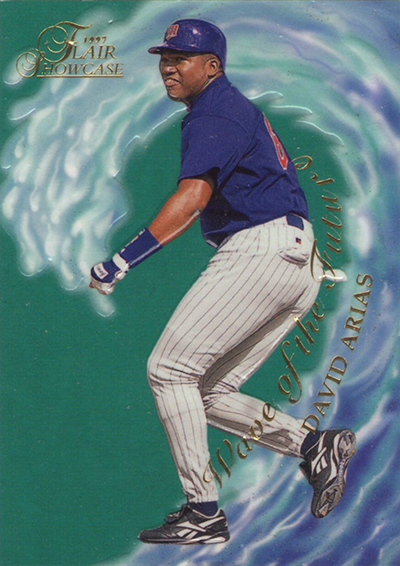 1997 Fleer David Ortiz RC
This is one of only two David Ortiz rookie cards. Found in 1997 Fleer Series 2 packs, the basic version of the card has a throwback matte finish, which makes it stand out in a glossy-heavy era. The Tiffany parallel, which brings that glossy look and feel, is extremely tough to find. As a result, it's one of the more valuable David Ortiz cards out there.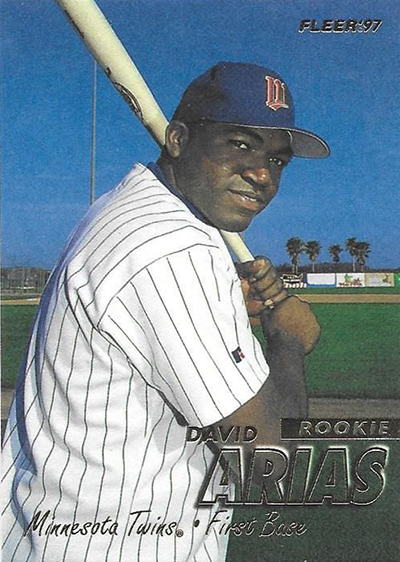 1997 Fleer Ultra David Ortiz RC
The other David Ortiz rookie card, which is from 1997 Fleer Ultra, has a simple full-bleed look to it. From the slightly more upscale brand, it commands a bit of a premium over the regular Fleer card. One of the most interesting things that 1997 Fleer Ultra did was use different photos for the parallels so that it feels more like and entirely new card instead of just having a bit of different foil. The Gold Medallion version is the easier parallel. The 1997 Fleer Ultra Platinum Medallion David Ortiz is limited to 200 copies.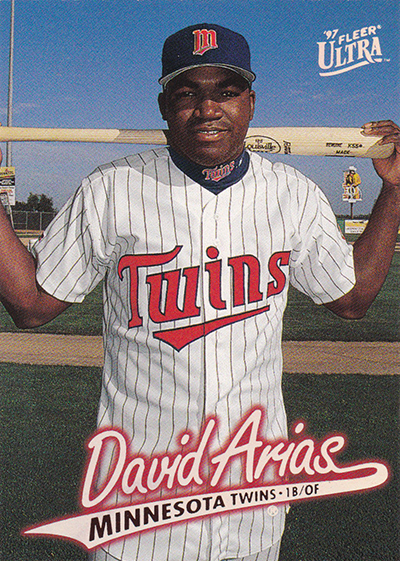 1998 Leaf Rookies and Stars Crusade David Ortiz /250
Crusade is considered by many to be one of the great insert sets of the 1990s. It was memorable enough to inspire Leaf's Valiant line almost 15 years later and for Panini to bring it back not long after that. While the regal look of the cross-brand insert set stands out, it's the rarity of the cards that push it over the top. The Ortiz, which is found in 1998 Leaf Rookies and Stars, comes in three colors. Green is the most plentiful, numbered to 250. Parallels are Purple (/100) and Red (/25).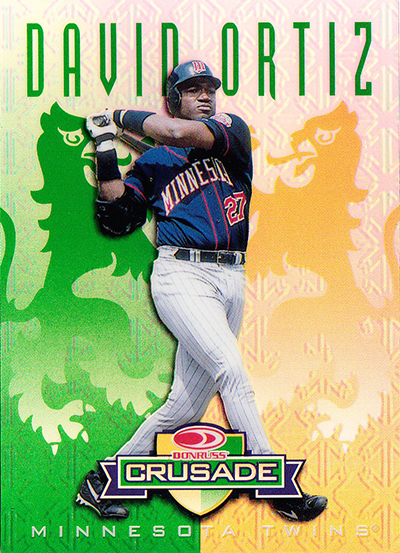 2009 Topps Allen & Ginter Autographs David Ortiz
Collectors have no shortage of David Ortiz autograph cards to choose from. He hasn't signed as much as a lot of other players, but there are still a lot of options out there. So what makes his card in 2009 Topps Allen & Ginter stand out? The big thing is the brand. Allen & Ginter is one of the most popular lines for signed cards. The framed look is also synonymous with Allen & Ginter. With a print run of 49 copies, there's demand from player, team and set collectors. Already short in supply, it's likely that most of the copies have long since found their way into personal collections.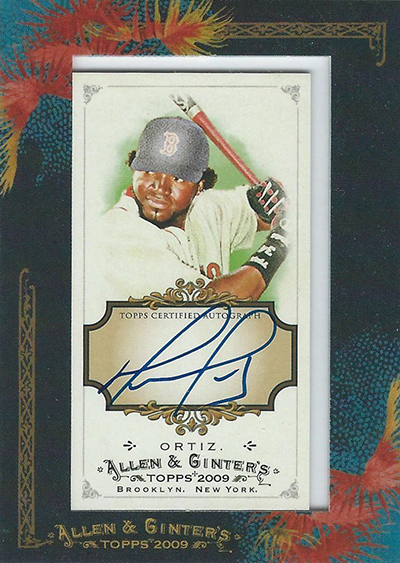 2013 Topps David Ortiz Variation #595
The greatest cards are the ones that have some sort of story connected to them. The variation version of Ortiz's 2013 Topps card comes from one of the most emotional moments of the season. Ortiz took to the field following the Boston Marathon bombing and made an impassioned speech. And while it included some colorful words, it came from the heart and embodied the city's resolve. Of all the variations in 2013 Topps Baseball, this is easily one of the most popular and is something of a rarity on the secondary market today.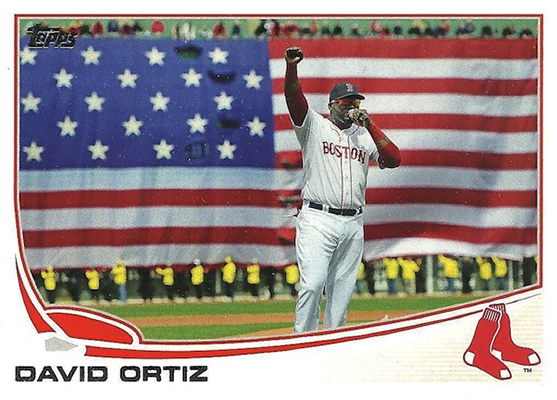 2013 Topps Triple Threads Autograph Relic Combos Pedro Martinez, David Ortiz, Nomar Garciaparra
Pairing up autographs and relics from Ortiz, a Hall of Famer and a Red Sox fan favorite. While Garciaparra wasn't with the team when they broke Boston's World Series drought, the three teammates were big parts in the franchise's return to excellence. The base version of the card is numbered to 36 with a handful of additional low-numbered parallels.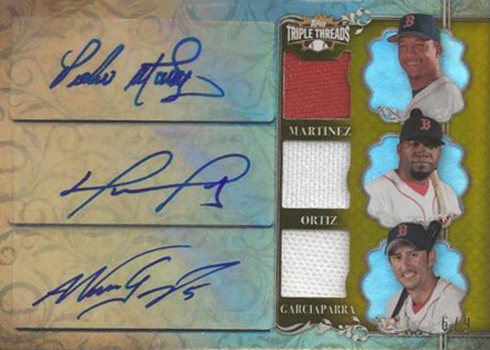 2014 Topps World Champion Autographs David Ortiz
David Ortiz was a huge factor in Boston's 2013 World Series win over the St. Louis Cardinals. During the six-game series, he hit .688 with a pair of home runs and six runs batted in en route to being named the World Series MVP. This came after some dramatics in both the American League Divisional Series and ALCS. This card is part of the popular World Series autographs and relics line that has become a regular part of Series 1 for the flagship Topps Baseball release. Numbered to 50, it's tough to find given the product's print run.