Magic The Gathering Preview 2: Battle for Zendikar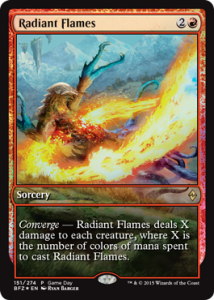 By Ian McDaries | Guest Commentary
Spoiler season is in full swing for Magic the Gathering's new set Battle for Zendikar! Last week, Ulamog, the Ceaseless Hunger and Gideon, Ally of Zendikar were the primary focus. This week, the focus will be on the remaining two Planeswalkers and some new lands being released.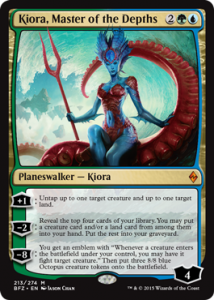 The Planeswalker profile is Kiora, Master of the Depths. Her +1 ability allows you to un-tap one creature and one land. Granting one of your creatures a second hand form of vigilance is great. It allows you to attack with your biggest creature then un-tap it to protect Kiora. Being able to un-tap a land is also very solid since it allows you to play more spells on your turn and keep your instants playable on your opponents turn.
Her second ability is a -2 that allows you to dig through the top four cards of your library and add one creature and one land, while the remaining go into the graveyard. This ability grants a lot of advantage in more ways than just card draw. The fact that the remaining cards go to the graveyard allow you to use your delve effects quicker.
Kiora's ultimate ability costs -8 and gives you an emblem that makes the creatures you play fight the ones your opponent controls. It also gives you three 8/8 Octopus token creatures that all fight once they are brought into play. This ultimate is very cool and can win you the game following the next turn.
Overall, Kiora is looking to be a very solid Planeswalker. As more spoilers come out, it will be interesting to see what synergies she plays with new cards.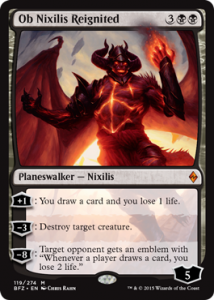 The third and final Planeswalker is Ob Nixilis Reignited.
Perfect for a blue/black control deck, Ob Nixilis is all about card draw and destruction. His +1 ability nets you one card at the cost of one life. For -3 you can destroy any creature which allows him to protect himself and your own life from anything your opponent has. His ultimate is -8 and it grants your opponent an emblem that burns them for two life every time a player draws a card. The ultimate is ok, but by the time you activate this and start burning your opponent, most likely you have already won the game.
Ob Nixilis, looks to be another great Planeswalker from the new set. If blue/black control becomes a deck similar to the previous Zendikar block, expect to see him in that deck.
The last cards for this week's preview are the Manlands. Similar to the first Zendikar block, Battle for Zendikar is bringing back some of the most useful lands in Magic. They can all tap for two specific colors of mana, or you can pay mana to have them become creatures with a special ability for the turn. There are so many uses for these kinds of lands. Some of the major benefits to them include recovery from board wipes, being mana flooded, swinging in for more damage and creating new blockers. There are so many utilities to these lands so be sure to snatch these up as quick as you can. The previous ones are still seeing Modern and Legacy play due to their utility. I expect to see these in a lot of Standard decks upon release.
That wraps it up for this week's spoilers. Be sure to check back with us next week for all the news on the latest and greatest cards!