Lil Papi visits Texas … and wants you to win some Big League Minis from Topps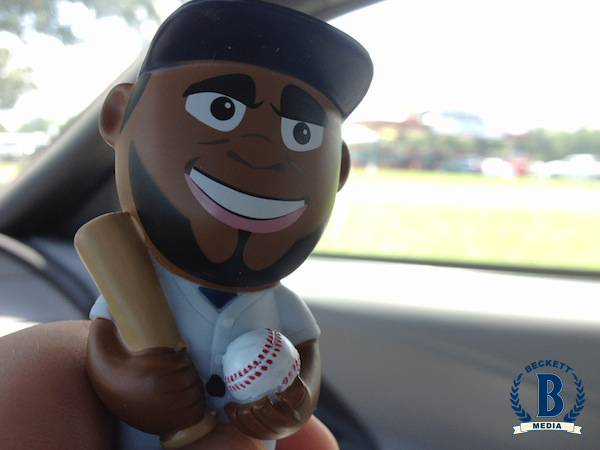 By Chris Olds | Beckett Baseball Editor
Boston Red Sox star David Ortiz was a bit busy this weekend with a series against the Angels in Boston, but that didn't stop his Big League Mini — aka Lil Papi — from visiting Dallas.
Why? Well, he wanted to try a road trip after the release of 2013 Topps Big League Minis — you know to get out of the house, err mylar wrapper, and see the world. Lil Papi is one of 28 big-leaguers who can be found in the new toy line from Topps and, well, he volunteered for a promotional tour.
As part of the tour, Topps decided it wants to get some Big League Minis into Beckett readers' hands.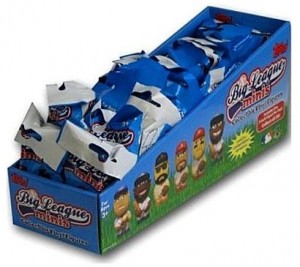 For the most creative Big League Mini traveler and Beckett reader, we'll offer up a special 1/1 prototype figure and a box of 20 — yep, 20 — unopened packs. For four other creative readers, we'll give you each five unopened packs. Each $5 pack contains one figure. The prototype figure is a Jose Reyes variant with a black bat — the variant figure, as released did NOT have a black bat. See the figure by clicking here.
What do you have to do? You have to find a Big League Mini (borrow, buy, whatever) and out-do Lil Papi's travels by recapping where your "Lil Star" has been, what he's been up to or who he's been hanging out with via a small series of photos or videos with the links provided in a single comment below before July 1. Links to photos hosted elsewhere are best. Be sure to include your name and email address in the proper fields.
See a recap of Lil Papi's weekend visit … after the jump.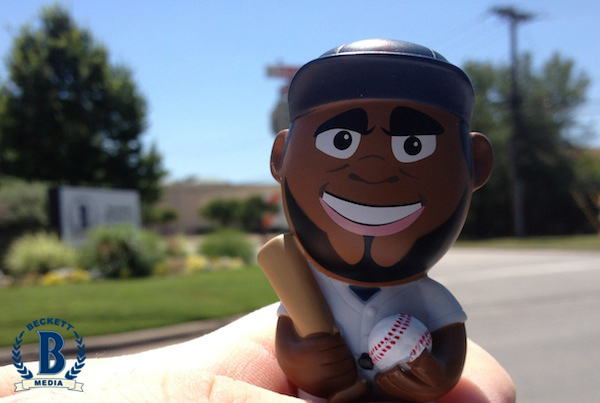 Lil Papi stops by the Beckett Media offices to see what it's all about — and we put him to work.
—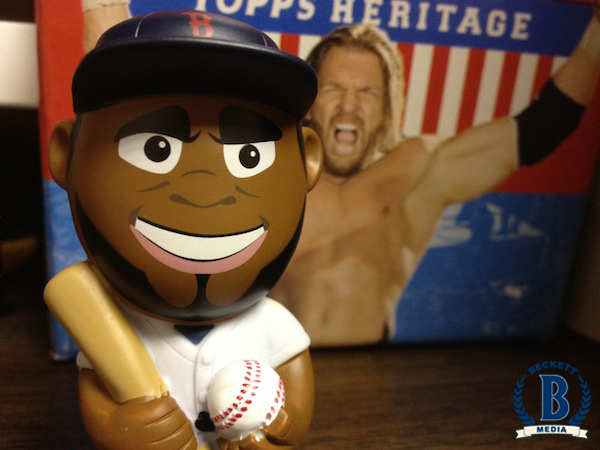 Lil Papi saw some familiar faces in the office decor, but there was no time for posing … there was work to do.
—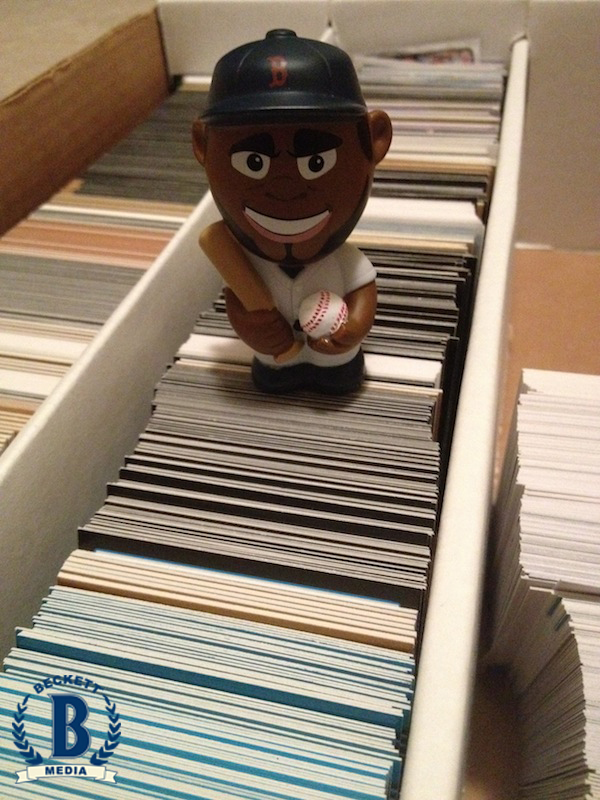 Lil Papi doesn't like sorting, but  we made him tackle this mixed box of Bowman cards. (He's a prospector.)
—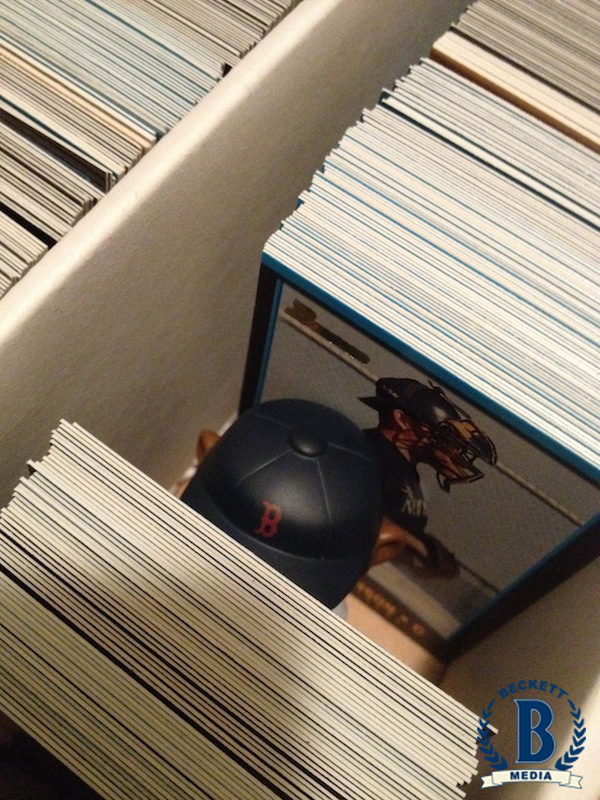 Lil Papi wasn't afraid to dig deep to find the good cards. (Olds lied and told him he could keep his best finds.)
—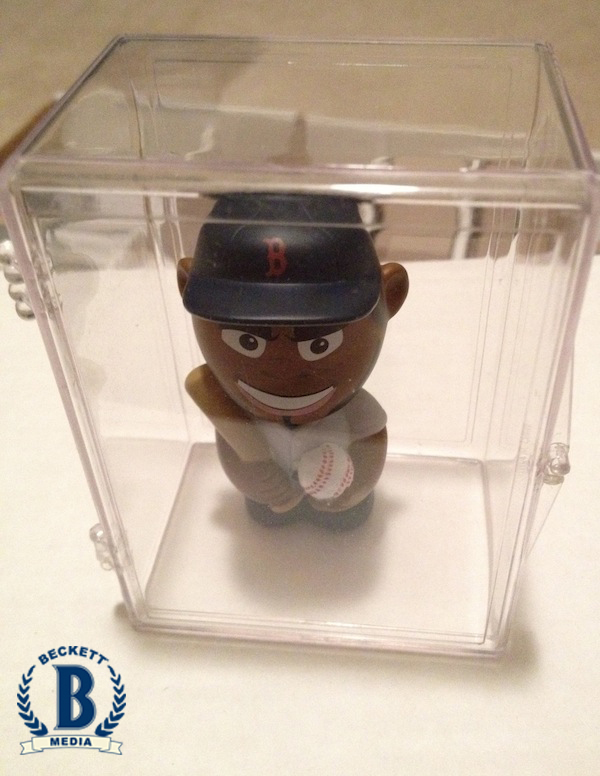 Lil Papi took time to play around. "Lil Papi know what Lil Ron Burgundy would say … 'I'm in a snap case of emotion!'" (Papi is still working on his humor.)
—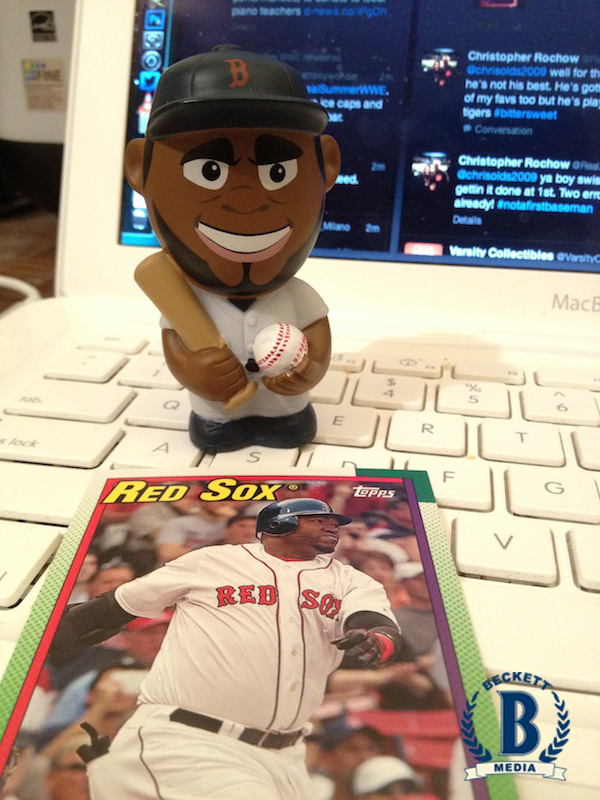 Then we made Papi sort some of the new 2013 Topps Archives. He stopped and stared at one card. "Do I know this guy?" he asked.
—

Lil Papi also mugged for the camera while taking a break. "Look, I'm in a Sergio Leone western — 'The Good, The Bad and The Papi!'" (Like we said, he's still working on his jokes.)
—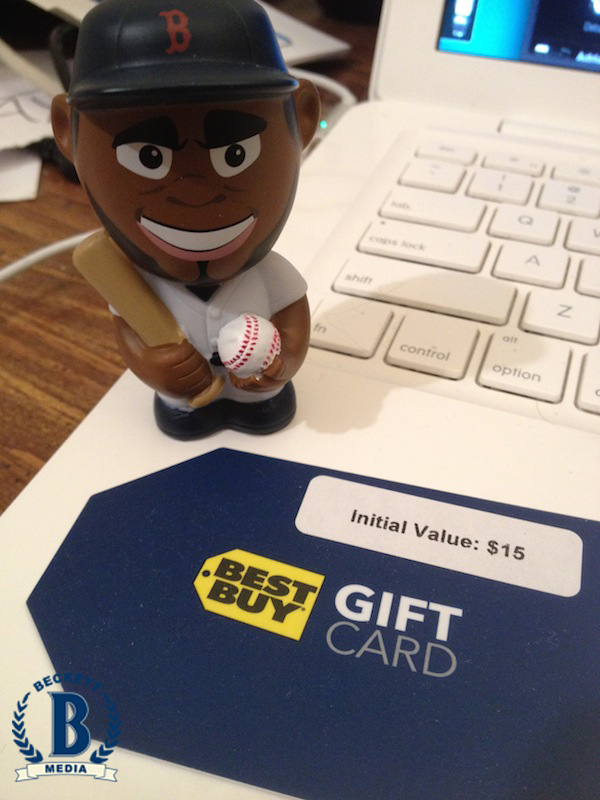 Lil Papi sprung for a "shopping spree" for an editor. (He's a tightwad.)
—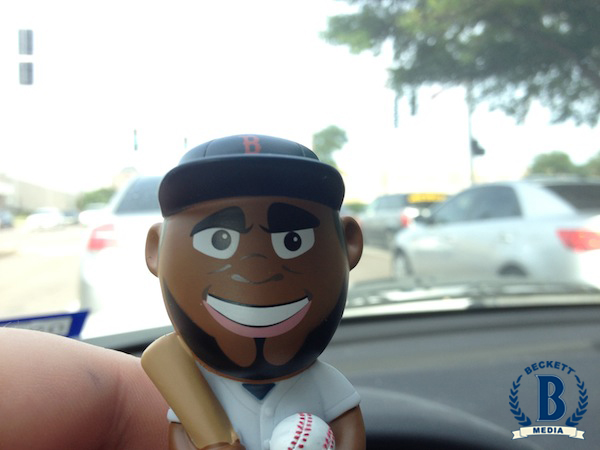 Lil Papi didn't let the Big D's traffic get him down … he was headed to lunch.
—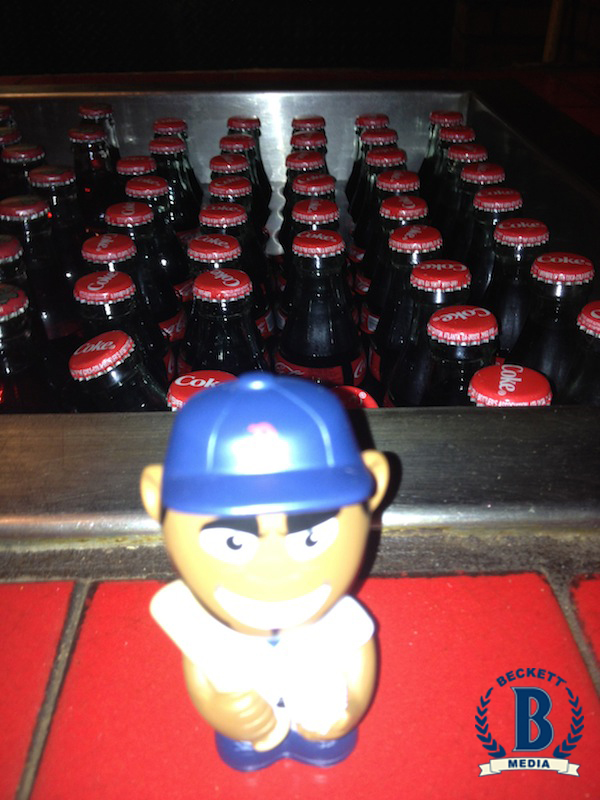 Lil Papi wasn't happy with the Papi-razzi's flash on this one. And Papi said he prefers a big Pepsi.
—
Lil Papi says you go big or go home with the Texas barbecue. (He likes the brisket.)
—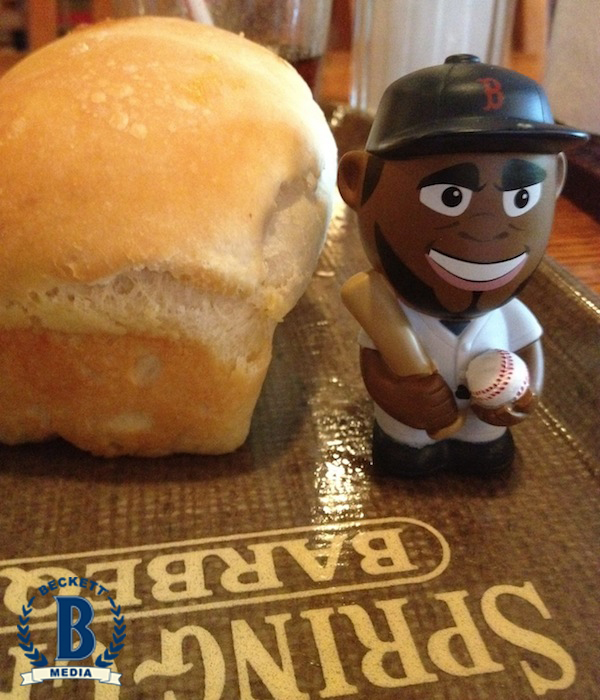 While there, Lil Papi also learned that even the rolls are big in Texas. 
—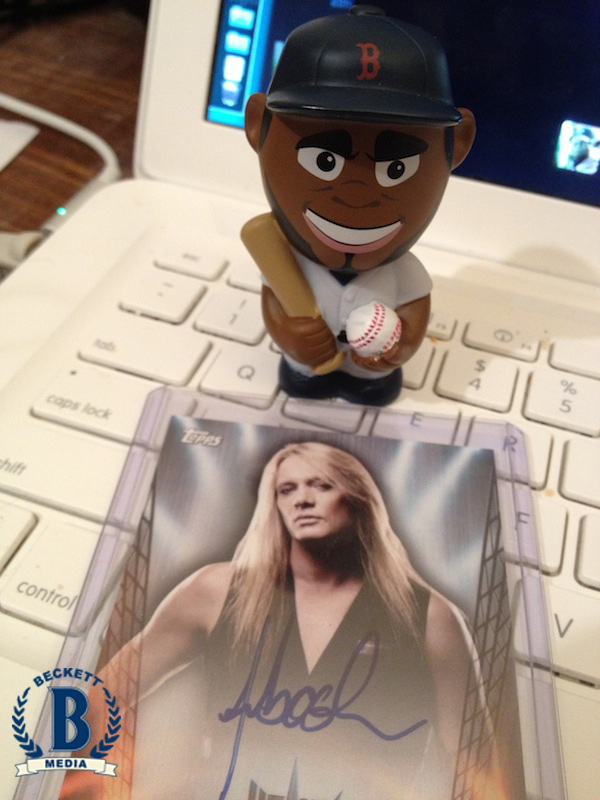 Back in the office, Lil Papi examined Olds' big find in a blaster box of 2013 Topps Archives. 
—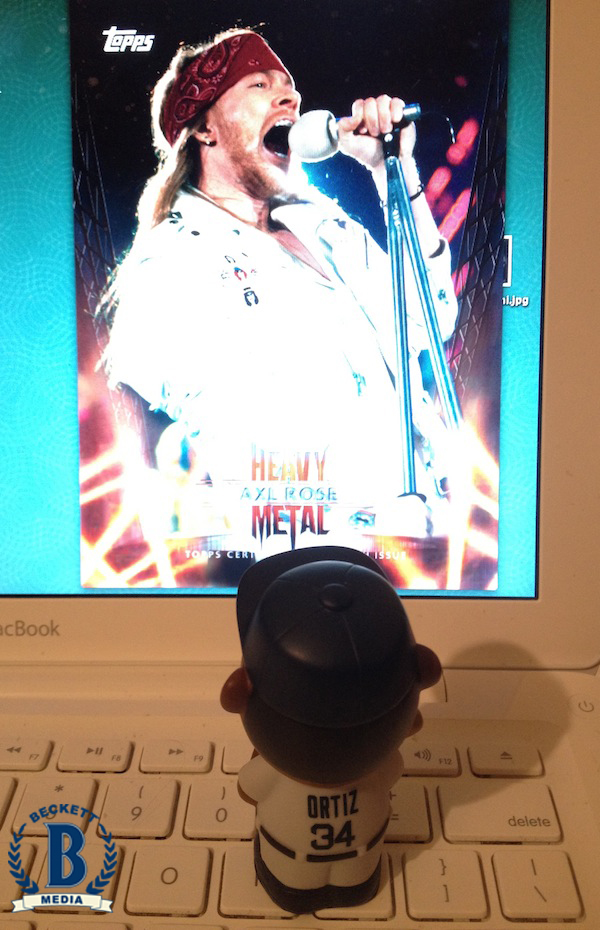 But Lil Papi knows what he really wants from a box of Archives … Axl Rose. "You could be mine," Papi said. 
—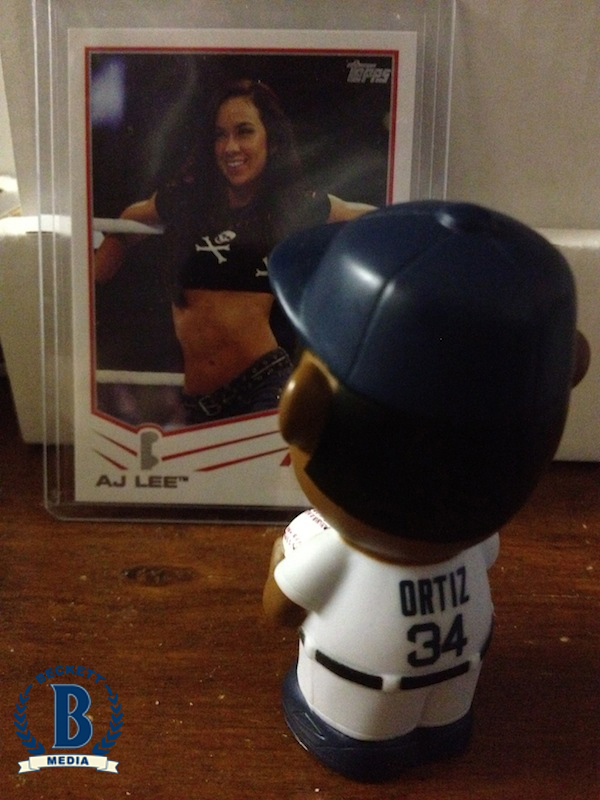 Also captured on camera while sorting cards, he said "Lil Papi likes a lil crazy." We're not sure what that means, actually, but we'll go with it. 
—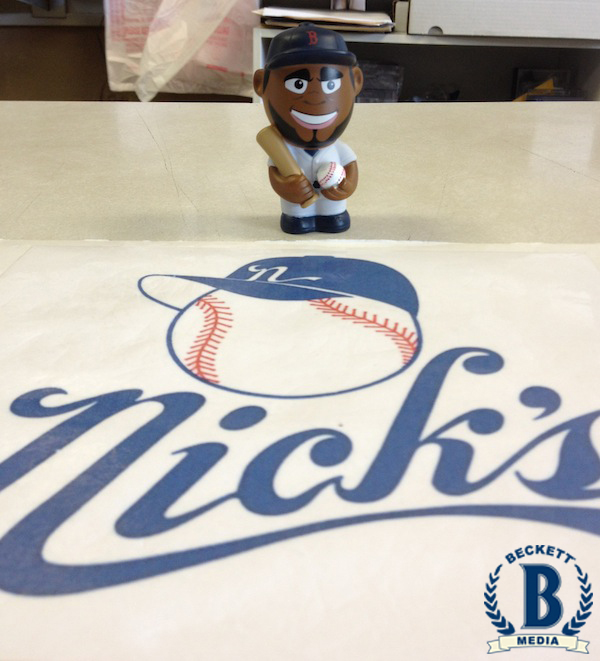 After work, Lil Papi headed to the biggest card shop in Dallas — Nick's Sports Cards.
—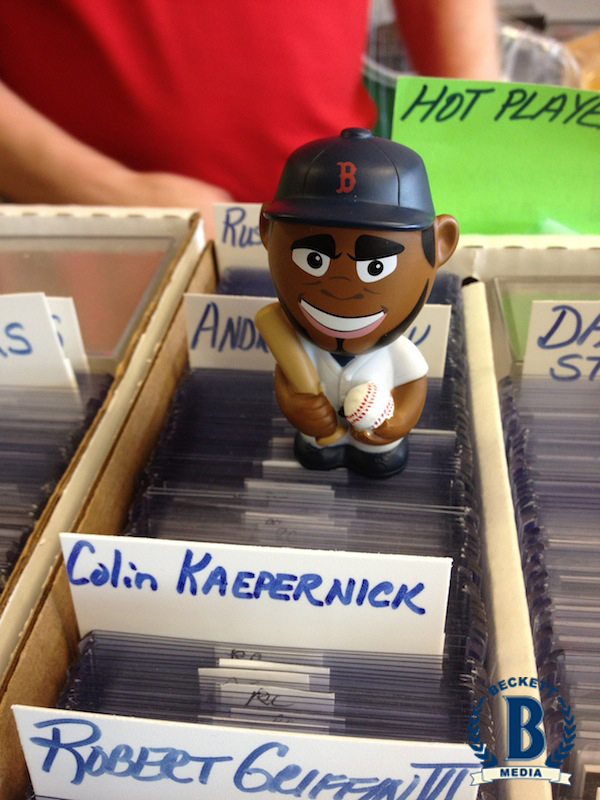 Lil Papi said he's taking on the NFL's biggest young stars next — after all, they're not big-time enough to have Big League Minis. 
—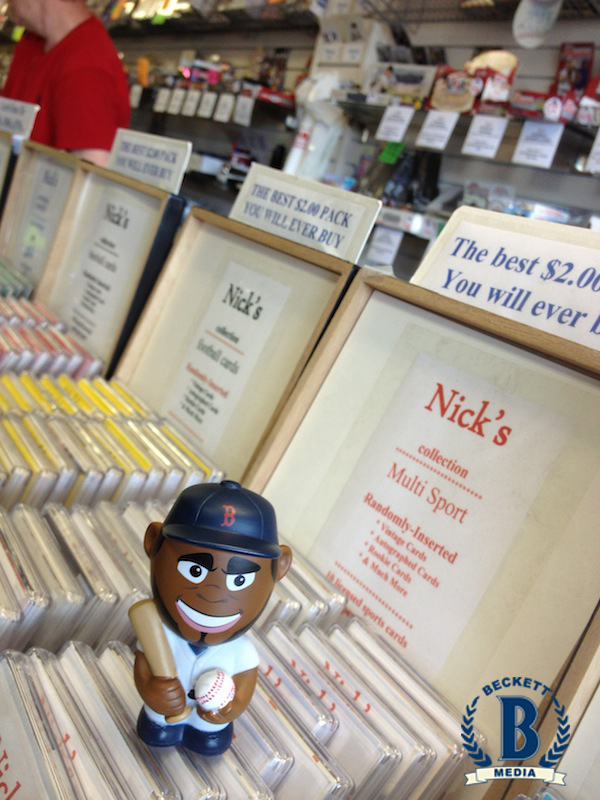 Lil Papi said he likes grab bags because they can have big value. "Lil Papi likes big value." 
—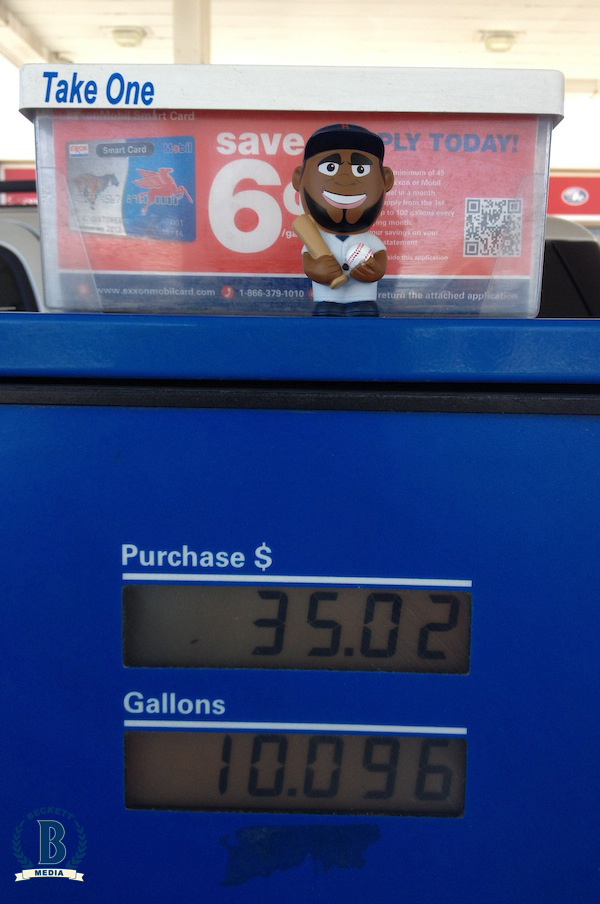 Since Lil Papi sprung for gas, Lil Papi got a road trip after that … to see some sights.
—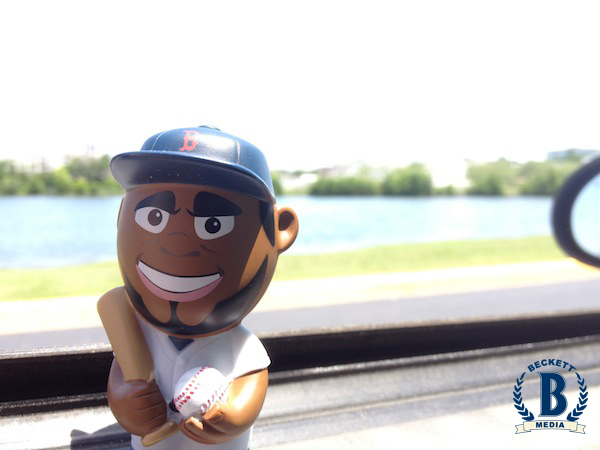 No, Papi, we're not going to the lake. This is a business trip. 
—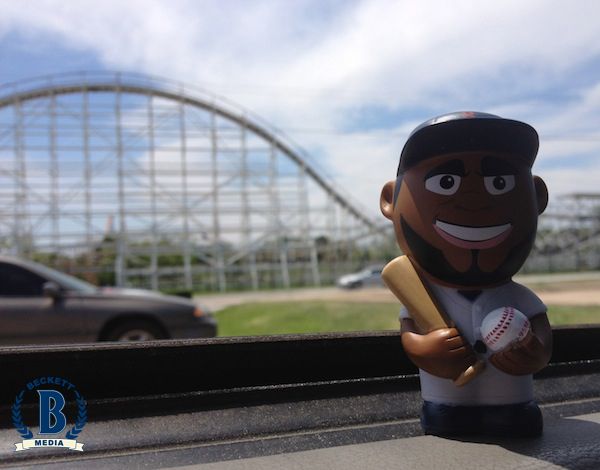 "Lil Papi is big enough to ride this at Six Flags," he insisted. Ok, we'll take your word for it. 
—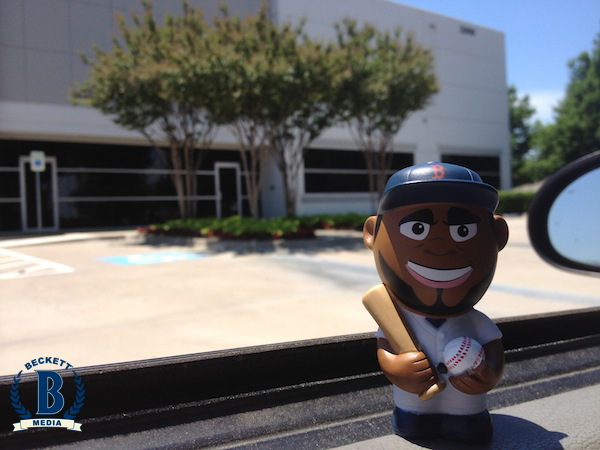 "Lil Papi feels like Lil Papi has been here before." Um, that's the old Donruss/Playoff building … so, no, you haven't.
—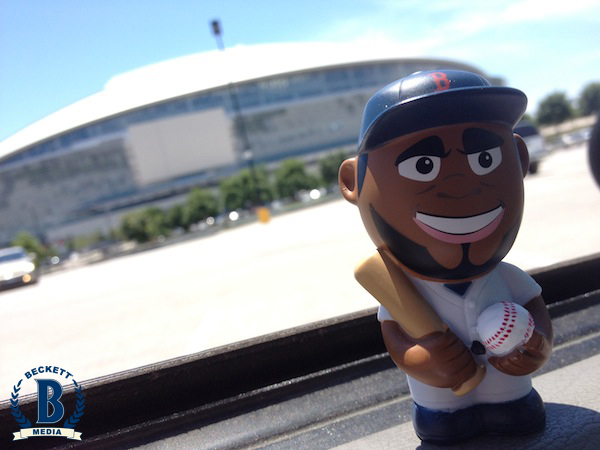 "Lil Papi says JerryWorld ain't so big." Even though we all know Lil Papi is big-time, the Dallas Cowboys wouldn't let him in the parking lot. (This was taken from the Walmart across the street. Seriously, a Walmart … check your GPS maps!)
—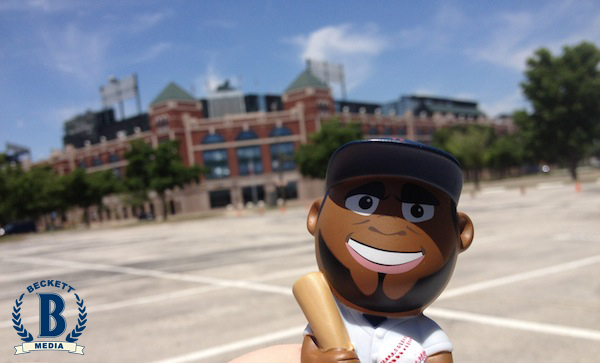 Lil Papi finds Rangers Ballpark in Arlington … except nobody is there and the parking lots were empty. Why? The Rangers were on the road! 
—
Can you outdo Lil Papi? Find yourself any of the 28 Big League Minis and show us where your lil guy has been in the comments below. (Also of note: This week, Topps also is giving away a full set of all 28 figures to a creative person who tweets similar images to @toppscards using the hashtag #toppsbigleagueminis. Get details on its account.)
Chris Olds is the editor of Beckett Baseball magazine. Have a comment, question or idea? Send an email to him at colds@beckett.com. Follow him on Twitter by clicking here.