The Daily: 2018 Panini Origins Baker Mayfield RC Auto Patch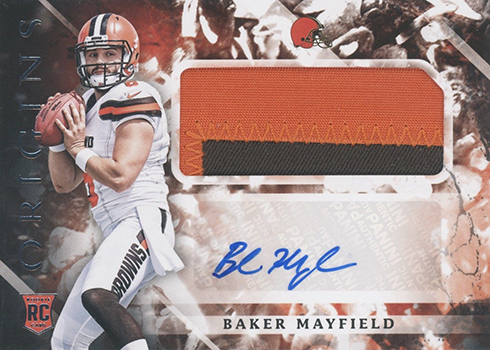 It happened. The Cleveland Browns won. It's not exactly the Super Bowl, but it's something. There's a tidbit of wisdom out there about not being able to make a journey without steps. And at 1-1-1, the Browns already have their best record since 2015.
Besides the win and the beer fridges opening in Cleveland, the Thursday night Browns-Jets match-up provided the debut of Baker Mayfield. And the Heisman winner and first overall pick made the most of it.
He entered the game after Browns starting quarterback, Tyrod Taylor, was injured late in the first half and Cleveland was down 14-0. Mayfield was strong coming off the bench, going 17-23 with 201 passing yards. Although he didn't throw for any touchdowns, he didn't toss any interceptions, either. Both of Cleveland's touchdowns came from the ground courtesy of Carlos Hyde.
Mayfield already
has more than a dozen different Rookie Cards
with plenty more coming down the pipeline in the months ahead. Origins is one of the earliest sets to offer up both an autograph and a patch on the base card.
The Daily highlights a key player or personality in the world of sports or collecting from the past 24 hours along with one of their key cards.