Baker Mayfield Talks Football Cards, Leadership and Who to Watch
As a Heisman winner and first overall pick, Baker Mayfield isn't flying under anybody's radar. He's one of the rookies to watch during the 2018 season as the Browns look to establish themselves as anything but, well, what they've been for the past few years.
Beckett Football's David Lee got a chance to chat with Mayfield at the NFLPA Rookie Premiere. The two talked about a wide range of topics including football cards, what he collected, some of his college teammates to watch and even leadership.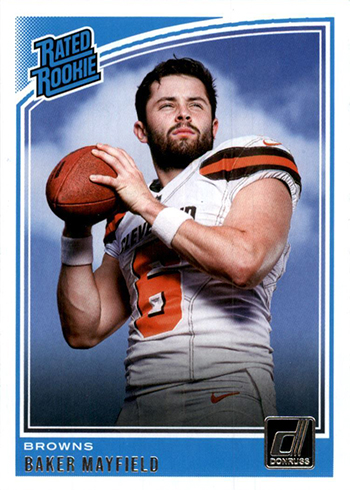 Beckett Football: Did you think it would take this much effort and a big process to create your football cards?
Baker Mayfield: It's pretty crazy, all the behind-the-scenes. I never thought about it like this, but that's what it takes when you think about how many cards you have to put out and how many kids want these cards. It's pretty amazing.
BF: What did you collect growing up?
BM: I was a baseball and football card guy. Whenever I would go through the checkout lines at the stores, my mom or dad would allow me to get a pack or two at a time. I liked rare cards. My favorite card was a Derek Jeter high school card. It was pretty sweet. It's somewhere in storage.
BF: What's it like seeing and signing your first licensed football cards?
BM: They're really cool to look at. It's crazy how they do the jerseys and cards. I like seeing the edits and how everybody does it differently.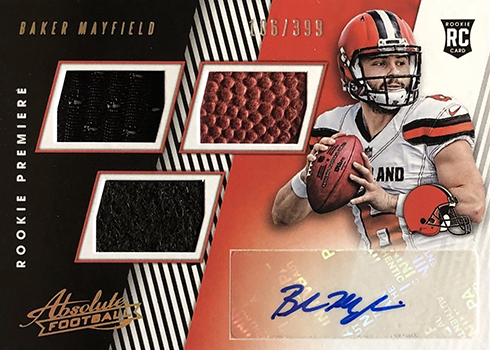 BF: What inscriptions are you signing on some cards?
BM: 'No. 1 pick.' 'Go Dawgs.' 'Sooners.' Things like that. I'm trying to sign as many as I can to get them all out there to everyone that wants them.
BF: Who are you looking forward to meeting or playing against in the NFL?
BM: I'm just looking forward to competing. I'm also looking forward to the chance of competing against my own rookie class. It's going to be cool to see how we all grow together and learn.
BF: Are you planning on trading stuff with your fellow rookies this season?
BM: Probably jersey swaps.
BF: Who is your early pick for Rookie of the Year?
BM: Saquon [Barkley]. It's a little too easy not to.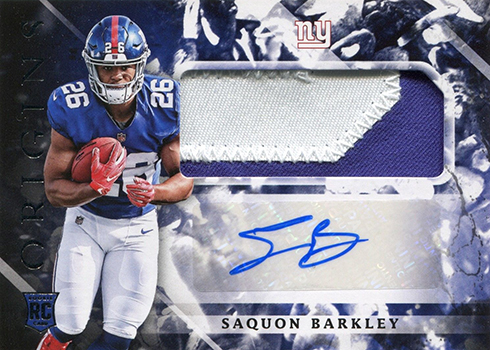 BF: What rookies have you gotten to know well through the draft process until now?
BM: Saquon was one of them. Just getting to be around him. Getting to know Josh Allen and playing together at the Senior Bowl. He's a good dude.
BF: If you could be paired on a football card with any player in history, who would you want to be on there with?
BM: Brett Favre.
BF: Maybe pictured in your draft day scenes?
BM: Yeah, that's a good idea. We should come up with something. That'd be cool.
BF: What excites you most about the pieces on the Browns' offense?
BM: Lots of weapons. All NFL teams are talented, but we have some serious guys who can catch the ball and make plays. When you look at yards after the catch, we have a bunch of guys who are almost leading the league—Josh Gordon, Jarvis Landry, Rashard Higgins. We have a bunch of talented guys, but now it's just about putting the pieces together. It's about how you play well together. I'm looking forward to it.
BF: How have the veterans helped you over the last few weeks?
BM: It's just good to get around them. Finally, the whole draft process is over. Now I get to settle in and play football.
BF: What type of quarterback are Browns fans getting?
BM: They're getting the hardest worker in the building. A winner, and someone that cares about it and loves it. It is my job to turn it around. I'm looking forward to the challenge.
BF: As a quarterback and leader, how important is it to get to know your teammates personally?
BM: I don't do it just to play quarterback. I do that because I care about my teammates. You want what's best for them. When you get to know someone on a personal level, you work harder for them. There's just so much more invested in it. Now, it's our job. This is how they feed their families. It's just beneficial when you get to know each other. It's much more beyond the surface.