The calm before the 2015 National begins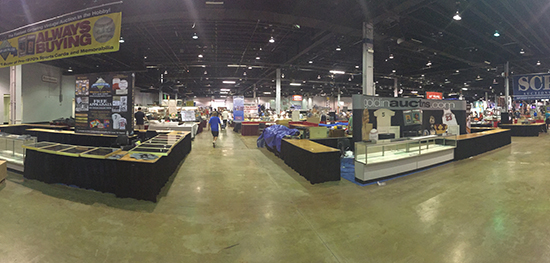 With a couple of hours to go before the 2015 National Sports Collectors Convention officially kicks off, there's some scrambling, some relaxing and the occasional yellow cart zooming that may require some dodging. Banners are going up, display cases are being filled and items are being priced.
There's plenty of activity happening everywhere and the Donald E. Stephens Center. Dealers are catching up with each one another and some early transactions are being struck. But the biggest thing to take in is just how big the National truly is, even when it's not fully set up.
When you hear 350,000 square feet, it sounds big but it's just a number. But to experience it is something totally different.
If you've been before, you understand. It's row upon row of cards, memorabilia and just about anything you can imagine. Booths reach high and banners hang low. It took me all of five minutes to feel a little bit lost my first time around the floor.
Without even looking that closely, I've already seen cards dating back to the mid-1800s all the way up to the newest rookies.
If you're looking for boxes, I've seen an empty box from an 1920s Mickey Mouse set, $5 junk wax and huge stacks current stuff targeting wrapper redemptions. Pack-wise, there's a similar scope. A couple of the cheap dollar packs might be fun but I'll dream about the 1976 Topps Football cello pack with the Walter Payton rookie card on top.
The National is also a showcase of champions and championships. Trophies, rings and watches are here. Heritage Auctions even has a belt given to Charley Mitchell from an 1888 match with John L. Sullivan.
The breaker pavilion is relatively quiet right now as things are just getting started. But that hasn't been the case last couple of nights. Several breakers were set up as early as Monday, opening stuff live.
Later today, the show opens for the VIP party and from there Preview Night begins, the show floor officially starts filling up with collectors and the real excitement begins.