BGS Vintage Challenge: Stephen Laroche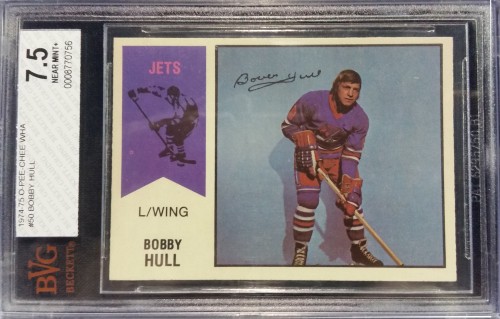 By Stephen Laroche | Beckett Media
During the 36th National Sports Collectors Convention in Chicago, Beckett Media's editorial staff were asked to hit the floor and bring back a vintage card to be graded. Each staff member participating in the project will present the results of their hunt to readers during the show.
The Card: 1974-75 O-Pee-Chee WHA #50
The Player: Bobby Hull
The Cost: $40
The Cost to Grade: $15
Why did Beckett Hockey's Editor choose this card? Find out after the jump.
Why I Picked It: For Chicago's hockey fans, there were few darker days than when Hull chose to step away from the team and join the Winnipeg Jets of the World Hockey Association. While the Blackhawks attempted to block the move, he was soon allowed to play and was the rival league's marquee talent during their early years. By 1974-75, O-Pee-Chee was ready to produce a stand-alone WHA set and the sharp-shooting Hull set a new professional hockey record by scoring an amazing 77 goals. The horizontal design is simple, but has a distinct 1970s feel and with Hull's famous hairpiece at the forefront and the classic Jets uniform, how could any hockey fan not love this card?
While I had also considered 1963-64 Parkhurst and 1968-69 Topps pieces featuring Terry Sawchuk from the same dealer, this card jumped out to me as I first bought a copy of it for a mere $4.00 at a card show in Belleville, Ontario roughly 25 years ago. Hull was born and raised in nearby Point Anne and he signed my copy soon after. This time, the condition was much better and the price tag was certainly much higher. However, the lack of the typical rough O-Pee-Chee borders and strong surface made it appealing. I did have some mild concerns about the centering, but figured that it might come back with a grade somewhere between a BGS 7 and BGS 8.
How It Graded: The end result was a strong BGS 7.5, and only five of the 24 copies graded and slabbed by Beckett Grading Services have graded higher. There are just three other copies of this card that have achieved a similar grade and the maximum to date has been an 8.5.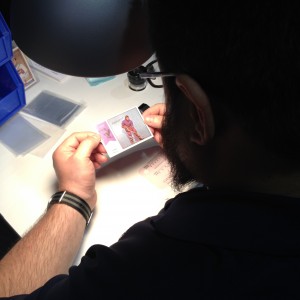 The Grader's Comments: "I would say that a common problem with many of the 70s O-Pee-Chee cards is centering," said Andy Broome. "Quality control at that time just wasn't great. They really weren't concerned about the quality of the centering. With this card in particular, that seems to be the biggest flaw. It's actually a very nice card, normal O-Pee-Chee edges, very minute corner wear. Really, the centering is the only thing that kept it from being higher."
Raw Book Value: $35.00 in near mint condition.
Graded Value: $40 for NM+
Stephen Laroche is the editor of Beckett Hockey and a contributor to other Beckett Media publications. Have a comment, question or idea? Send an e-mail to him at slaroche@beckett.com. Follow him on Twitter @Stephen_Laroche.