Vintage Break added to the National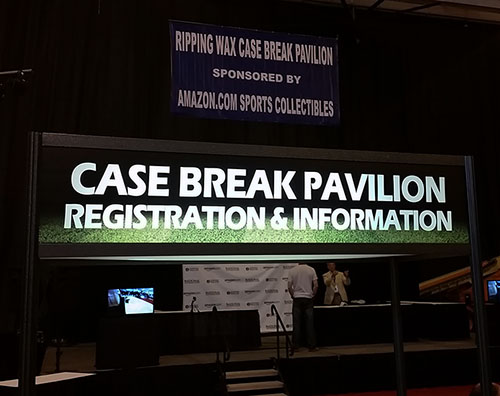 By Stephen Laroche | Beckett Media
The 36th National Sports Collectors Convention is a little over a month away and collectors from all over the world are expected to come to the Donald E. Stephens Convention Center in Rosemont, Illinois to enjoy the world's largest trading card show. It is an event that has continually evolved since it debuted in 1980 and organizers are looking to expand upon last year's case breaker pavilion with a special break that will deliver some drool-worthy collectibles.
In conjunction with Heritage Auctions and RippingWax.com, the first National Vintage Break will take place at noon on Saturday, August 1 and 15 lucky collectors will have a shot at items that include a baseball signed by Babe Ruth.
"We are incredibly excited to host this historic National Vintage Break event, at the National, on our AmazonSports.com Main Stage," said National founder Mike Berkus. "Chris Ivy of Heritage Auctions and David Gelfman of RippingWax.com have created a high profile live event that attracts and includes current trading card collectors and vintage memorabilia collectors simultaneously on-site and on-line, a truly unique and exciting concept."
What are some of the other items scheduled to be a part of this historic break? Find out after the jump.
At a cost of $2,500, this break will be an expensive one to join, but the treasures that participants can potentially end up owning are quite significant and draw from the greatest athletes of all-time. Participants will find out their spot in this hit draft through selection via Random.org and the even will be broadcast online from the main stage. The complete list of items available in this break are as follows:
– Babe Ruth signed baseball with Gary Cooper and the cast of "The Pride of the Yankees"
– Michael Jordan signed 1984 rookie-style jersey
– Mickey Mantle and Roger Maris signed baseball
– Lou Gehrig signed album page
– 1955 Jackie Robinson signed World Series questionnaire
– Ted Williams signed bat
– 1933 Goudey Lou Gehrig #92 SGC 70 EX+ 5.5
– 2010 Albert Pujols game-used bat
– Wayne Gretzky game-used, signed stick
– Mickey Mantle signed bat
– 500 Home Run Club multi-signed baseball
– 1961 Topps Mickey Mantle #300 PSA NM 7
– 1932 Ty Cobb signed check
– Michael Jordan & Muhammad Ali signed oversized photograph
– 1909-11 T206 Sweet Caporal Ty Cobb red portrait PSA 3
Stephen Laroche is the editor of Beckett Hockey and a contributor to other Beckett Media publications. Have a comment, question or idea? Send an e-mail to him
at slaroche@beckett.com. Follow him on Twitter @Stephen_Laroche.