Promotions To Keep Collectors Busy At The National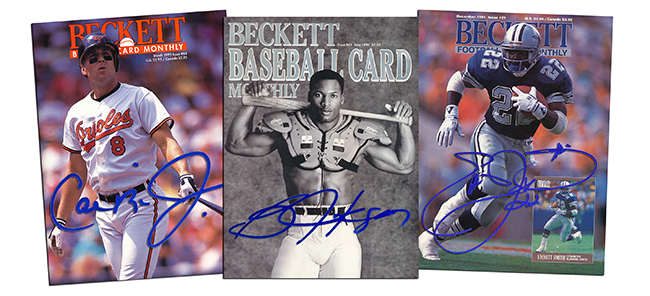 By Stephen Laroche | Beckett Media
The 36th National Sports Collectors Convention opens today in Chicago and hobbyists from all over the world are about to convene on the Donald E. Stephens Convention Center. Whether they are breaking boxes or hunting for a great item for their personal collections, there are plenty of opportunities to participate in some of the exciting promotions offered by trading card manufacturers and other key hobby figures.
In addition to offering show attendees great prices on its latest print publications, Beckett Media staff will be in attendance to talk about the hobby. Beckett Auctions will be present as well and is offering up opportunities to consign collectibles for future events while Beckett Grading Services expects to have a very busy show and those wishing to have their cards can take advantage of special rates.
Beckett will also be offering up an epic treasure hunt which can bring up to 200 lucky collectors a special limited Cover Card signed by a sports legend. After tracking down the 15 cards exclusively released for this year's National from a variety of locations on the floor, they can bring the cards to the booth to receive a random autograph from past cover subjects Emmitt Smith, Bo Jackson, Frank Thomas, Cal Ripken Jr., Pete Rose, Stan Musial, Mike Modano, Jose Canseco, Dennis Rodman, or Mike Tyson. Only 50 cards will be handed out each day.
What is in store from the card companies in attendance? Find out after the jump.
National VIP Bags
For attendees that sprung for the VIP admission package, they will find some cardboard treasures inside. Topps has provided a six-card tribute to 1953 Bowman Baseball while Upper Deck offers up six Prominent Cuts VIP cards and Panini America focuses on a sextet of top baseball, basketball, and football rookies. Depending on the level of VIP package purchased, there will also be autograph tickets that can be used during the show for specific guests. On Wednesday, Topps is sponsoring the VIP Party that begins at 2:30 and collectors can meet baseball legends Rollie Fingers and Bret Saberhagen along with local icon and Hockey Hall of Fame member Pierre Pilote.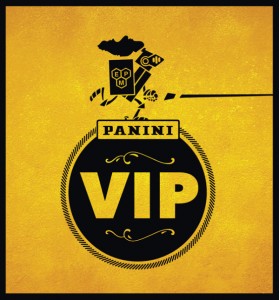 Panini America
Collectors visiting the Panini booth at the show will have the opportunity to break their boxes and receive a multi-sport pack contaning the biggest stars and hottest prospects from the worlds of baseball, basketball, and football – some of which may appear in their collegiate uniforms as well. In addition to a large base set that includes short printed cards, there are decent odds of pulling parallels (including Cracked Ice and HyperPlaid), autographs, memorabilia, and sketch cards.  In order to get some of these packs, certain sealed boxes will need to be broken in front of a Panini employee at the booth. The breakdown is as follows:
– Four packs for opening a sealed box of 2014-15 Donruss Basketball, 2014-15 NBA Hoops, 2014-15 Prizm Basketball, 2014-15 Totally Certified Basketball, 2015 Donruss Baseball, 2015 Elite Baseball, 2015 Stars & Stripes USA Baseball, or 2015 Clear Vision Football.
– Five packs for opening a sealed box of 2015 Prizm Collegiate Draft Picks Football.
– Six packs for opening a sealed box of 2015 Prestige Football, or 2015 Country Music.
– Seven packs for opening a box of 2014-15 Paramount Basketball, 2014-15 Prestige Basketball, or 2015 Americana.
– Eight packs for opening a box of 2015 Cooperstown Baseball, or 2015 Contenders Draft Picks Football.
Panini will also be holding a special series of case breaks exclusively meant for kids in attendance.
If that was not enough, die-hard Panini collectors that spend a qualifying amount ($7,500) on products from an approved vendor at the show (Atlanta Sports Cards, Blowout Cards, Chicagoland Sports Cards, Dave & Adam's Cardworld, Marty's Sports Card Exchange, and Steel City Collectibles) will receive a golden ticket for admission to the company's National VIP Party on Saturday night. At the event, they will receive special gold redemption packs and get a signed 8×10 photo from each of the guests the company brings in to meet with attendees.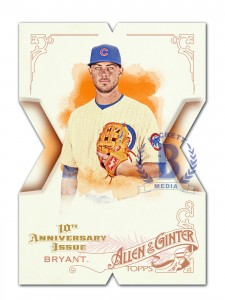 Topps
Retro is the theme Topps has established for the National and their redemption program will revolve around 2015 Allen & Ginter and 2015 Gypsy Queen.
Those busting a box of Allen & Ginter at the Topps booth wil get a pack of 10th anniversary die-cut cards which pay tribute to notable Chicago personalities. Only 10,000 packs will be made available and some lucky collectors may pull an autograph as well. If Allen & Ginter is not on your radar, busting selected products instead will get you a three-card Gypsy Queen pack featuring young stars Kris Bryant, Byron Buxton, and Carlos Correa.
Collectors who wish to have an opportunity to interact with Topps staffers can also sign up for its annual Q&A session. It is limited to just 150 guests and sign-up is on a first-come, first-served basis. Those who partake in the company's digital trading card apps will be able to meet some of the folks behind them and the company is selling oversized High Tek cards at the booth as well.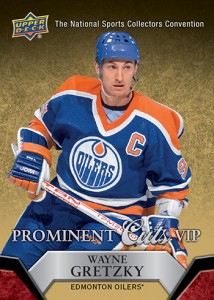 Upper Deck
Upper Deck is bringing back Prominent Cuts and the set will focus on sports and entertainment personalities. Collectors will not only be able to easily finish the set due to its availability throughout the show, but they could pull some limited autograph cards or even a one-of-one cut signature card.
In order to receive a pack of Prominent Cuts, you will only need to buy five packs of 2014-15 Fleer Showcase, 2014-15 O-Pee-Chee Platinum, 2014-15 Upper Deck Masterpieces, 2014-15 SP Authentic Hockey, 2015 Goodwin Champions or 2015 Upper Deck Dinosaurs from a certified Diamond dealer at the show. Those that choose to break 2014-15 SP Game-Used or 2014-15 UD Premier will receive three packs of Prominent Cuts instead while supplies last.
Upper Deck is also catering to case breakers and the first 75 to bring a sealed case of 2014-15 Fleer Showcase, 2014-15 O-Pee-Chee Platinum, 2014-15 UD Premier, 2014-15 SP Authentic Hockey, or 2015 Goodwin Champions to the booth will be able to skip the line and receive 10 Prominent Cuts packs in addition to a raffle ticket that will be eligible for premium items.
Upper Deck will also be hosting a special event for its Diamond Club members and membership candidates on Saturday evening in addition to holding raffles and a treasure hunt.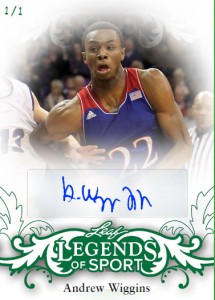 Leaf Trading Cards
With two products releasing in time for the National, the Leaf Trading Cards booth will see collectors breaking 2015 Leaf Pop Century and 2014-15 Leaf In The Game Used in order to receive seven-card redemption packs featuring the popular 1990 Leaf Baseball design. One in seven of these packs with contain an autograph, but those busting cases of these products of 2015 Leaf Legends of Sport, 2015 Leaf Clear Football or 2015 Leaf Masterworks: Sports Edition will get an additional pack containing an autograph card limited to 10 copies or less.
Leaf's booth will also be hosting a redemption program for Bench Warmer where collectors breaking a box of 2015 Bench Warmer National Archive, Bench Warmer Eclectic, 2015 Bench Warmer Sin City, and Bench Warmer Vault will receive a mystery pack.
As an additional bonus, collectors that consent to being recorded talking about Leaf's products during their breaks will have their redemptions doubled.
TRISTAR
In addition to operating the autograph pavilion, TRISTAR will offer a free bag to anyone who brings a packaged product they have purchased to their booth. By doing so, they also have an opportunity to be entered into a draw for pieces of autographed memorabilia.
Stephen Laroche is the editor of Beckett Hockey and a contributor to other Beckett Media publications. Have a comment, question or idea? Send an e-mail to him at slaroche@beckett.com. Follow him on Twitter @Stephen_Laroche.