Jim Craig partners with Lelands to sell Miracle On Ice collection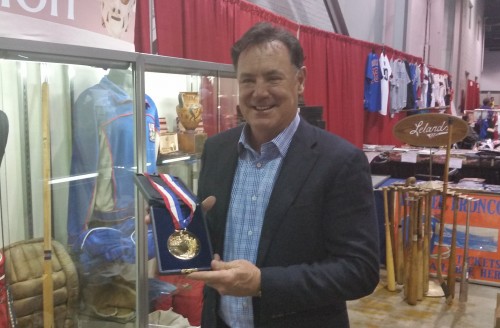 By Stephen Laroche | Beckett Hockey
To American hockey fans, there are few home-grown players as beloved as Jim Craig and the goaltender for the national team which defied the odds to defeat the Soviet Union at the 1980 Winter Olympics. The game, known as the Miracle On Ice, changed the game forever as it helped the sport grow and a group of college kids went on to win the gold medal by defeating Finland.
Craig has partnered up with Lelands to sell off his collection of personal memorabilia. Among the items presented for sale are his gold medal, the white jersey and stick from the Miracle On Ice, the blue gold medal game jersey and flag that was draped over his shoulders afterward, along with his mask. The price for all of these treasures is a lofty $5.7-million and he spoke with Beckett Hockey at the 36th National Sports Collectors Convention in Chicago as most members of the team appeared for a public autograph signing. His decision to bring these items to the collector's market came in recent months.
"I think the biggest thing was when one of my teammates (Bob Suter) passed away," he said. "I saw the reality that as you get older, there's different things you have to think about. I had thought about different items over time that had been shown in the Hockey Hall of Fame, the Sports Museum of Boston, and all these other places. Now, they're at home. So when they were appraised, they gave a really high value and I learned that collectors really love these types of things and they really take care of them. In my mind, I was 'mine are in my closet, is someone going to steal them? What am I going to do?' It was also time to take care of the family. I have two children. My son is getting married and hopefully we'll have grandkids. When you look around here, you see how people love these things, so it's not an auction – it's a collection."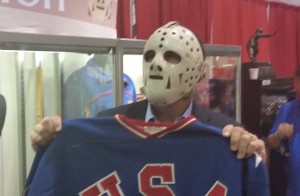 Josh Evans, Chairman of Lelands, discussed how the idea of selling the collection as a whole came about."I had been approached by Jim a few years ago about having his collection appraised and it never really happened," said Evans. "I never even spoke directly with Jim about it. Then, we reached out to him more recently and had actually been thinking about doing something. He was contacting firms, and we were on the list, and we started talking. He was, I think, a little non-plussed by some of the other bids because they were very standard. I came up with the idea of doing a private sale and he loved that. He loved the idea, instead of being scattered to the four corners of the earth, keeping it together and maybe an institution of sorts would come forward."
Craig echoed the hope that his collection could be accessible to the public and has enjoyed working with Lelands on this private offering.
"Lelands does such a great job and we're really hoping that someone comes along and buys it and puts it on display and everybody will get more chances to see it. It will be better taken care of and that moment will be preserved. That's what we're really looking for."
He also noted which items were the toughest to let go of.
"If I didn't have two children, I never would have given up the gold medal because I would have passed it down," he said. "It's pretty hard to split a gold medal. I tell people the mask is so special. It was me. It had my personality with the shamrock. The jerseys mean that I was part of the team. The flag was a symbol of what the team had accomplished. All of them have such different meanings.
He donned his mask for the final time at the show, much to the joy of a crowd that convened upon the Lelands booth.
"I don't place the value on what these things are worth," continued Craig. "Professional people do that. I really want to protect the legacy of myself and my family. If I could pick somebody, almost as if you're a dog owner and you have a bunch of puppies, you want to make sure that puppy goes to a great spot. This is the same thing, I want it to go to somebody that is really going to treasure this moment and utilize the fact that they have a piece of history."
Stephen Laroche is the editor of Beckett Hockey. Have a comment, question or idea? Send an e-mail to him at slaroche@beckett.com. Follow him on Twitter @Stephen_Laroche.