Topps gives out exclusive Jose Abreu autograph to 2015 National Q&A attendees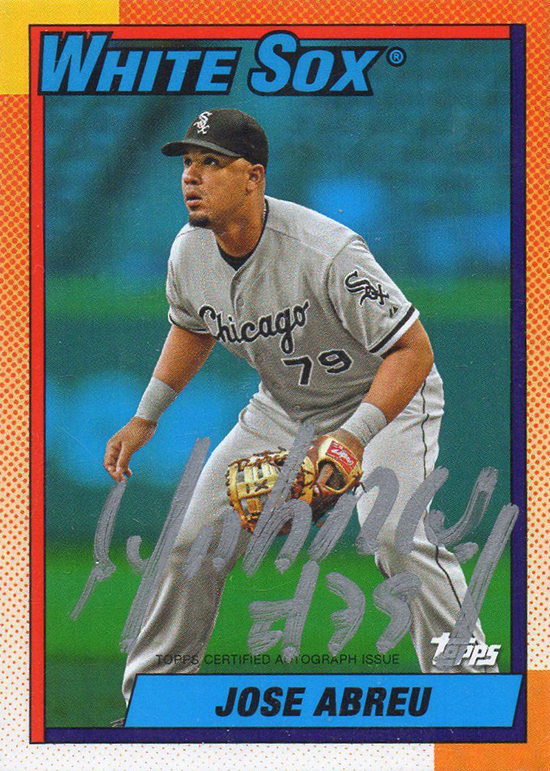 By Ryan Cracknell | Hobby Editor
The National has no shortage of exclusive cards. However, one big one could easily slip by because it wasn't advertised and it required a little work to get. At the end of their Q&A on Saturday, Topps announced that those in attendance would receive a special Jose Abreu autographed card. But the offer was only open to those who stuck around until the announcement was made.
About 150 people originally signed up for the informal session that saw a handful of top-level staff field questions from the crowd. The actual attendance looked to be noticeably lower. From there, several had to leave early.
The card is a bit of a rabbit hole as far as design goes. The look and numbering put it in line with the #1 Draft Picks inserts in 2015 Topps Archives. These are based on the 1990 Topps Baseball design. No matter which one you relate it to, the 2015 Topps NSCC Jose Abreu autograph is bright and likely familiar. The signature is done in thick silver ink.
Because Abreu isn't in either the 1990 Topps 1 Draft Picks or 1990 Topps All-Star Rookies inserts, there shouldn't be any confusion in identifying potential after-market or fake autographs. There's also notations on autographed cards on both the front and in the fine print on the back.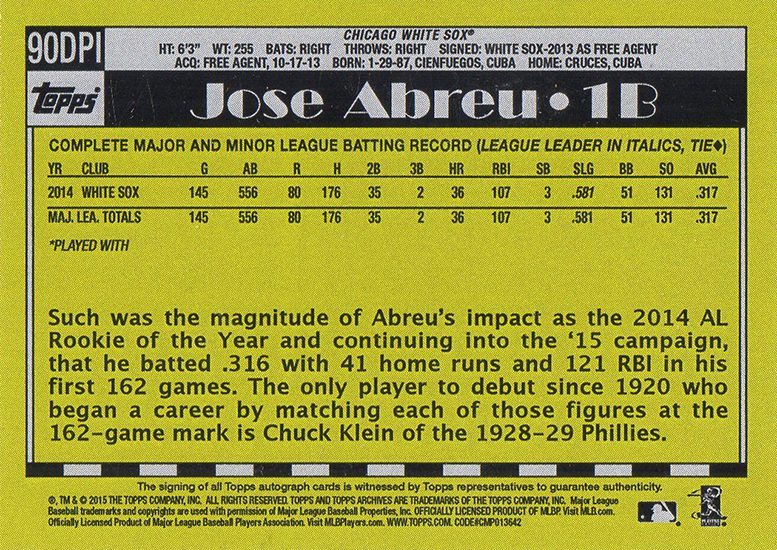 Although not numbered, company reps did confirm that around 100 of the 2015 Topps NSCC Jose Abreu autographs were produced.
Tickets were handed out to those at the conclusion of the Q&A. Names and numbers on the tickets were recorded to avoid any confusion. Collectors then took their tickets to the Topps booth on Sunday morning to get their cards. Topps took addresses of those who weren't going to be at the National on Sunday and promised to mail out their cards.
A handful of the cards have made their way to eBay already with one selling for $79.99 through a Buy It Now listing.