Steiner Sports auctioning off more Don Larsen memorabilia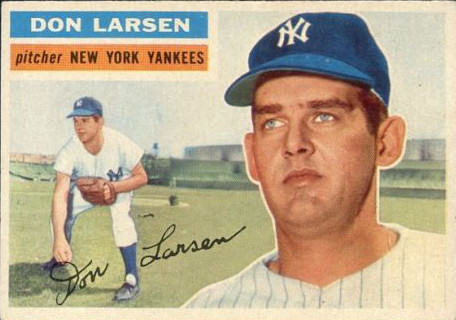 By Stephen Laroche | Beckett Sports Card Monthly Editor
Steiner Sports has had a long relationship with Don Larsen, the New York Yankees pitcher long remembered for throwing the only perfect game in World Series history back in 1956 and the two parties have partnered up once again to sell some treasures from the former big leaguer's career.
With over 300 items on the block, this auction offers up a strong variety of personal items which include awards, documents, and some impressive autographed items from Larsen and his peers.
"It was stuff that I had just saved for a long time and it was about time to get rid of it because once we're gone, nobody will know what to do with it, even our kids," Larsen recently told Beckett Sports Card Monthly. "So, I thought it was an opportune time to take advantage of it. With the proceeds, I plan to take all of us on a week's vacation, maybe up to Alaska fishing or something like that."
At the age of 87, Larsen still keeps busy signing autographs for fans and spending time with family, but he is also grateful for what baseball has done for him.
"The game has helped me a lot with endorsements and stuff like that. I have an agent and we keep busy and it's helped our income and I can do things for the family that I couldn't do ordinarily. Not overdoing anything, we're just trying to live life to the fullest."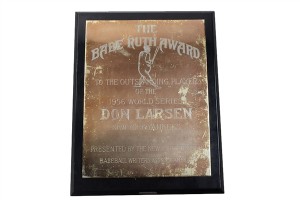 Some key items from his years of amassing memorabilia have yet to be sold, but he did note that some of them have been shared with family members.
"I had my son come over and he took a few good things like my World Series ring and my pennant ring," he said. "That ring probably would have went for over $100,000.00 itself. We have my wife's World Series ring from '58 in Milwaukee and she's got some stuff we might put on at a later date.
"I'm not familiar with the Internet and don't have access to it, but it's a good thing and we can have stuff up periodically. These are personal type of things; gold bubble gum cards, the World Series bats, they're all in there. Of course, my Babe Ruth Award when Mickey (Mantle) was the triple crown winner that year."
Larsen spoke about the day when he was presented with the plaque, which is currently sitting at $12,000.00.
"That was the next year in the dugout. They took a picture of Mickey and I holding our awards. That's probably the nicest piece this go-around that we chose to offer."
Overall, Larsen appears pleased to work with Steiner on this auction and has high hopes for it.
"It's in good hands and good people run it. They've done it before and I'm sure they're good at it. I know we'll get some results and take care of some things we want to do. They're good people!"
Among the most unique items in the auction include a variety of frog-related pieces. Larsen explained their significance.
"Well, that's sort of my favorite nickname because I've been hunting frogs for over 80 years… I still do it. By the way, I don't know if you've eaten them, but they're rather good and they're a delicacy and we enjoy that part of it."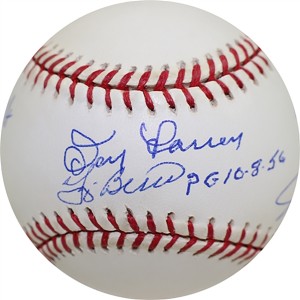 Larsen made his big league debut with the St. Louis Browns in 1953 and went 7-12 as a rookie for a club that was soon on the move. The following year, his first baseball cards were released and he spoke fondly of that card from the 1954 Bowman set.
"Oh, that was a long time ago," he said. "I first signed with St. Louis and, of course, the franchise was sold to Baltimore. My rookie card is as a Baltimore Oriole in 1954 because we had none with the Browns in '53. I saved some of those and got a book of cards I might consider selling later on or maybe one of the grandkids might want it and they can have it."
After spending one year in Baltimore and losing a league-high 21 games, he was traded to the New York Yankees and was finally able to shine with a contender. While the team lost to the Brooklyn Dodgers in the World Series that season, the club captured another American League pennant in 1956 and was ready to avenge their loss. Game 2 of the rematch did not go well for him, but when called upon for Game 5 on October 8, he made history by retiring all 27 batters he faced and hurling the only perfect game in World Series history.
"Not really, it's hard to believe it even happened. I think about it an awful lot, especially at this time of the year," he said not long after the game's 60th anniversary. "It's brought up a lot, but I'm glad I was part of it. The best thing that ever happened to me and I've got a lot of rewards from it. I've never taken advantage of it and it's given a nice living for our family. I've done what I'm supposed to do with it.
"After Babe Pinelli called (Dale) Mitchell out, it felt like the world left my shoulders. Strike three, and the game was over. I came off the mound and Yogi (Berra) was coming at me, but in the back of my eye, I saw Dale Mitchell turn around to protest the strike, but there was nobody there! Babe Pinelli had gone, Yogi was in my arms. He had to be a little lonely at the time. Dale Mitchell was a hell of a ballplayer. He never struck out at all. He was one of the better hitters in the league, period.
"It's a classic. You're lucky to be in those things. The Yankees had great success before I got there. It was very much fun and great to be in a classic like that. You try to do your best and hope to get good results. A lot of times, you don't get good results. You make too many boo-boos, it's not good for you or the team, but we're all out there trying to do our best and hope the results are good."
When asked about how he would have been rewarded had he pitched such a game today, he was quick to provide an answer.
"Maybe I'd have been part owner," he joked. "I'll take the concession stands, to hell with the salary!"
For more information on the auction and to see the items on the block, please click here.
Stephen Laroche is the editor of Beckett Hockey, Beckett Basketball, and Beckett Sports Card Monthly magazines. Have a comment, question or idea? Send an e-mail to him at slaroche@beckett.com or follow him on Twitter @Stephen_Laroche.