Your unwanted Cleveland Browns QB autographs are worth a $100 gift card from Steiner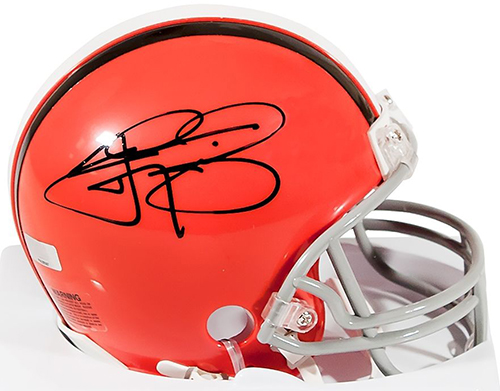 By Ryan Cracknell | Hobby Editor
If someone offered to trade you a $100 gift card for your 2014 Connor Shaw autograph card, would you take it? Ready to throw in the towel on the Johnny Manziel Era and part ways with that signature you were stoked to land last year? Steiner Sports wants to talk.
The memorabilia dealer is offering a $100 gift card for a certified autograph of any of the starting quarterbacks the Cleveland Browns have had since 1999. This applies to both cards and memorabilia.
The list of qualifying Browns autographs is long. And if you're a fan of the team, it's probably depressing. Steiner is willing to trade for Cleveland Browns signatures of any of the following players:
Derek Anderson
Jason Campbell
Tim Couch
Austin Davis
Jake Delhomme
Ty Detmer
Trent Dilfer
Ken Dorsey
 Charlie Frye
Jeff Garcia
Bruce Gradkowski
Kelly Holcomb
Brian Hoyer
Thad Lewis
Johnny Manziel
Josh McCown
Luke McCown
Colt McCoy
Doug Pederson
Connor Shaw
Brady Quinn
Seneca Wallace
Brandon Weeden
Spergon Wynn
There are a couple of conditions attached, though. The autograph must come certifed or authenticated by either Steiner, PSA/DNA, TriStar, JSA, Fanatics Authentic, Panini, Topps or Upper Deck.
Browns photos, jerseys, mini helmets and cards all qualify for Steiner's Browns QB Giveback offer.
Items must be sent to:
Steiner Sports Memorabilia
c/o: Browns QB Giveback / Customer Service
10 Cedar Street
New Rochelle, NY 10801
There is a limit of one $100 gift card per household and the offer expires on Friday, January 22 at 12PM EST.
Full details for the program can be seen on the Steiner website.