The Deacon Jones Collection being auctioned through Steiner Sports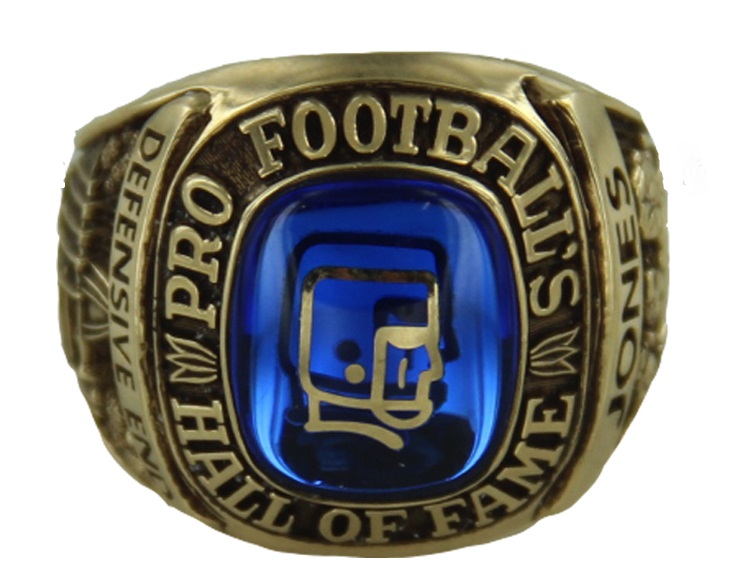 By Susan Lulgjuraj | Beckett Football Editor
Deacon Jones' collection has hit the auction block as part of Steiner Sports Memorabilia's Coast to Coast Legends Auction.
The Los Angeles Rams standout died earlier this year, leaving behind a trove of memorabilia from his Hall of Fame career. Jones' wife Elizabeth is auctioning part of his collection to raise money for the Deacon Jones Foundation, which assists inner-city communities.
The Deacon Jones Collection has 24 items, including his Pro Football Hall of Fame ring, his 1968 and 1969 MVP Trophies, a 1966-67 Ram defensive playbook and an expired driver's license, passport and birth certificate.
"We had a relationship with Deacon for years," said Steiner Sports CEO Brandon Steiner in an interview with Beckett Media. "It was Elizabeth who wanted to do it, but she didn't want to go anywhere. She wanted it done the right way, professionally."
The auction will run through December 9, what would have been Jones' 75th birthday.
Jones was drafted in 1961 by the Los Angeles Rams in the 14th round from Mississippi Vocational. He was part of the Fearsome Foursome with the Rams that devastated offenses.
He's considered one of the greatest defensive ends in NFL history. However, the league only started keeping statistics for sacks – a phrase in which he helped coin – during the 1981-82 season.
By Jones' account, he registered 172 ½ sacks. Pro Football Weekly came up with a higher number of 194 ½. Either way, Deacon's sack count would rank third all-time behind Bruce Smith and Reggie White, two players who starred during an era of 16-game seasons.
The toughest part for Steiner was going through the collection to find the right items for the auction.
"He had a length career and a lengthy life, and organizing (his memorabilia) in a way to get its respect," Steiner said. "We wanted to put everything in the proper order."
Susan Lulgjuraj is an editor at Beckett Media. You can email her here with questions, comments or ideas. Follow her on Twitter here. Follow Beckett Media on Facebook and Twitter.