The Varied Path of the Best Bill Goldberg Cards
For someone who doesn't have a deep checklist, Bill Goldberg cards are all over the place. His time at the top of the wrestling world was relatively short but it certainly made an impact.
The chants were deafening.
"Goldberg! Goldberg!"
The flames burned bright.
"Goldberg! Goldberg!"
The faces, well, let's just leave it at intimidating and that he was getting into the moment.
For a time, Bill Goldberg was a wrestling phenom. His brute strength and quick path of destruction came at a time when the battle between WCW and WWF were at its peak. And while that meant being a focal point in Topps' stellar run with the WCW license in the late 1990s, it flamed out after just a few sets when WCW lost the Monday Night Wars and was absorbed by Vince McMahon and his empire. Combine that with the fact that the Topps WCW sets didn't have deep checklists and you can understand why there aren't many Bill Goldberg cards out there.
But for his first cards, you have to look to football.
Top Bill Goldberg Cards
1988 Georgia McDag Bill Goldberg #15
As the 1980s came to a close, Bill Goldberg was a big part of the Georgia Bulldogs' defense. And while college didn't have the same mainstream sets that we have today, that doesn't mean there were none. The first Goldberg card was released as part of the 1988 Georgia McDag set. One of 16 players on the checklist, the backs feature safety tips. While not impossible, this isn't an easy card to find and should be considered one of the marquee Bill Goldberg cards.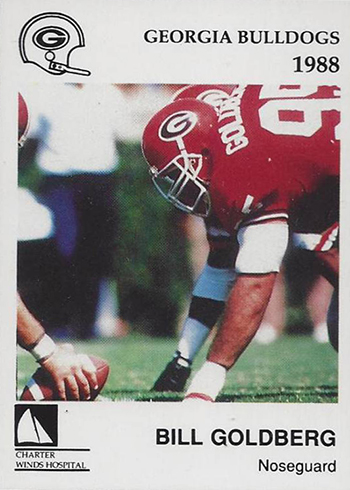 1989 Georgia Police Bill Goldberg #6
The follow-up 1989 Georgia Police Bill Goldberg features the same photo. However, we're talking a regional set here. And the design and bright red borders make for a different tone. Goldberg's other football card was originally distributed as part of an uncut sheet. Futher adding to the potential complications of safely extracting it, Goldberg was a bottom corner, making it much more susceptible to damage. This card may not have quite the appeal as his first, but it's still very notable.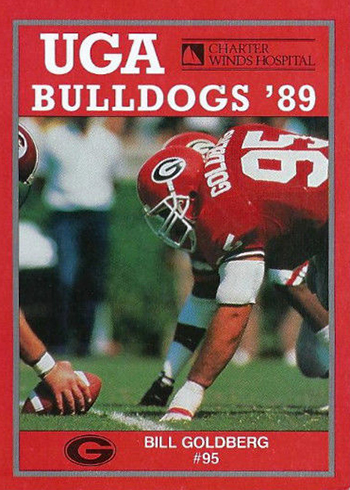 1998 Topps WCW/nWo Goldberg #9, #68
Goldberg was all over Topps' WCW products beginning with the 1998 WCW/nWo set. "Rookie cards" are a little tricky for wrestling and not always as sought after as they are in other areas of the hobby. Goldberg has a pair of cards in the base set, one where he's in action (#9) and another further down the checklist (#68) where he's posing with the WCW World Heavyweight Championship belt. Neither of these cards carry a lot of value, but they should still be seen as significant simply for being the first mainstream Goldberg wrestling cards.
Buy on: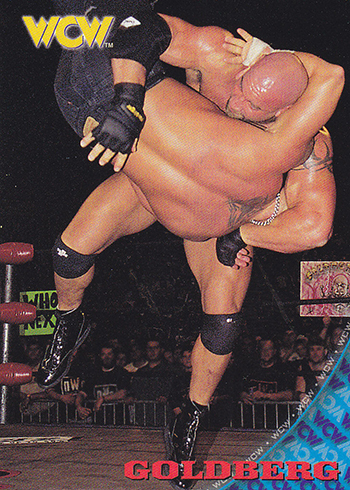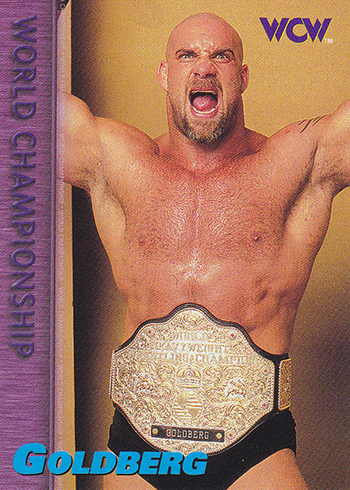 1998 Topps WCW/nWo Chrome Goldberg #C1
Part of being a big part of Topps' WCW sets means a run with the inserts — even when there weren't many. 1998 Topps WCW/nWO has ten Chrome inserts, Goldberg being one of them. Inserted 1:12 packs, they're only found in the hobby version. The image is identical to the retail-only Sticker.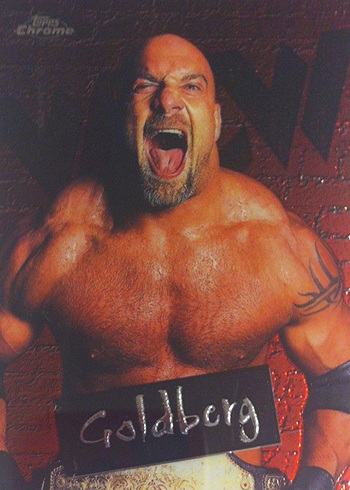 1999 Topps WCW/nWo Nitro Autographs Goldberg
If you want the best Bill Goldberg card, this is it. He's had a handful of other autographs in the years since but this was the first. Over the course of just a couple of years, Topps covered much of WCW's roster with autographs. And while the product's changed, the autograph design didn't adding some continuity. But that depth meant that pulling any individual card was still tough. Looking back, it's one of the strongest lineups of wrestling autographs of all-time. Even with many of the big names signing since, values have remained extremely strong and Goldberg is no exception.
While there's still unopened 1999 Topps WCW/nWo Nitro product out there, much of it is retail. Autographs are only in hobby packs. Packaging notes the possibility of signed cards.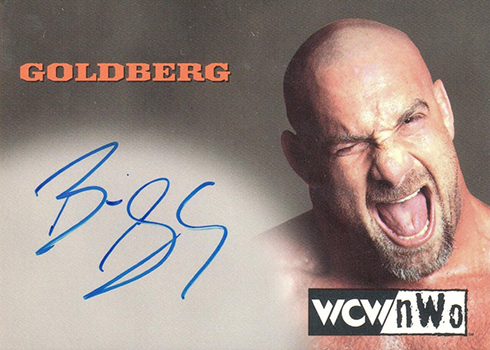 2003 Inkworks Looney Tunes Back in Action Autographs Bill Goldberg #A5
That varied path Bill Goldberg has taken in the hobby goes beyond the ring and the gridiron. He starred in a handful of movies as well, including Looney Tunes: Back in Action. Believe it or not, he's actually one of the lesser names on the autograph checklist that also includes Steve Martin, Heather Locklear and Brendan Fraser.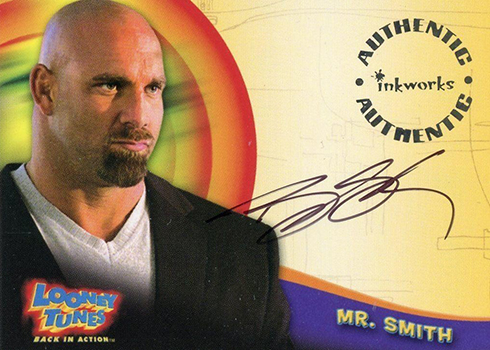 2014 Leaf Originals Wrestling Goldberg #AG3 Autograph
Can't afford the Topps Goldberg autograph but can't bring yourself to get something connected to Bugs Bunny? 2014 Leaf Originals Wrestling brought things back to what made Goldberg famous. Designed to mimic the 1948 Leaf design, the card is smaller than traditional cards. Signed on-card, it has several parallels and a variation version with a different image.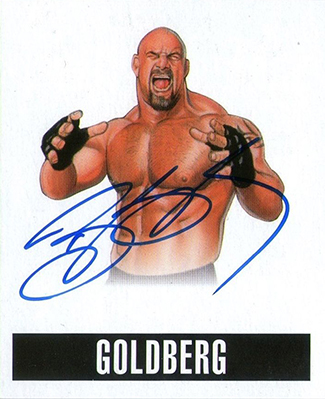 2015 Leaf Legends of Sport Ringside Heroes Goldberg #RH-G1 Autograph
Goldberg also made his way into the multi-sport 2015 Leaf Legends of Sport. He's not on the main part of the checklist, though. Goldberg's cards are limited to the Ringside Heroes insert set. Like every card in the product, they are all signed albeit on a label.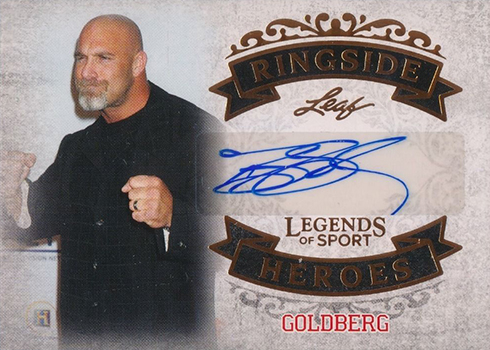 2016 Leaf Signature Series Wrestling Goldberg #8 Autograph
2016 Leaf Signature Series Wrestling uses illustrations like 2014 Leaf Originals. However, there are a few key differences. First, these come in regular-sized. Although it has an autograph, it's on a sticker. Limited parallels also exist.