Shohei Ohtani 2018 Bowman Chrome Superfractor Autograph Hits Auction Block
The 2018 Bowman Chrome Shohei Ohtani Superfractor Autograph has hit the auction block through Beckett Media and Goodwin & Co.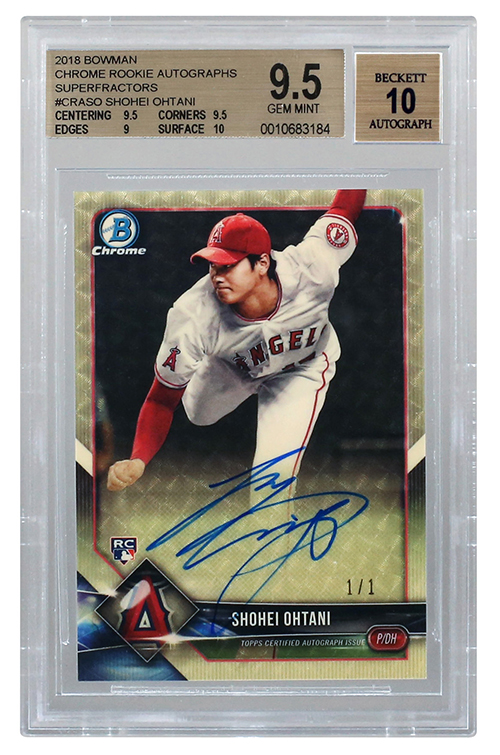 Graded Gem Mint 9.5 by Beckett Grading Services prior to the 39th Annual National Sports Collectors Convention in Cleveland, bidding is expected to exceed $100,000. The card has been recognized as the most significant trading card produced in 2018.
The auction closes on Thursday, September 20..
While on display at the National Sports Collectors Convention in Cleveland, the card was highlighted by the Cleveland Plain Dealer newspaper and showcased during the Angels pre-game television broadcast on Fox Sports West on August 3. It was also the fan and collector highlight in the Beckett Media booth during The National.
The Ohtani card was pulled by Sacramento collector John Muheim. He immediately realized the significance of his epic find and contacted BGS to preserve and protect this card. Muheim also agreed to auction the card through Beckett/Goodwin Auctions following The National.
"When I pulled it from the pack it took me a few seconds to realize what I had," explained Muheim. "Once I saw the gold, I got really excited and immediately got the card right into a holder. I am proud Beckett Grading Services and the Beckett/Goodwin Auction team will be taking care of this amazing card, because it deserves to be handled by the best in the business. I have been a collector for a long time, and pulling this card was amazing."
Upon receipt of the Ohtani card, Beckett Grading Services immediately graded and slabbed the card, insuring its integrity, and protecting it from tampering. The BGS cardholder provides attractive, sturdy and stackable presentation, as well as unobstructed viewing of the card from any angle.
"The 2018 Bowman Chrome Shohei Ohtani Superfractor Autograph was the most anticipated card of the year," said Jeromy Murray, Vice President, Beckett Grading Services. "The fact that this premium product featured one of the biggest global names in baseball, who is having a Rookie of the Year-caliber season, made it 2018's most valuable trading card. There is no other way to say it, this card is the most valuable sports card issued by manufacturers this year."