Top 5 Selling Prospect Autographs in 2018 Bowman Chrome – Beckett Pricing Insider
This edition of the Beckett Pricing Insider is sponsored by MN Nice Cards.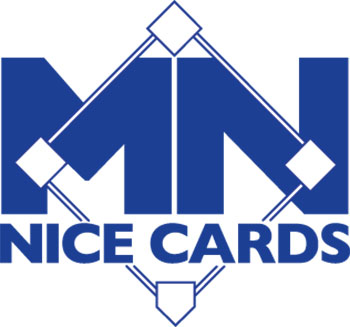 It's that time of year, when Bowman Chrome is released and a bunch of Prospect Autograph cards take over the Beckett Baseball Hot List. While, yes, Ohtani has another autographed card in the product, and Ronald Acuna's Rookie Autograph card is selling in excess of $200, let's focus on the Prospect Autographs set and take a look at some of the top-selling cards in this year's product early on.
Russell Wilson #BCPARW ($200-$400)
Yes, that Russell Wilson. Some may be surprised to find out that this is not Wilson's first appearance in a Bowman Chrome. He's among the 2010 Bowman Chrome Draft Prospects product as a member of the Colorado Rockies. But that one wasn't signed. His 2018 Prospect Autograph pictures him as a member of the Yankees, and based on early secondary market information, it is extremely short printed.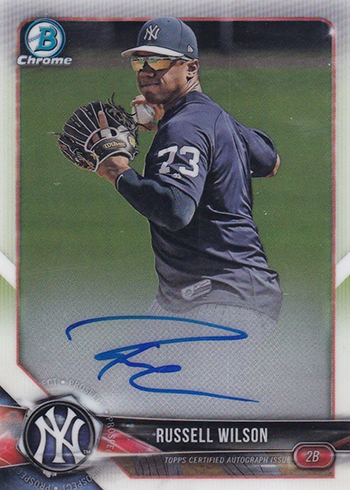 Estevan Florial #CPAEF ($150-$250)
Entering the 2018 season, Baseball America ranked Florial as the second-best prospect in the Yankees system behind only Gleyber Torres. Though Florial's first certified autographs appeared in 2017 Elite Extra Edition, his first Bowman Chrome autograph came out of the gate smoking hot in terms of number of secondary market sales tracked and the prices his cards were commanding.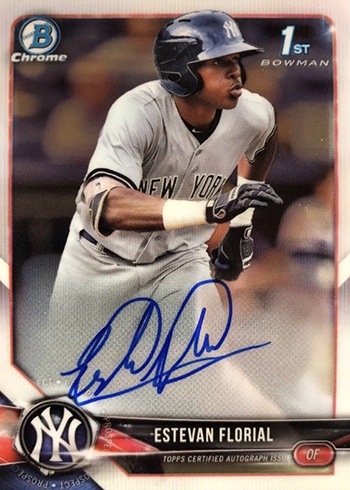 Kristian Robinson #BCPAKR ($60-$150)
At just 17-years old, this Diamondback prospect is selling extremely well on the secondary market. In 57 games of Rookie League baseball in 2018, he hit .279 with seven home runs, 41 runs batted in and 12 stolen bases. He also appears in the non-autographed 2018 Bowman Chrome Prospects insert set.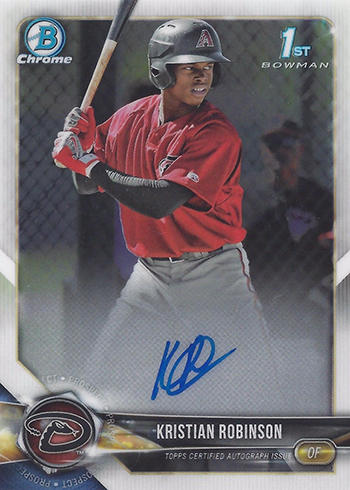 Yordan Alvarez #CPAYA ($40-$100)
This 21-year-old Astros prospect entered the 2018 season as the 62nd best prospects in baseball according to Baseball America, and he did not disappoint. In 88 games between Double and Triple-A, Alvarez hit .293 with 20 home runs and 74 runs batted in. Alvarez also has certified autograph cards in the recently released Topps Heritage Minors and Panini Contenders Draft Picks products.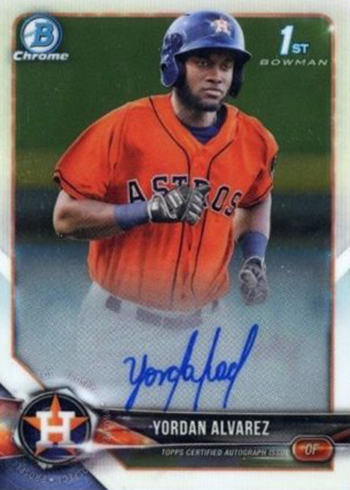 Carter Kieboom #BCPACK ($40-$100)
The 28th overall pick by the Nationals in 2016 Draft, Kieboom has cards dating back to 2015. While his 2018 Bowman Chrome Prospect Autograph has been a top seller, it's not his first autograph with the Bowman Chrome name. Kieboom also appears in the 2017 Bowman Chrome Prime Chrome Inscription Autographs set. Limited to just 75 copies, it is valued at $60.