Found! 2018 Bowman Chrome Shohei Ohtani Superfractor Autograph
The hunt for the 2018 Bowman Chrome Shohei Ohtani Superfractor Autograph has come to an end. And it turns out the card was waiting to be found just a few hours north from where the rookie plays.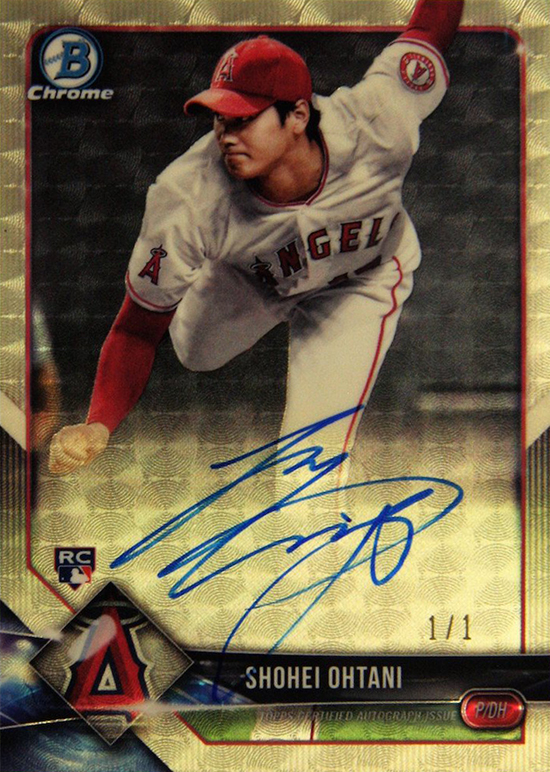 John Muheim, a photographer from Sacramento, pulled it from a 2018 Bowman hobby box — one that he'd actually had in his house for a few days. He had already opened a couple of hobby jumbo and hobby boxes prior to this one.
He bought it one night at HR Sports Cards and Collectibles in Sacramento while stopping in to get some supplies.
"I had been so busy with work that I put it to the side for about a week," Muheim recalled. His company, Spectrum Photography works with area sports teams and right now is particularly busy with swimming.
Finally, with a bit of a break, Muheim found a some time. A few packs in he noticed the autograph and he got excited. Then he noticed the gold.
"I knew this was going to be good," he said.
And then the one-of-a-kind Ohtani was revealed. Muheim jumped up. He knew exactly what he'd found. Even in the excitement, he was able to get it in an appropriate holder. Whenever he opens some Bowman, Muheim makes sure he has supplies on hand.
"I think I even underestimated a bit at first," he said in regards to the pull.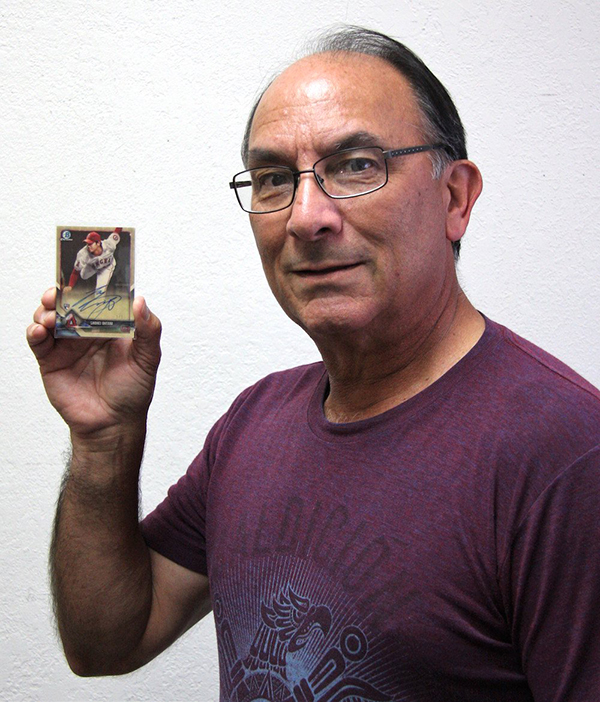 Muheim's collection is a little bit of everything, mostly baseball — especially the Cardinls. While he didn't buy the box just for the chance at the high-profile card, he acknowledged the possibility of finding it was certainly intriguing. He'd actually been talking with the Ohtani Superfractor autograph with his daughter a few weeks ago and how big a deal it was.
"I'm so happy for, John. It couldn't have happened to a nicer guy," said Parker of HR Sports Cards. Parker mentioned how Muheim has helped him out in the past by and how he's not only a great customer but someone who he loves talking sports with.
What's next for Muheim and the 2018 Bowman Chrome Superfractor Autograph? First, it's going to be sent to Beckett Grading where it will be graded.
From there, Muheim plans to sell it. He knows of several public offers that are out there but he's not entirely certain what route he's going to take. He's looking at his options at the moment and enjoying the excitement for a little bit.
This is the second Shohei Ohtani Superfractor Autograph to surface in the past week. The 2018 Topps Finest Ohtani Superfractor Autograph was pulled by a collector in Kansas on the product's release day, June 6. For the Bowman Chrome Superfractor, it took more than a month. 2018 Bowman came out at the end of April.
(Photos: John Muheim)