2017 Bowman Mega Box Includes Exclusive Refractors, First English Shohei Ohtani Baseball Cards
Looking for more Refractors? Exclusive cards? The Target-exclusive 2017 Bowman Mega Box has them both.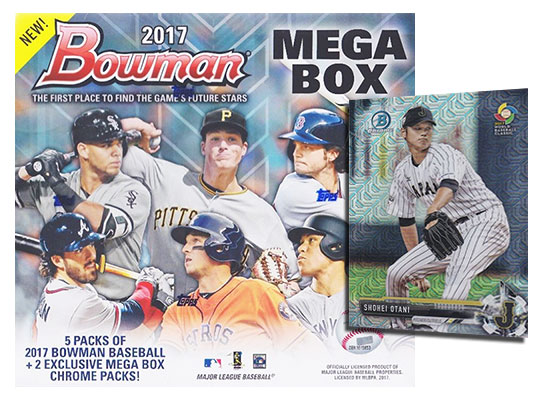 Few will argue against the dramatics of the 2017 World Baseball Classic. But as great as it was, an ill-timed injury kept the game's biggest international player out. Inevitably, there were no 2017 Bowman Shohei Otani.
Not so fast.
The Japanese phenom may not be in regular packs, but there are Ohtani cards among the exclusives (although his name is spelled "Otani").
What's in a 2017 Bowman Mega Box?
Each 2017 Bowman Mega Box comes with two types of packs. The configuration is similar to Topps Mega Boxes from the past few years that have Topps Update and exclusive Topps Chrome Update packs.
First, there are five regular 2017 Bowman Baseball retail packs. The big draw for these boxes are the two exclusive Mega Box Chrome packs. Each has five cards not available anywhere else.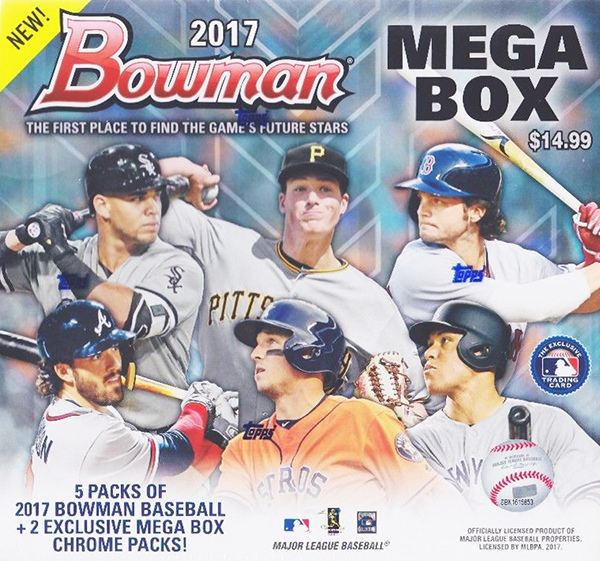 For starters, there are the Chrome Prospects Mega Box cards. These are similar to the 2017 Bowman Chrome Prospects cards except they have a patterned background like that used for past Asia-exclusive Japanfractors. Panini uses a similar pattern for their Mojo Prizms. Nearly 20 years ago, it was in Flair Showcase as well.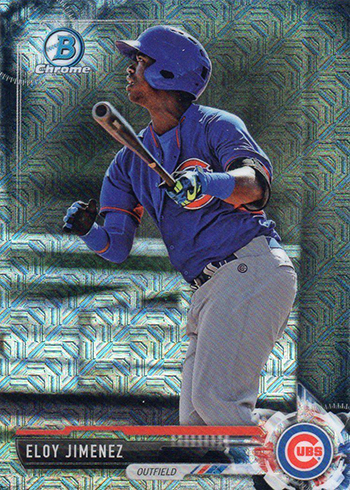 Besides the regular versions, Prospects come with four addition parallels:
Purple Refractors – /250, 1:6 packs
Green Refractors – /99, 1:15 packs
Orange Refractors – /25, 1:56 packs
Black Refractors – 1/1, 1:1,396 packs
Autographs are also available at a rate of 1:18 Mega Box packs. The signers are in line with the other 2017 Bowman Chrome Prospect Autographs for the most part. However, some players aren't in the main set and not all the photos are the same for those who are. Some, but not all, also use stickers for the signatures. So it's not simply a parallel version for the autographs.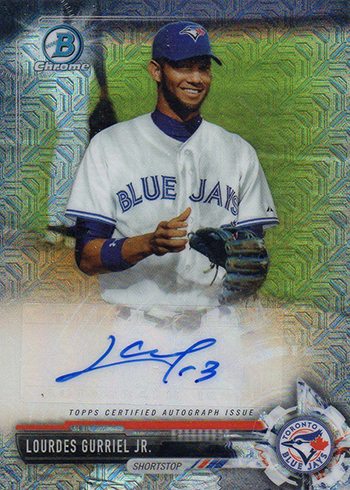 However, the 2017 Bowman Mega Box Autographs do have their own parallels: Green (/99, 1:82 packs), Orange (/25, 1:274) and Black (1/1, 1:6,838).
A pair of 2017 Bowman Baseball inserts get the Mega Box treatment as well. ROY Favorites has a regular patterned version landing 1:4 of the exclusive packs. Parallel come in Purple (/250, 1:28), Green (1:71), Orange (1:280), and Black (1/1, 1:6,979).
Select cards also have ROY Favorites Autographs (1:122 packs). These have just two parallels, Orange (/25, 1:365) and Black (1/1, 1:9,117).
Rounding out the exclusives is Talent Pipeline, which has a regular version (1:2 packs) plus Purple (/250, 1:19), Green (/99,1:47), Orange (/25, 1:187) and Black (1/1,1:4,653).
Although they carry a $14.99 price tage, 2017 Bowman Mega Boxes are already strong sellers on eBay.
2017 Bowman Mega Box Shohei Otani
Shohei Ohtani made the jump to MLB in 2018. Thanks to his prowess with both the bat and pitching off the mound, he has drawn many comparisons to Babe Ruth. While the career numbers are unlikely to add up to the Bambino's, there's no denying that Ohtani is one of the game's most exciting players.
Other Shohei Ohtani baseball cards are out there from Japan. The 2017 Bowman Mega Box Shohei Ohtani is important because it's his first English card. It's similar to past World Baseball Classic cards for players like Yu Darvish and Yoenis Cespedes.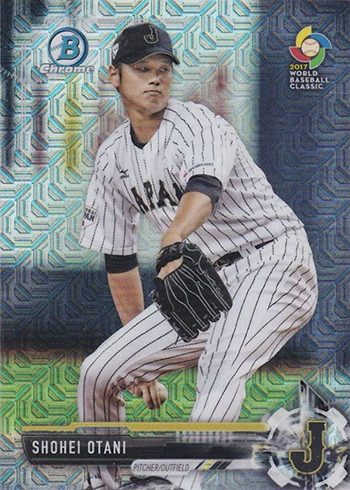 Not surprisingly, prices for the 2017 Bowman Mega Box Shohei Ohtani cards have been popular on eBay and other secondary market spots since their release..