Live Long and Yada Yada: The Seinfeld-Star Trek Autograph Connection – Beckett Pricing Insider
Seinfeld and Star Trek — on the surface, these two pop culture powerhouses have nothing in common. One depicts the interstellar exploration of nothingness and the other is just a show about nothing.
However, in the world of trading cards, the connection between these two TV juggernauts is much more significant. Overall, there have been 63 Seinfeld-Star Trek performers who appeared on both shows in some form and have autographs cards.
Among them? One of the major players on Seinfeld, George Costanza himself, Jason Alexander.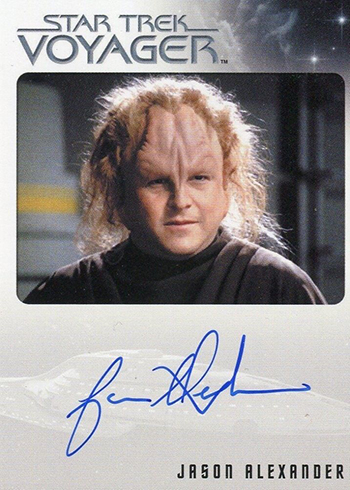 How is it that so many performers shared acting duties between these franchises? Seinfeld and three of the Star Trek franchises (The Next Generation, Deep Space Nine, and Voyager) were all airing during the bulk of the '90s. I would imagine it was as simple as multiple performers auditioning for both shows during that time.
And with such a fruitful selection of performers, collectors of both franchises have many options to collect their favorites. The following is a list of all 63 performers along with links to their autographed cards in the Beckett online database.
Note: Bill Erwin and Brian George do not have Star Trek autographs; however, they both have autographs for other franchises, thus they were included in this list.