2016 Rittenhouse Star Trek TOS 50th Anniversary Trading Cards Info
2016 marks five decades since Captain Kirk, Spock, Dr. McCoy and the rest of the Enterprise's crew took their first adventure on broadcast television. And while the show didn't last long initially, it has become a cornerstone of genre TV in the ensuing years. Between the spin-offs, movies and spin-off movies, Star Trek has managed to keep itself relevant. That includes the hobby where it's one of the most prolific franchises when it comes to trading cards. 2016 Rittenhouse Star Trek TOS 50th Anniversary looks back at the original show with a comprehensive checklist of base cards, inserts and autographs.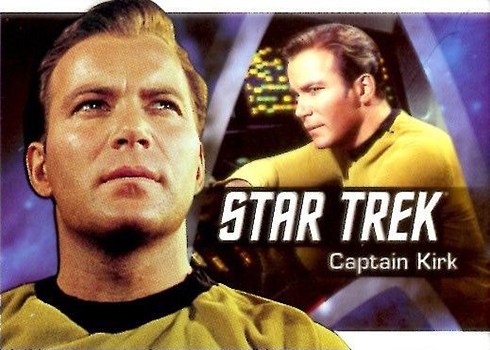 Each box includes a pair of signed cards, each boasting different designs.
Base Set
The base set is a little fancier than most of its counterparts. All 80 cards have a die-cut design that also has some gold foil. Every episode in the original series is covered with each card using several photos.
The text takes a different spin as well, using "observations" from Spock's First Officer's log.
Autographs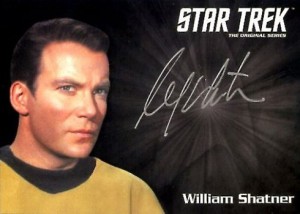 2016 Rittenhouse Star Trek TOS 50th Anniversary switches to two designs for the autographs, and it's not the one that has been used in the majority of Star Trek sets dating back to the license's days at SkyBox.
The first is Silver Signature Series, which has a black design and an autograph in (you guessed it) silver ink.
The second set of autographs come with a black border.
In addition to these, collectors can find three different Cut Signature cards: Jeffrey Hunter (Captain Pike), Jill Ireland (Leiila Kalomi) and Susan Oliver (Vina).
Several bridge crew members are among the set's signers including William Shatner, Nichelle Nichols, Walter Koenig, George Takei and Grace Lee Whitney.
A few autographs are available that aren't in packs. For those ordering six 12-box cases, they receive an exclusive Silver Signature Series card of the late Leonard Nimoy (Spock). The nine-case incentive is a dual autograph of Nimoy and Shatner. Rittenhouse frequently gathers autographs for multiple sets, which explains how they're able to include Nimoy here (as well as Yvonne Craig).
Inserts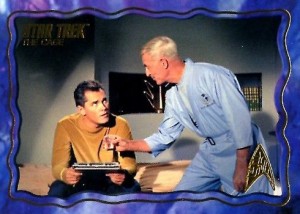 The basic inserts in 2016 Rittenhouse Star Trek TOS 50th Anniversary aren't going to be easy to put together. The Cage Uncut and Mirror Mirror Uncut are both big enough to almost be considered sets within the set.
The Cage Uncut has 70 cards, breaking down the pilot episode into the smallest details. Mirror Mirror Uncut takes the same approach with only 50 cards. Both of these sets are inserted 1:12 packs (two per box).
Four additional insert sets can be found. While their checklists are smaller, they're all quite tough to pull. U.S.S. Enterprise Original Concept Art (nine cards, 1:96 packs) showcases some art Star Trek creator Gene Roddenberry commissioned of the iconic spaceship before production began.
Heroes of the Enterprise (nine cards, 1:96) features acetate cards of the main bridge crew.
Mirror Mirror Heroes (nine cards, 1:288) are printed on double-sided foil. These feature alternate versions of the bridge crew from the popular episode.
Finally, there's In Memoriam — Leonard Nimoy (nine cards, 1:288 packs), a serial-numbered set that pays tribute to the late actor who played Spock.
Sketch cards are inserted as a case hit. These draw from a wide range of artists and have some of the most wide ranging art cards the show has seen to date.
Archive Boxes, which are an 18-case incentive, have a couple of exclusives not found in regular packs. For starters, there's a Mirror Mirror Throwback card done in the design of the 1998 SkyBox insert. This card, #M8, features Marlena. Each Archive Box also has a set of four Printing Plates for one of the base cards.
2016 Rittenhouse Star Trek TOS 50th Anniversary trading cards at a glance:
Packs per box: 24
Cards per pack: 5
Boxes per case: 12
Set size: 80 cards
Release date: March 18, 2016
What to expect in a hobby box:
Autographs – 2
The Cage Uncut Inserts – 2
Mirror, Mirror Uncut Inserts – 2
Comments? Questions? Contact Ryan Cracknell on Twitter @tradercracks.