As a key ingredient in the iconic Chicago Bulls dynasty and a member of the 1992 USA Basketball Dream Team, there will always be interest in any Scottie Pippen Rookie Card. That said, you'll find just one from a mainstream release.
But if you're willing to branch out into other areas, there's are a handful of notable early Scottie Pippen cards out there.
Scottie Pippen Rookie Card Guide
1988-89 Fleer Scottie Pippen Rookie Card #20
If you prescribe to traditional definitions of a Rookie Card — base cards in major sets from widely available products — 1988-89 Fleer Basketball has the lone Scottie Pippen RC. It's path in the hobby is similar to the role Pippen played on the court. There's no real point comparing it to the 1986-87 Fleer Michael Jordan. Pippen's deep in the complimentary shadows. But his Chicago teammate is above about everyone in the collecting world so it's not a slight on #33's part.
The 1988-89 Fleer Scottie Pippen Rookie Card has come into its own over the years. High-grade copies are tough to come by, often due to poor centering. That, along with his key role in the Bulls dynasty, have made for some massive prices on top-end professionally graded copies. Even raw copies in nice shape are netting hundreds now.
And in case you're wondering if you've stumbled across a rarity, all of the cards have the same error with "Pippin" written on the back. It's an uncorrected error.
Buy on: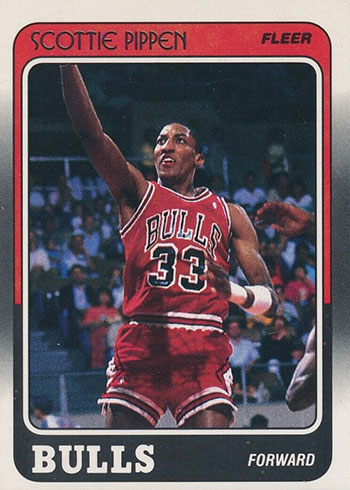 ---
1987-88 Bulls Entenmann's Scottie Pippen
1988-89 Fleer may have the Scottie Pippen Rookie Card, but if you want his first card you have to go back a year. The 1987-88 Bulls Entenmann's Scottie Pippen is a tough find. It's part of a stadium giveaway set handed out to fans at a Bulls home game during the 1987-88 season. In a nutshell, it's a card that isn't widely available. Even if the game was a sellout, many sets were likely set aside and forgotten about. Add in the fact that it's an oversized 2 5/8 by 4″ card and normal storage means are that much more difficult.
Buy on: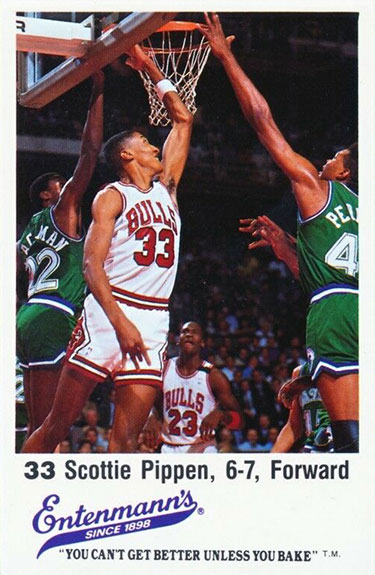 ---
1988 Kenner Starting Lineup Scottie Pippen
If Scottie Pippen is one of the most overlooked players in NBA history, this might be the most Scottie Pippen card ever. Included with the matching figure in the debut 1988 Starting Lineup Basketball set, it banged around loosely inside the blister pack. For most people, the figure was the main thing and cards were simply an extra that may or may not have survived. The blue borders make high-grade copies of the 1988 Kenner Starting Lineup Scottie Pippen extremely rare. If you're looking for this card, one route you may want to consider is opting for a sealed figure. You might be able to find one with rough packaging at a decent price where the card appears to have held up. If condition is a major concern, there is a risk here in that you won't be able to see what the back looks like.
Buy on: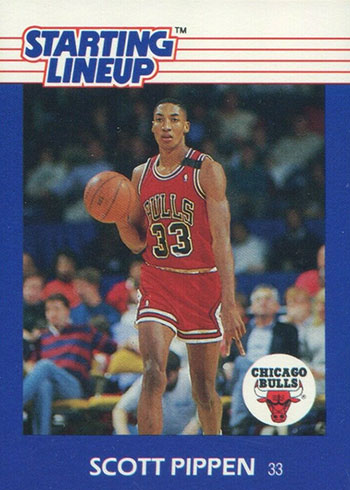 ---
1988-89 Bulls Entenmann's Scottie Pippen #33
The 1988-89 Bulls Entemann's Scottie Pippen has virtually the same background as the 1987-88 card all the way down to home game distribution, oversized layout and rarity. Even Michael Jordan is hanging out in the background of both cards.
Buy on: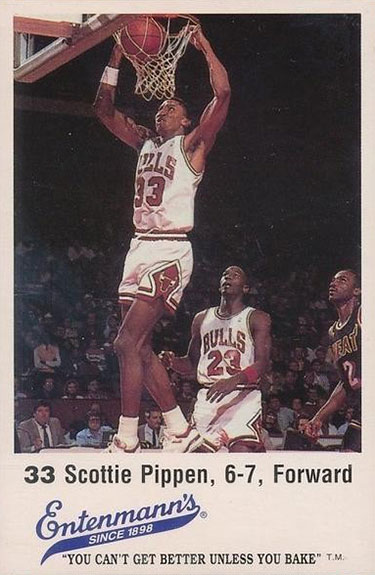 ---
1988-89 Panini Spanish Stickers Scottie Pippen #77
Panini's history with the NBA goes back further than the start of their trading card exclusive in 2009-10. The sticker albums go back decades. That includes the 1988-89 Panini Spanish Stickers. It gets its name for the language of the text on the back. Despite the reach that Panini sticker collections have around the world, this early Scottie Pippen is a rarity today. Not only were most likely to have been placed in albums, those that weren't faced struggles staying in good condition. The paper backing isn't exactly card stock. And while not a card, stickers are an often overlooked alternative.
Buy on: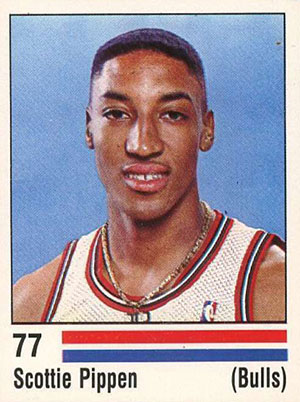 ---