With each passing year (or in the past few years, months), the number of Star Wars trading card sets continues to grow.
Today, autographs and sketch cards get a lot of the attention. But the backbone of every set not named Stellar Signatures is still the base set. Done well, this is the place that gives a product its identity and, hopefully, reason for existing.
A good Star Wars base set can mean different things to different collectors. Maybe it's informative. Perhaps the design is too hard to pass on. The overriding theme, innovation and lasting impression are other things that can come into play.
A great set of Star Wars trading cards embodies several of these things.
For now, let's ignore all the fancy stuff, signatures and other chase cards. Here are ten of the greatest Star Wars base sets of all-time.
10. 2018 Topps Star Wars Black and White
Over the course of four-plus decades, it can be difficult for Topps to find a fresh angle for a Star Wars product. For 2018 Topps Star Wars Black and White, the card maker did so by subtraction rather than addition. Who knew that by removing color, it could infuse new life into A New Hope?
The lack of color brings out a different level of emotion and feeling to the images. Some are familiar and others are rarely seen. The result is one of the most visually stunning Star Wars base sets ever created.
The next couple of years brought follow-up Empire Strikes Back and Return of the Jedi Black and White sets.
Buy 2018 Topps Star Wars Black and White sets on eBay.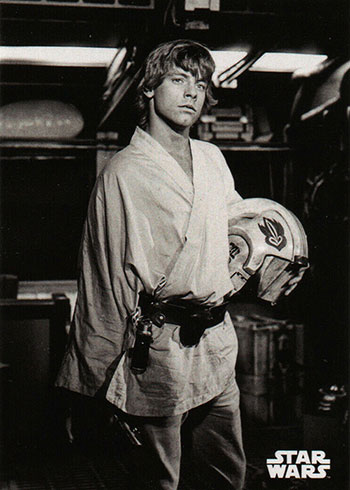 9. 2010 Topps Empire Strikes Back Widevision 3D
It was more than a decade between Topps releasing their first 3D Star Wars sets for A New Hope and The Phantom Menace and the arrival of this set. And that's a good things.
Looking back, those initial sets don't look so good. They're blurry and murky. But in the years following, strides were made in lenticular printing. The images for Empire Strikes Back Widevision 3D look crisp and the many iconic shots show incredible depth.
It also played the groundwork for more 3D sets for Return of the Jedi and the other two prequels. We're still waiting on the new trilogy as well as the Rogue One and Solo spinoffs.
Buy 2010 Topps Empire Strikes Back Widevision 3D sets on eBay.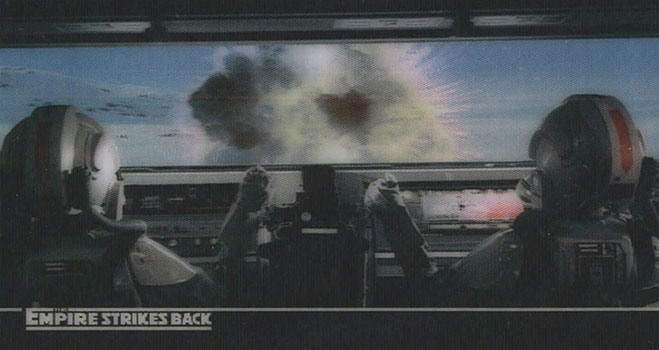 8. 1996 Topps Star Wars Finest
In the 1990s, original artwork was instrumental in making Star Wars trading cards relevant again. And it's not just the Galaxy line.
1996 Topps Star Wars Finest is the first full set in the franchise to focus exclusively on characters. The checklist divides them into ten different thematic subsets. Each of these sections is done different artists. This gives a variety of styles but also a certain level of uniformity.
Finest is also the first chromium base set for the films, giving the line a new level of colorful pop and beauty.
Buy 1996 Topps Star Wars Finest sets on eBay.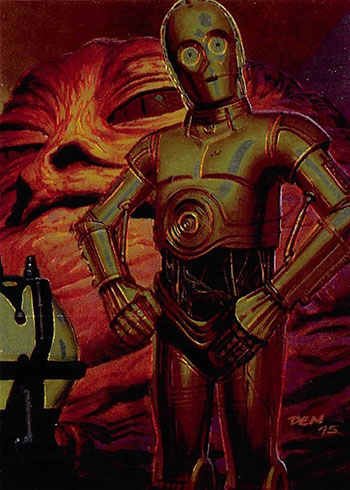 7. 1995 Topps Star Wars Widevision
Us card collectors can be picky. While we always long for originality, some aspects we want to be uniform — like card size.
Cards that aren't the standard 2.5 inches by 3.5 inches can be hard to store. They don't fit in regular pages. Boxes can be tough to find. And even if you've got these things taken care of, they're often outcast from the rest of your collection.
But sometimes you just need to look outside the (storage) box for a great set.
1995 Topps Star Wars Widevision uses the tallboy format that's significantly longer than standard trading cards. But here it means a set that's more true to what you'd see on the big screen.
Beyond that, the slick card stock makes everything that much sharper and more upscale than most of the Star Wars sets that came before it.
Flip the cards over tan you'll also find one of the most informative sets Topps has produced for the franchise. Storyboards and write-ups dig deeper into the original film and its production.
Buy 1995 Topps Star Wars Widevision sets on eBay.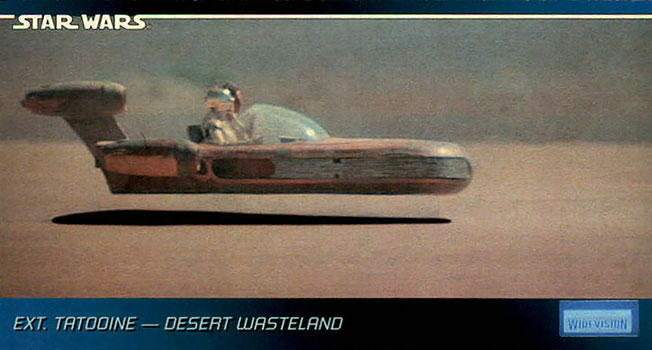 6. 1980 Topps Empire Strikes Back
Following up on one of the most iconic trading card series is tough. But Topps' sequel comes through in several ways.
Today, there's definitely a nostalgic appreciation for The Empire Strikes Back set. Part of that comes from so many kids growing up with stacks and memories of wax wrappers.
But you know what? There's a lot of actual good on the checklist that goes beyond the warm fuzzies of remembrance.
Spread over three series, there's lot of iconic images and an in-depth recap of the movie and its characters. But one of the things this set does that its predecessor didn't is make original artwork a focal point in some places.
For starters, there are the "Space Paintings" cards that highlight the masterful production art of Ralph McQuarrie. These are in both Series 1 and 3. The final series also has some additional character artwork that brings a pop art sort of feel to the checklist.
1980 Topps Empire Strikes Back also provides some additional glimpses at the film and its production, offering a deeper understanding of the filmmaking craft. It also makes for some interesting photos.
Buy 1980 Topps Empire Strikes Back sets on eBay.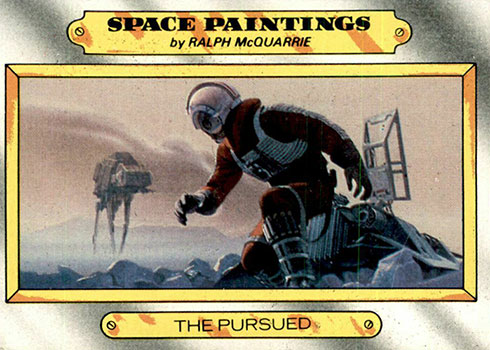 5. 2017 Topps Star Wars 40th Anniversary
Star Wars 40th Anniversary has the usual mix of "big moments" from four decades worth of films. But what makes the base set stand out more is its attention to other aspects.
Posters get a sizeable subset and don't require an insert chase like some other products. Covers from classic novels and other publications appear. So do cards of action figures, Star Tours and video games.
In a nutshell, this is a set that covers a lot of ground with a compact checklist. It recognizes that Star Wars is a lot more than cinematic blockbusters. In doing so, it pays tribute to the fandom that has made the series so popular for so long.
Buy 2017 Topps Star Wars 40th Anniversary sets on eBay.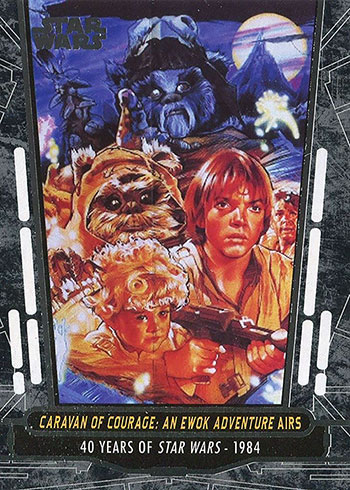 4. 1993 Topps Star Wars Galaxy
It's hard to imagine today, but there was a lull for Star Wars in the years following the release of Return of the Jedi. While home video and TV ensured that the franchise didn't disappear entirely, store shelves didn't have a lot of merchandise for the better part of a decade.
But things started to ramp up again in the early '90s. 1993 Topps Star Wars Galaxy should be seen as one of the products that brought the series back to the forefront once again. And for good reason.
Bypassing another recap set, Galaxy is all about art.
And by this point, going on nearly 20 years, George Lucas' creation had inspired a lot of artists.
This first Galaxy set is a landmark release that not only rebooted Star Wars trading cards but it introduced something beyond what had been done before. It has a mix of original art done specifically for the set plus some other pieces from various products like books, collectors items and seldom seen Christmas cards.
Over the next couple of years Topps would put out two more similar Star Wars Galaxy sets that can be put together as one continuous line today. In the decades since, the series has seen a couple of reboots, most recently in 2018.
Buy 1993 Topps Star Wars Galaxy sets on eBay.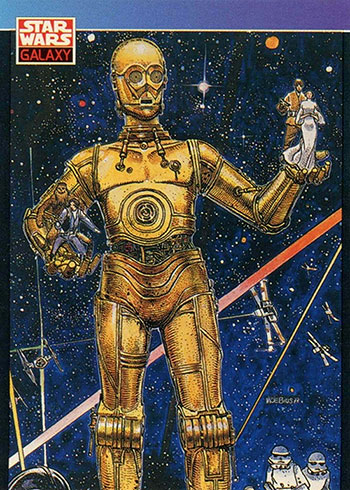 3. 1977 Topps Star Wars
This is where Star Wars trading cards got their start. And there may not be a more iconic set of non-sport cards, period.
Starting with Series 1 and its blue star field borders and continuing for four additional releases in the months that followed, Topps was one of the first companies to get in on the Star Wars phenomenon.
Spanning a total of 330 cards, there's plenty to this first set. It delves into lots of key scenes and some that are lesser so. Characters get their due and we get close up looks at many of the strange aliens that gave Star Wars such a rounded lore over the course of its roughly two-hour running time.
It even has some controversy with the Series 4 C-3PO #207 "anatomically specific" card that was later corrected.
In more recent years, the set has inspired multiple modern sets and was even used as a framework to introduce some of the first images for J.J. Abrams' The Force Awakens. It's a testament to the impact trading cards have had with the franchise over the decades.
Buy 1977 Topps Star Wars sets on eBay.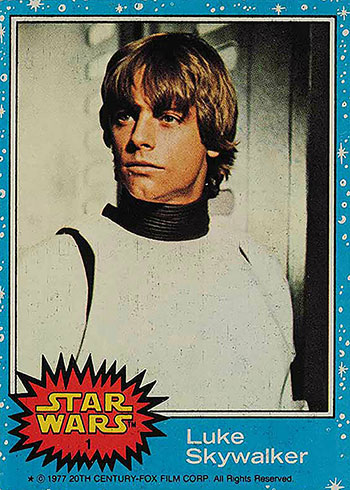 2. 2012 Topps Star Wars Galactic Files
The original idea behind the Galactic Files line was to offer collectors the trading card equivalent of a Star Wars encyclopedia.
And the first release under the banner does just that with a base set checklist of 350 cards. That's three or four times what most modern sets get. The number's more impressive when you think about how it's all in one release and not spread across several series like the original 1977 set that started it all.
Roughly two-thirds of the checklist is devoted to characters. Fronts offer up a large image while backs all have decent write-ups as well as numerical rankings on various attributes. For those who grew up waging after school wars with Transformers and G.I. Joe figures, the set is a lot like a massive stash of file cards. Vehicles, groups and other creatures also get the spotlight.
Besides the ambitious scale of the checklist and the informative nature of 2012 Topps Star Wars Galactic Files, the set is also clean in its design and definitely worthy of getting the nine-pocket page treatment for easy reference.
Ensuing years have brought additional Galactic Files releases that cover both familiar ground and an ever-expanding Star Wars Universe.
Buy 2012 Topps Star Wars Galactic Files sets on eBay.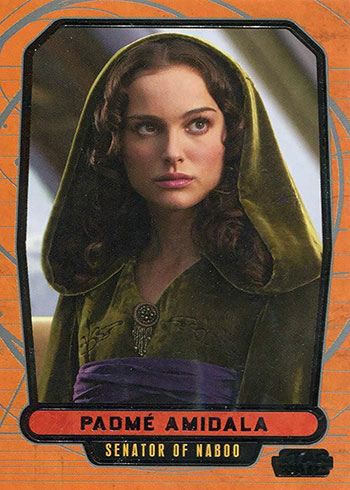 1. 2007 Topps Star Wars 30th Anniversary
Today, you can easily look back on 2007 Topps Star Wars 30th Anniversary simply for being the first set to have a Harrison Ford Han Solo autograph. Or the only place to find a certified John Williams autograph. Or a set that has some truly magnificent sketch card art. And the place where stamped buybacks of original cards became a desirable add-in.
But we're here right now for the base set. And what a great one it is. Similar to the 40th Anniversary set that came out a decade later, the checklist takes a deep dive into the franchise's many aspects, not just the main movies. How deep? Even the notorious Holiday Special and Mark Hamill's guest appearance on The Muppet Show make appearances.
Put it all together and it's a celebration of all things Star Wars.
The design works as well, combining a level of elegance and modern charm. It's not groundbreaking but it stands out in a way that embraces the importance of three decades worth of iconic moments.
And more than a decade later, it still stands out as a fantastic base set against which others can and should be measured.
Buy 2007 Topps Star Wars 30th Anniversary sets on eBay.