Rick & Morty, MST3K, Lon Chaney Legacy Promo Cards in Oct-Nov. Non-Sport Update
As we await the next season of Netflix' Stranger Things, Topps has started production of the very first Stranger Things trading card series (not counting a few promotional series that come before). NSU Editor-in-Chief Alan Biegel has checked in with the company and done some digging of his own in the upside-down for the cover story in Non-Sport Update's Oct/Nov '18 issue, now shipping and available online.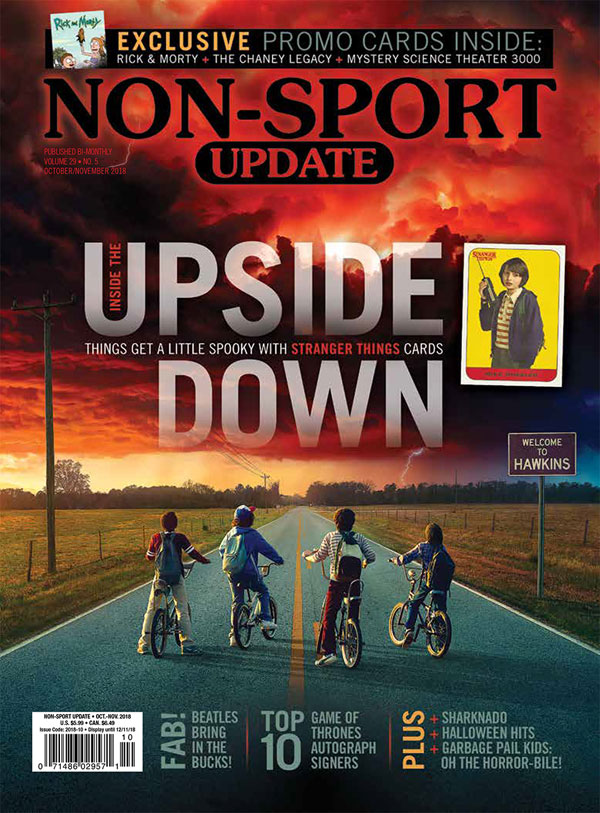 Also inside the issue are features and coverage on RRParks CARDS' Sharknado Series One, The X-Files Seasons 10 & 11, 2018 Star Wars Masterwork, Garbage Pail Kids: Oh The Horror-ible, and The Walking Dead: Hunters and Hunted.
Halloween plays a big part of the NSU's Oct/Nov issue with a feature story on a creepy carnival of cards coming soon from Perna Studios, RRParks CARDS, and MNS Cards. Included is an interview with Ron Chaney, the great-grandson of Lon Chaney and grandson of Lon Chaney Jr, both renowned for their roles in horror films.
Promo Cards
The Oct/Nov issue features three free promo cards. Collectors can find multiple cards for each. Below is the lowdown: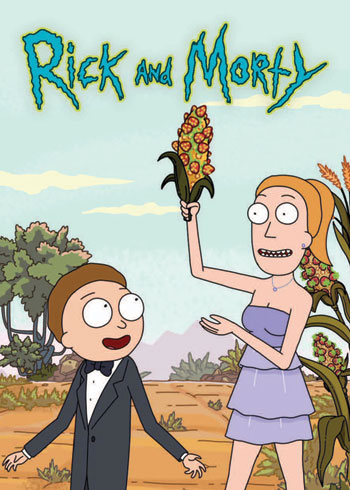 Rick and Morty Season 2
Promos P4, P5, and P5 are randomly inserted, one per issue

The Chaney Legacy
LCP-2 and LCP-3 are randomly inserted, one per issue
Collectors who attend the 69th Philly Non-Sports Card Show on October 20 and 21 will be treated to LCP-4.

Mystery Science Theater 3000
And here's where things get even more interesting. RRParks CARDS's Richard Parks wanted to do something special for his talented sketch card artists who have worked on the series.
He created 63 different promo cards which can all be found inside Non-Sport Update, inserted one per issue. Unlike the the other two, these are not exclusive to NSU. Parks says they'll also be awarded to collectors who pledged a master set for the just-ended MST3K Kickstarter.
He explains the cards will not be widely distributed, "Judging by how few of my Series One backers actually put their swag on eBay, the promo cards are going to be ludicrously hard to find outside of NSU and my master set customers."
Parks says this is by far his most ambitious promo card project. When asked why he created so many cards, Parks says "I wanted to pay special tribute to the sketch card artists who came aboard my projects — Mystery Science Theater 3000 Series One was my first series that involved sketch cards and was really moved by how many terrific artists (as well as 'names') decided to give my little company a chance."
Below is the complete checklist of these 63 cards:
Achileas Kokkinakis P1, 2, 3
Tim Proctor P1, 2, 3
Scott Rorie P1, 2, 3, 4, 5
Floyd Sumner P1, 2, 3, 4, 5, 6, 7, 8, 9
Kris Penix P1, 2, 3, 4, 5, 6, 7, 8, 9
Marsha Parkins P1, 2, 3, 4, 5, 6, 7, 8, 9
Carlos Cabaleiro P1, 2, 3, 4, 5, 6, 7, 8, 9
Danny Hayman P1
Darrin Pepe P1, 2, 3, 4
Eric Lehtonen P1, 2, 3
Ingrid Hardy P1
Jerry Bennet P1, 2
Jonarton P1, 2
Mike James (Horgan) P1
Rees Finlay P1
Tiffany Groves P1