2018 RRParks Mystery Science Theater 3000 Trading Cards
Mystery Science Theater 3000 trading cards are on the way. If you got the August/September issue of Non-Sport Update, this probably isn't a big surprise seeing as how a promo card was included with the magazine. But now the full line from RRParks Cards is available on Kickstarter.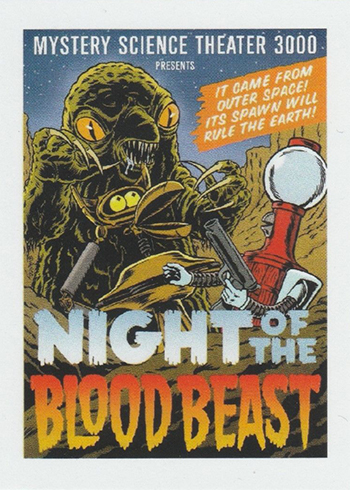 Covering all of the nearly 200 original episodes, the checklist has a variety of cards and inserts. However, it's kept relatively simple in its structure so that collectors can put together a master set without breaking the bank (there's actually a $175 pledge level that comes with the works).
Already fully funded, the cards are a go. In fact, it took only a matter of hours for the project to reach its modest funding goal of $3,500.
Base Cards
2018 RRParks Mystery Science Theater 3000 trading cards have a couple of different base sets. First up are Invention Exchange. These cover every invention showcased on the show through the first three seasons. Fifty Experiments cards take a similar approach, only with a slightly different focus. Invention Exchange backs have dialogue from the episode while Experiment cards offer more background information.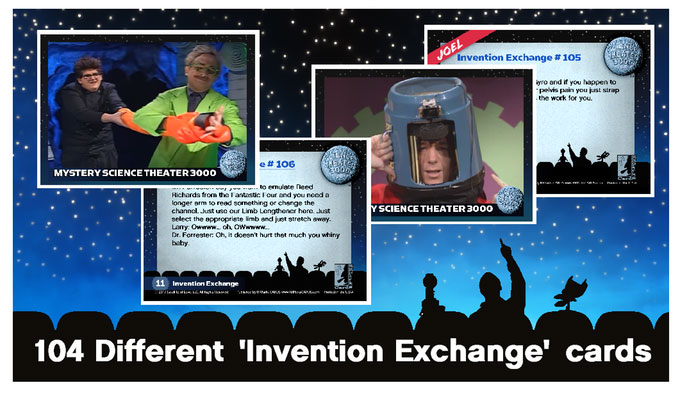 DVD cover art created by Shout Factory get another 29 cards. They're complimented with the menu screens on the reverse.
The original Mystery Science Theater 3000 characters and storylines were a framework for the horribly great movies that acted as the meat of every episode. These get cards as well. For starters, there are 36 Riff It Retro cards. These have a throwback-style design on the front, integrating the silhouettes of Joel, Crown and Tom Servo.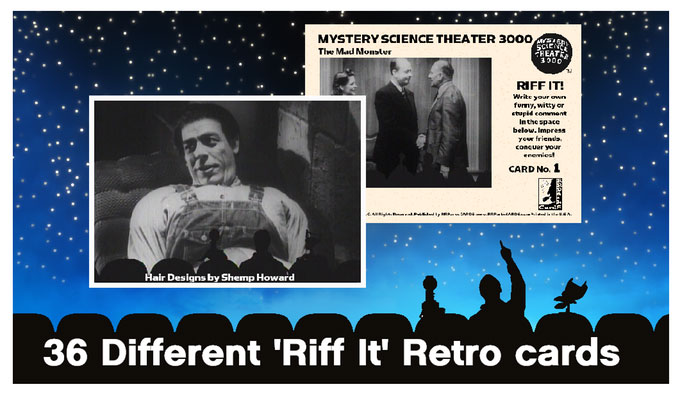 Anaglyph 3D cards take it back to the days when red and blue were used to create the effect. These have a total of 18 cards covering hosts, posters and films.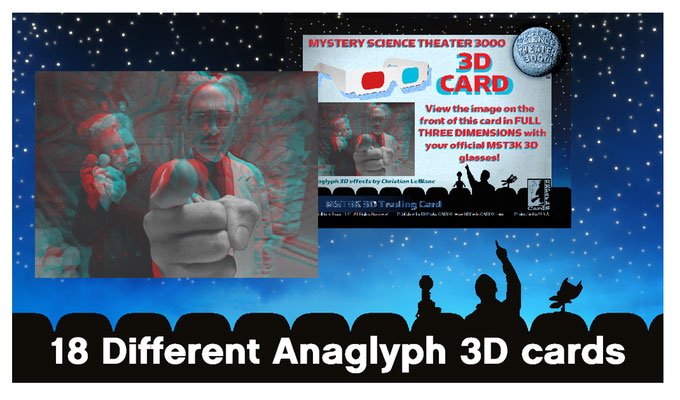 Full sets of Invention Exchange, Experiments, Cover Art, Riff It Retro and 3D cards are in each box.
Chase Cards
2018 RRPArks Mystery Science Theater 3000 has a couple of chase elements that require a little more work. These start with nine Art Cards with drawings done by Byron Winston of key MST3K personalities.
A pair of Costume Prop cards bring a memorabilia spin to the set. These have a swatch from one of Dr. Forrester's lab coats or Joel's jumpsuit embedded in them.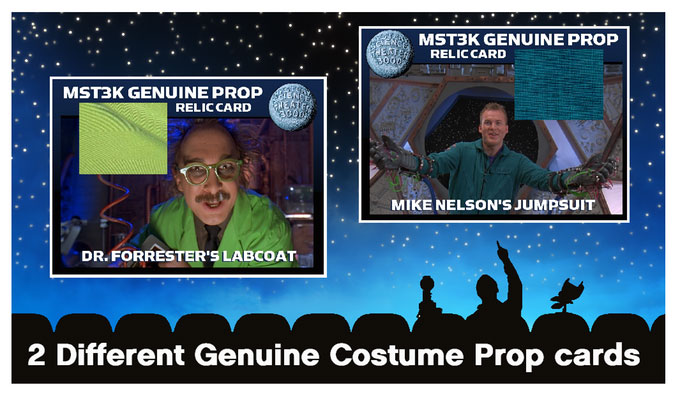 Faux Film Cell cards are meant to look like they have a piece of filmstrip in them. Seeing as how MST3K was broadcast on video, these are manufactured cells. There's also the fact that "faux" is right there in the name. Although there are eight cards on the checklist, all of the manufactured cells are different.
Printing plates and sketch cards are also randomly inserted in packs. Achilleas Kokkinakis, Tim Proctor, Ingrid Hardy, Eric Lehtonen and Mike James are among the artists doing sketch cards.
Boxes come with a couple of toppers. The first is a pair of glasses to use with the 3D cards. There's also one of nine special Metal cards.
Pledge levels for the Mystery Science Theater 3000 trading cards Kickstarter start at $1, which gets collectors a random promo card. A full box of 36 packs (ten cards per pack) runs $75. The top pledge level is $500, which comes with two cases of boxes.
2018 RRParks Mystery Science Theater 3000 Trading Cards Kickerstarter Project Overview
• Campaign End Date: December 27, 2017
• Funding Goal: $3,500 — the funding goal has been reached so the project will be funded and move forward.
• Target Reward Deliver: January, 2018
If you have a trading card Kickstarter project that's launched or in the works, we'd love to hear about it. Feel free to contact us. 
Comments? Questions? Contact Ryan Cracknell on Twitter @tradercracks or by email.