Quarterbacks reign in 2012 Topps Football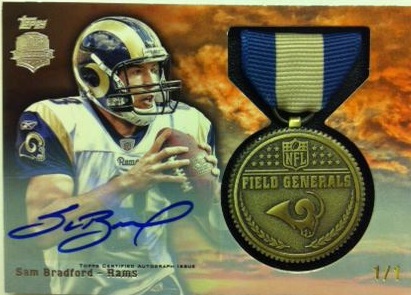 For a football team be a contender, it needs a good quarterback. Someone with vision, ability and knowledge. Considering these merits it's no surprise when 2012 Topps comes out next week, the company will have a big focus on quarterbacks – old and new.
There are several ways Topps will commemorate this position: die cuts, relic cards, manufactured medals, film strips and more.
Quarterback Rookie Reprints will have some of the most memorable Rookie Cards with Joe Montana, Terry Bradshaw and Joe Namath. Many of these cards will also have autograph or relic parallels. Sometimes even both.
But Topps is really focusing on the men over center with Quarterback Immortals, a series of inserts that highlight QBs in different ways.
The Quarterback Immortals insert will feature up to 30 retired players and Hall of Famers. But then there are Quarterback Immortals Plaques variations with players immortalized on bronze.
NFL Field Generals features 30 current subjects, including Tom Brady, Aaron Rodgers, Drew Brees and Eli Manning with manufactured military style medals embedded in the card.
Quarterback Milestones will have up to 50 current and former players. Some of them include Montana, Brady, Brees and Rodgers. These NFL Milestones cards will have a two-sided die cut medallion.
Two sets of die-cut trophy inserts will highlight quarterbacks who were named NFL or Super Bowl MVPs.
The last of the inserts highlighting QBs is Game-Winning Drives with film strips showing moments when they drove their team to victory. The usuals are on this checklist with Tim Tebow thrown in.
Aaron Rodgers does get a little special treatment from Topps. Considering the Green Bay Packers quarterback put up one of the most impressive seasons in 2011, there is one card commemorating his MVP season.