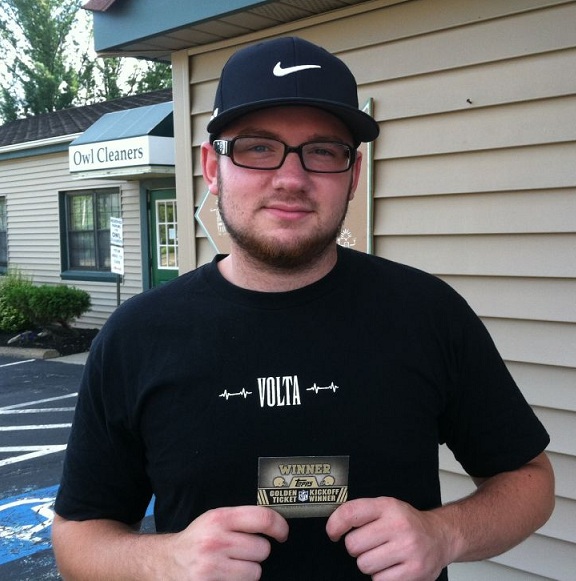 By Susan Lulgjuraj | Beckett Football Editor
Chuck Weldon never wins anything. He isn't taking credit for this one either since his son opened the package from Topps.
The owners of Sports Card Junction in the North Hills area of Pittsburgh pulled a special giveaway card out for 2012 Topps Football.
A "Golden Kickoff Ticket Winner" card to be precise.
The card is good for a full set of autographs, but Weldon doesn't know what cards he and his son Chad are getting yet.
"Some of them are going to be rookies, some of them are going to be legends," Weldon said. "We just don't know yet."
Weldon didn't sell the ticket. He's already sent it in for redemption to Topps. Then, Weldon, whose had the shop for 18 years, will decide what to do with his winnings.
"I can't believe it," Weldon said. "I never win anything. Golf outings, you name it. I actually didn't win this either because it was my son that opened it."
However, Chad didn't know what he got right away. He opened the package, sorted through it and didn't pay too much attention to the giveaway card. Later that day, one of the part-time employees noticed it and immediately recognized the card.
"He said, 'Do you know what this is?'" Chuck Weldon said. "This is a golden ticket. There are only five of them."
This means there are four more out there for collectors to find.
These aren't to be confused with the Topps Golden Draft Ticket, which can be redeemed for an Andrew Luck or Robert Griffin III signed football from the NFLPA Rookie Premiere.
But one of Weldon's best customers pulled a Golden Draft Ticket too. At most, there are eight of these left. The Backstop in Toms River, N.J., had a customer snag one today.
Susan Lulgjuraj is the editor of Beckett Football magazine. You can email Susan here with ideas, comments and questions. Follow her on Twitter here.