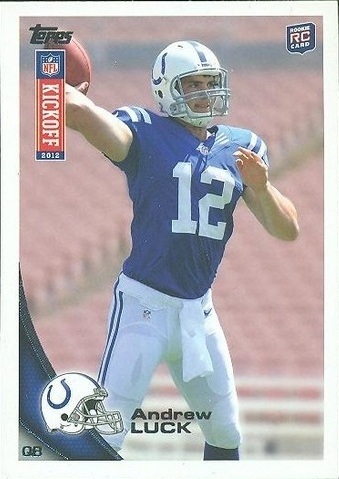 By Susan Lulgjuraj | Beckett Football Editor
Hobby shops should know, Topps is watching.
In about a week, collectors will be able to redeem cards pulled from 2012 Topps Football for exclusive packs that were given to hobby shops for the Topps Kickoff Hobby Store Promotion. The promotion starts Sept. 5, but some dealers have seemingly began to put cards up for sale on eBay now.
Whoops.
Topps called out several dealers putting these cards up for sale on its official Twitter account.
"Shame some hobby shops feel ok to begin selling/giving away Topps NFL Kickoff cards," Topps tweeted, "just be careful, we will be coming after you…"
The company held true to its word and actually called two specific card shops for having their auctions on eBay. Some of the auctions were immediately taking down. But there are still plenty more on eBay.
The redemption cards are good for one five-pack of cards with a chance of pulling an autograph card.
There is already a Ryan Broyles autograph on eBay from the set and many base cards of Andrew Luck, Justin Blackmon, Robert Griffin III and many of the other 2012 NFL rookies.
Topps is also counting on collectors to help with the situation, as it wants collectors to be able to redeem these cards.
"We truly love FAR majority of our hobby store partners, but if u (sic) see them selling Kickoff packs please let us know!" Topps tweeted. "You will be rewarded!"
UPDATE: Topps is taking this matter seriously. The company has also began sending letters to eBay sellers who have listings for the giveaway cards.
The letter reads:
Dear eBay Seller,

We have found our Topps 2012 NFL Kickoff Promotional Products on sale through your eBay account. Please understand that this promotion is authorized for and intended only for in-store execution by Hobby Stores that are Authorized Topps Dealers. These products are not for sale or resale at any value, in any venue, or any retail format. Placing our products on eBay is inconsistent with the spirit of this promotion; therefore, we are asking that you remove them immediately. Further, our Hobby Stores have been given advanced warning about using our promotional materials outside of program guidelines. If we find that your account is in any way linked to an Authorized Topps Hobby Shop Dealer, please understand that the Hobby Store will face punitive action from Topps up to and including suspension of their direct buying privileges from Topps and permanent exclusion from any future Topps promotions. We value our Hobby Stores and respect their ability to execute our programs with integrity. We ask that you please remove these products so that our Hobby Stores can execute this program as it was intended—in Hobby Stores Only.

Thank you for your prompt attention to this matter.
The Topps Company
Susan Lulgjuraj is the editor of Beckett Football magazine. You can email Susan here with ideas, comments and questions. Follow her on Twitter here.