First look: 2012 Topps Football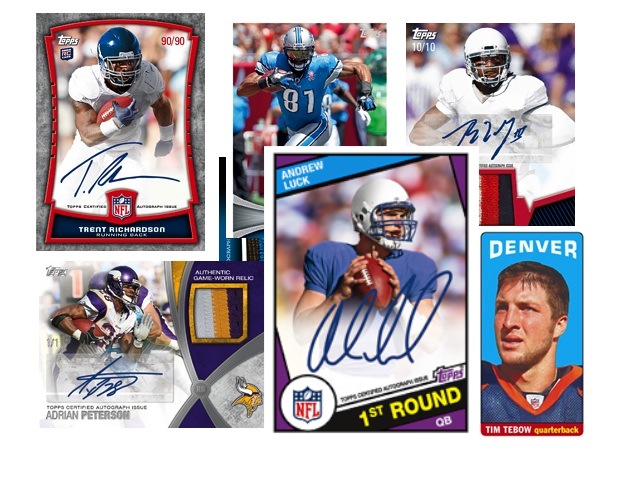 By Andrew Tolentino | Football Editor
Hold tight, football fans. There's plenty of time before the next season starts, and we're still more than 50 days away from the 2012 NFL draft, but Topps is already building hype with its basic football brand.
The pre-preseason preview has officially begun. 2012 Topps Football hits the streets in early August with familiar appeal and new, old-fashioned fun. Behold.
Box Basics
10 cards per pack
36 packs per box

One autograph or Relic card per box
Two autographs and one rookie patch per jumbo box

12 boxes per case
The 440-card base set is comprised of 263 veterans, 110 rookies, 28 First-Team All-Pros from 2011, 32 Team cards, cards featuring offensive and defensive players of the year, Rookie Premiere group shots, a New York Giants Super Bowl Champions card, a League MVP card and 2011 Rookies of the Year cards featuring Cam Newton and Von Miller. Beyond the basics though, the upcoming brand has a few new tricks up its sleeve.
Making the most of the company's rich history in the football card industry, 2012 Topps Football is slated to include a number of retro-focused inserts. Quarterback Rookie Reprints, for instance, are set to feature "up to 30 of the best-known NFL quarterback rookie cards." Normally this kind of reprint would merit an apathetic, "meh," but limited autograph and relic parallels for these premium players are bound to cause a commotion. Sure, it's not a buyback, it's not actually from 1981, but nobody — not even a robot — can deny the thrill of pulling a numbered-to-25 Joe Montana  autograph.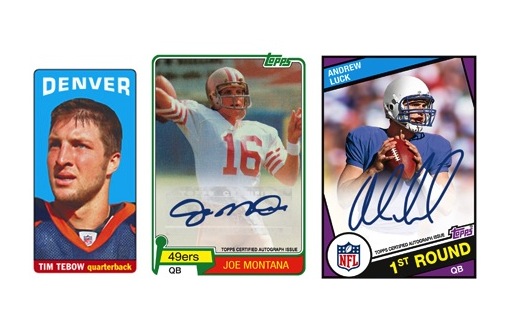 Other blasts from the past include a 1965 Topps Football insert set  with up to 141 retired and veteran players and a Topps 1984 Rookie Autograph Cards insert set with up to 35 rookie signers. 1965-designed inserts feature "non-game" player portraits on smaller cards and should also come with an on-card autograph variation. Topps 1984 Rookie Autographs will be hard signed and numbered to 100.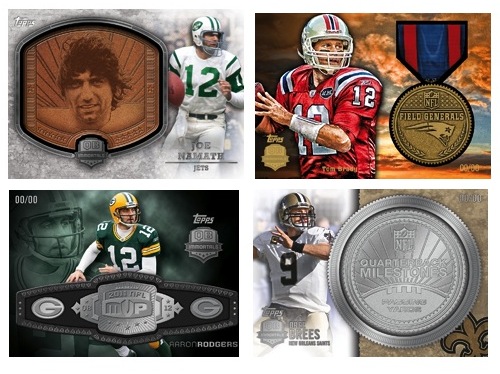 Aside from the throwback additions,  Quarterback Immortals cards bring another big nuance to the late-summer release. This subset will include:
QB Immortals Autographs: Up to 30 legendary NFL quarterbacks (Numbered to 25)

Silver parallel (Numbered to 15)
Gold parallel (Numbered to 10)
Platinum parallel (1/1)

QB Immortals Relics: Parallels featuring game-used Relic swatches (Numbered to 50)

Silver parallel (Numbered to 35)
Gold parallel (Numbered to 15)
Platinum patch parallel (1/1)
NFL Field Generals: Up to 20 current stars featured with military-style medals (Numbered to 50, 1/1 Autograph parallels)

Rodgers NFL MVP Belt: Honoring Aaron Rodgers' 2011 NFL MVP season with a manufactured belt (Numbered to 99)

Game-Winning Drives: Up to 30 veteran and retired quarterbacks featuring filmstrips from game-winning drives (Numbered to 10)

NFL MVPs: Up to 26 veteran and retired MVP-winning quarterbacks on die-cut MVP trophy cards (Numbered to 50, 1/1 Autograph parallels)
Quarterback Milestones: Honoring the achievements of up to 50 veteran and retired quarterbacks with cards featuring embedded two-sided medallions
Quarterback Immortals Plaques: Up to 30 retirees and Hall of Famers featured on cards embedded with bronze plaques
Super Bowl MVPs: Up to 25 veteran and retired quarterbacks on die-cut Super Bowl MVP Trophy cards (Numbered to 46, 1/1 Autograph parallels)
Be sure to check out the image gallery below and stay tuned to Beckett.com for more information on 2012 Topps Football as the release date approaches.