Tebow, Manning Prestige cards in NSCC packs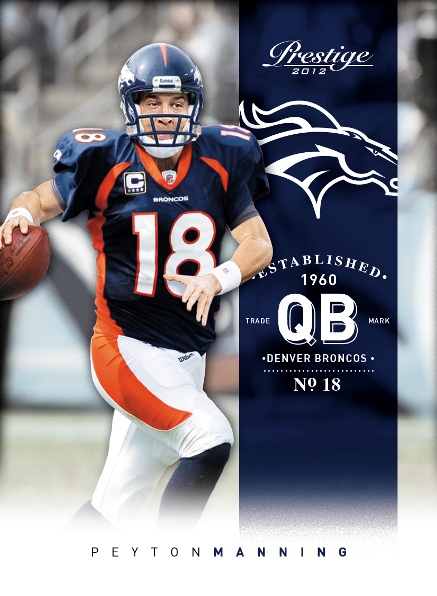 By Susan Lulgjuraj | Beckett Football Editor
When Tim Tebow and Peyton Manning changed teams this offseason, collectors wondered when cards showing them off in their new uniforms would appear.
Many looked to Panini America's 2012 Prestige because the company promoted images of the cards in March. But when Prestige dropped a couple of months later, there were no cards of Tebow in a New York Jets uniform or Manning dressed in Denver Bronco gear.
The cards have finally surfaced.
Panini released a video this morning touting some of the goodies collectors can get out of the 2012 National Sports Collectors Convention wrapper redemption packs. There were many different types of cards with pieces of player-worn gear and special inserts.
But also in the packs were the Tebow and Manning cards from Prestige.
Panini's Scott Prusha and Tracy Hackler said on the video the cards had been intended for Prestige, but for some reason or another – they didn't say – it didn't happen. Now, the cards are offered as part of the 2012 NSCC redemption packs.
Some collectors who aren't going to the National may be disappointed about the placement of the cards, however, Panini is making it possible to get wrapper redemption packs through its online store, while supplies last. Customers have to purchase selected products from iCollectPanini.com and will receive the packs with their order.
For football fans, some of the other unique cards in the wrapper redemption program include player-used towels. The towels were used by some at the NFLPA Rookie Premiere and then cut up and inserted into cards. Panini showed off a Ryan Tannehill and a Robert Griffin III. Some lucky fans will get to enjoy sweaty towels.
If you end up at the National or pick up some of these packs on Panini's web store, let us know what you get.
Susan Lulgjuraj is the editor of Beckett Football magazine. You can email Susan here with ideas, comments and questions. Follow her on Twitter here.