Presidential Predictor cards let collectors get political once again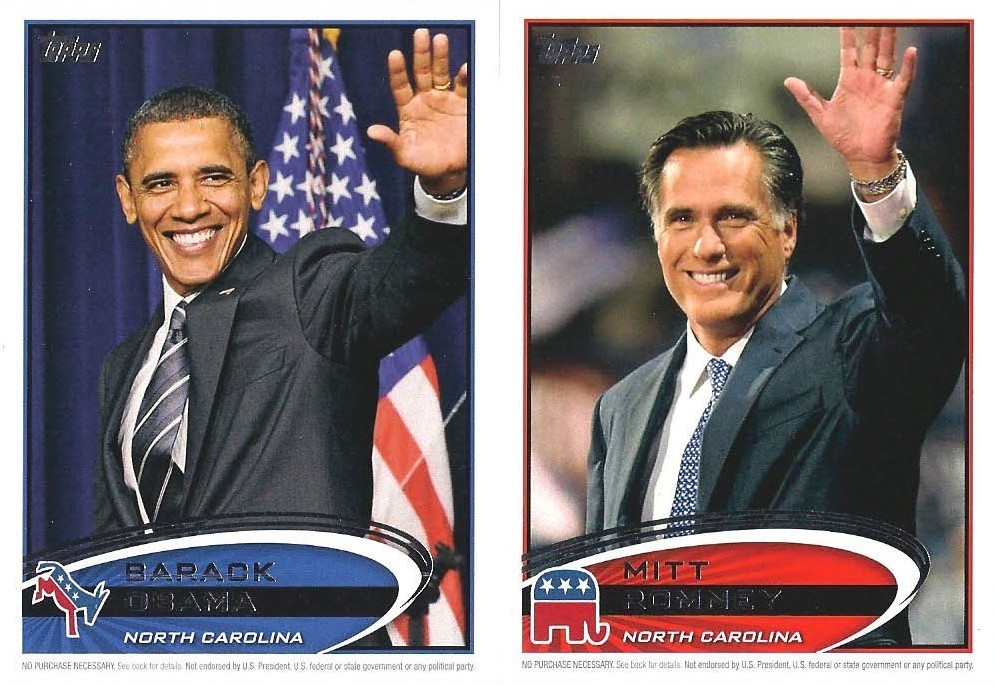 By Chris Olds | Beckett Baseball Editor
With the third and final presidential debate coming later tonight, there will be plenty said and plenty of opinions formed from the members of the two teams, err, parties.
The 2008 presidential race sparked an influx of political cards into our sports cards — so much so that each candidate this time around has plenty of cardboard available for collectors to debate about buying.
For the record, here's how their past performances, err card values, stack up, according to the Beckett.com Online Price Guide:
— Mitt Romney, 55 cards totaling $324.50, an average value of $5.90 not including those too rare to track a reliable sales range (click here for a full Romney checklist).
— Barack Obama, 521 cards totaling $3,991.40 (not including rarities), an average value of $7.66 (click here for a full Obama checklist).
This time around, though, it appears that Topps has just 50 cards for each candidate in store — at least so far — and they are the Presidential Predictor cards found in packs of the recently released 2012 Topps Update. There are 50 near-identical cards per candidate with the only differences being what state the card indicates below his name and a unique online code on the back.
Why does that matter?
Found one in every 81 hobby packs, these cards' codes must be entered on Topps' website (redeem.topps.com) to enter the collector into a drawing for one of 50 unique cards.
"Once the election is complete and each state has a winner, we will randomly select one lucky winner for each state," reads the Topps rules. "To be eligible to be selected, the code entered must be for the candidate that won that respective state."
So in other words, if Obama wins North Carolina, all of those collectors who found an Obama North Carolina card and entered it will be placed into a random drawing for a presidential patch card for that state. Or, say if Romney wins Texas, all those collectors who entered codes off of Romney cards will be entered to win a presidential patch card for that one.
A total of only 50 serial-numbered presidential patch cards will be made and awarded.
The Predictor cards typically have sold for $2 to $5 for both candidates, though eBay action has been sporadic so far leading up to the election.
Chris Olds is the editor of Beckett Baseball magazine. Have a comment, question or idea? Send an email to him at colds@beckett.com. Follow him on Twitter by clicking here.
—
Loading ...
—
Loading ...
—
Loading ...