Politics Unusual: Strange Things Done to Presidents (and Hopefuls) on Trading Cards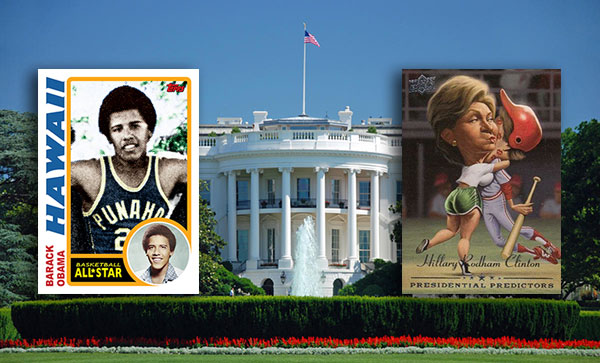 By Ryan Cracknell | Hobby Editor
Most political trading cards aim to educate. They're like hand-held history lessons that add some design and collectibility to the mix. But some cards featuring presidents and other politicians are just plain weird.
Strange Presidential and Political Trading Cards
1967 Topps Who Am I?
1967 Topps Who Am I? plays out like the trading card equivalent of one of those old game shows where you had to figure out who the celebrity is. It's not so tough, though. Traditional portraits are obscured by "disguises" like hats, glasses and other accessories. These could be scratched off to reveal the personality. Several presidents and a couple of First Ladies are among those on the varied checklist, some of which wouldn't be politically correct today.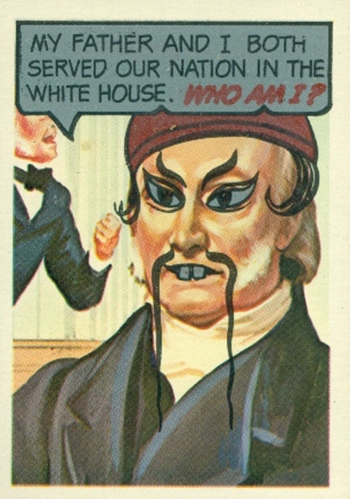 2007 Topps Derek Jeter with George W. Bush, Mickey Mantle #40
This card caused quite the stir when it first came out. Why? Some obvious photo manipulation for one. Speculation over its rarity was another. And while it's no different from every other 2007 Topps Derek Jeter to come out of packs that year, it holds a bit of a premium simply because of it's novelty factor. You don't need to look very closely to see Mickey Mantle in the dugout and President George W. Bush in the stands. A similar approach was used in 2008 to put Rudy Giuliani in the middle of a Red Sox celebration but that card failed to garner the same attention.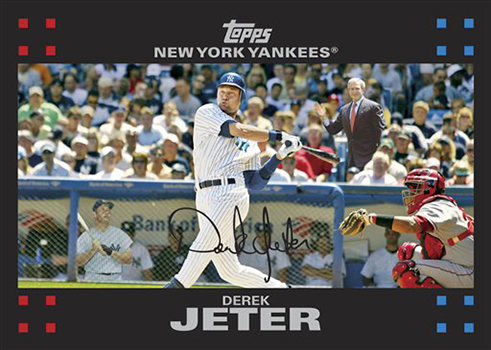 2008 Topps Campaign 2008 Sarah Palin Pageant Variation #C08-SP
Topps didn't hold back on politically themed cards in 2008. Among them was the Campaign 2008 insert set that highlighted various Democrats and Republicans hoping to take up residence at the White House. Sarah Palin wasn't part of the original lineup but once she was named John McCain's running mate, that changed. Palin has a regular Campaign 2008 card that was included in 2008 Topps Updates and Highlights Baseball. There's also this variation that pictures her pageant days.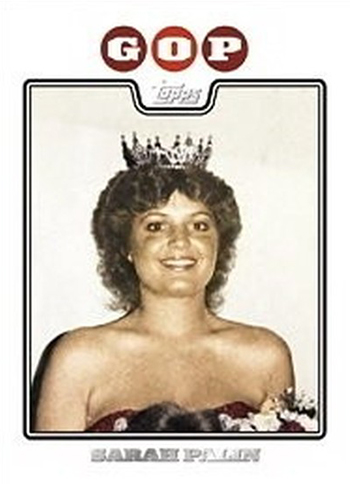 2008 Upper Deck Presidential Predictors Hillary Clinton SP #PP7
Topps wasn't the only card maker trying to make headlines with the political offerings in 2008. Upper Deck included some wild Presidential Predictors in 2008 Upper Deck Baseball that portrayed candidates in satirical baseball scenarios. Hillary Clinton got to be portrayed as Morgana the Kissing Bandit. Not long after the card came out, it was subsequently cancelled. Of course, some still surfaced, which fueled the fire even more.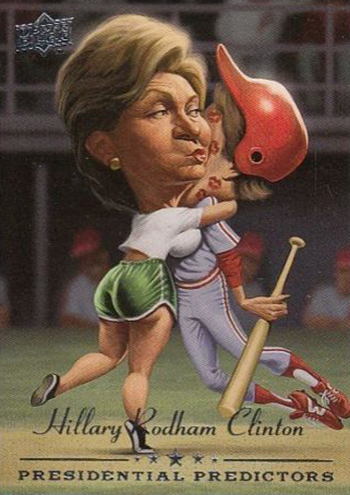 2009 Topps President Obama Inaugural High School Basketball All-Star #44
Barack Obama is one of only two presidents to have a mainstream trading card set dedicated to him (John F. Kennedy had two in the 1960s). And while much of 2009 Topps President Obama Inaugural is typical in the sense that it charts his rise to the presidency, it has a couple of odd cards. The first is a short print that pictures Obama as a high school basketball player. The card uses the 1978-79 Topps Basketball design.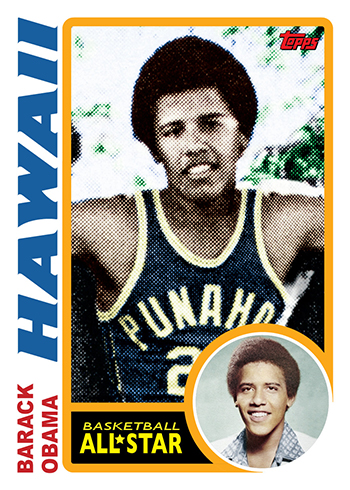 2009 Topps President Obama Inaugural Presidential Pup
As strange as an Obama basketball card may seem, it's not the strangest in the 2009 Topps Obama set. That distinction is one for the dogs. Randomly inserted in packs was a "Presidential Pup" redemption good for a card of the future First Pet, Bo.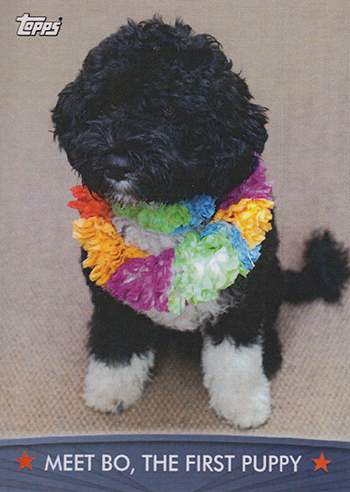 2010 Topps Baseball Abraham Lincoln Variations
Most of the variations in modern Topps Baseball sets are simple photo switches. But not always. In 2010 Topps Baseball, a handful of Chicago Cubs received cameos from Abraham Lincoln. He was worked into the background of these cards in unexpected places. Some are fairly easy to spot. Others, not so much. Jeff Samardzija, Ryan Dempster, Milton Bradley and Tyler Colvin all have Abraham Lincoln variations.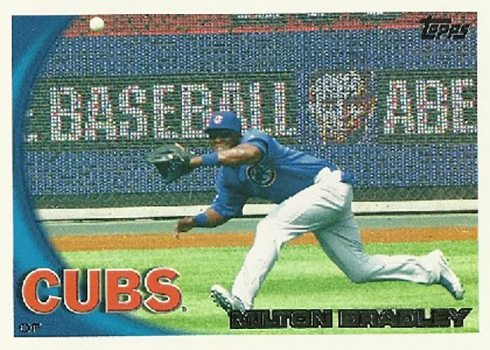 2011 Leaf Pop Century John F. Kennedy, Lee Harvey Oswald Cut Signature with Piece of Presidential Limousine
Not all of the odd presidential trading cards have a quirky feel to them. In fact, this one is probably the farthest thing from quirky. Combining cut autographs of John F. Kennedy and Lee Harvey Oswald is certainly notable but that's not why this card is here. It's the addition of a piece of the seat leather from the limousine Kennedy was assassinated in that takes it to a different level. The card is one-of-a-kind and it was found quickly and resold.

Presidential Garbage Pail Kids
Garbage Pail Kids have taken on presidents many times over the years. And usually, they don't hold back. Nor do they prefer one party over the other. When it comes to politics, everyone's fair game when it comes to GPK.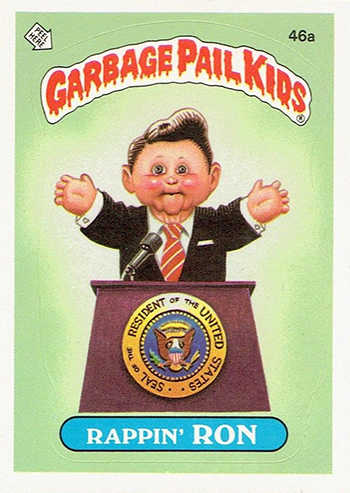 Comments? Questions? Contact Ryan Cracknell on Twitter @tradercracks.