Military member opens his first football box in years, gets a unique surprise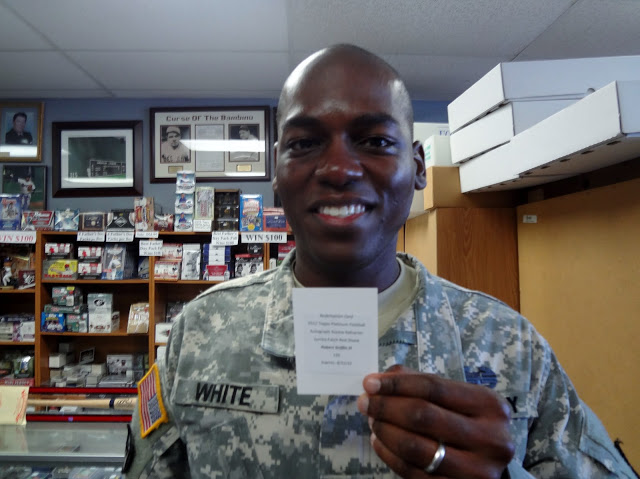 By Susan Lulgjuraj | Beckett Football Editor
Charlie DiPietro's card store is a stopover for many military personnel in the San Antonio area.
Sports Card Plus is near Fort Sam Houston and a military hospital. So he sees about 10 to 15 current and former military members in his shop every week.
Recently, Sgt. White stopped by the shop. DiPietro doesn't remember his first name, but he definitely remembers the story.
White told DiPietro he hadn't collected cards in years. When he collected, there were no autographs in packs. But that didn't stop him from ripping 2012 Topps Platinum Football.
"Sgt. White carefully opened the box, one pack at a time," DiPietro said. "Near the bottom of the box was this funny looking white card with lots of writing on it. "What's this," asked Sgt. White."
It was a redemption. They likely didn't have those cards when White used to collect either.
In his first foray back into collecting, Whit hit one of the best cards in the product.
White pulled a redemption for a 2012 Topps Platinum Football Autographed Rookie Refractor Jumbo Patch Red Shield of Robert Griffin III – a 1/1.
"He just came back from Afghanistan," DiPietro said. "This is the first box he got in many years."
DiPietro caters to many military people, and often those who have been injured serving overseas. DiPietro's customers sometimes are missing limbs or are seriously hurt in other ways.
"We get a lot of military people here," he said. "For the military people, I work with them on trades or if they want to sell me something."
Sports Card Plus seems to be hot spot not just for the military members, but also for card collectors in general.
A customer of DiPietro's also pulled the Andrew Luck autographed/patch Superfractor 1/1 out of Platinum.
Susan Lulgjuraj is an editor of Beckett Football. You can email her here with questions, comments or ideas. Follow her on Twitter here.