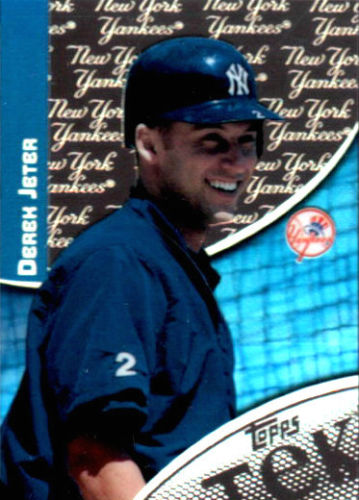 By Susan Lulgjuraj | Beckett Sports Card Monthly Editor
LAS VEGAS – Topps is getting nostalgic.
The company announced its bringing back Topps Tek for the 2014 baseball season.
Topps Tek was originally issued in 1998. It featured 90 cards with 90 patterns available for each players, creating a massive set with an absurd chase – some loved it and some didn't.
However, brands from the late 1990s and early 2000s are making a comeback such as Fleer Retro from Upper Deck or Panini America resurrecting Donruss brands.
Now, Topps is bringing back Stadium Club and Topps Tek.
"It's one of the products that everyone still talks about," Clay Luraschi, Topps Director of Product Development told Beckett Media at the 2014 Industry Summit. "The technology in which it's presented is awesome. I would say it was ahead of its time back in the day. It was pretty high-end for its time.
"Now, at a time when there has been a resurgence in the 1990s and 2000s inserts, acetate and fun cutting-edge designs. It's the perfect time to bring Tek back."
Luraschi added that autographs will play a big role in Tek, but more details aren't available yet.
Topps teased the return of Stadium Club on March 6.
The company brought the product back in 2008 as a high-end release. The configuration is changing for 2014.
"The setup is more like the Finest configuration with three mini boxes," Luraschi said. "To be able to offer three autographs at that price point is extremely strong."
Topps also teased a new high-end product Topps Dynasty but didn't offer many details, but Topps' David Reel said if you like high-end, you will like this product.
Susan Lulgjuraj is an editor at Beckett Media. You can email her here with questions, comments or ideas. Follow her on Twitter here. Follow Beckett Media on Facebook and Twitter.