Philadelphia Eagles guard Evan Mathis shows off his impressive collection
Evan Mathis has a special card at the top of his want list.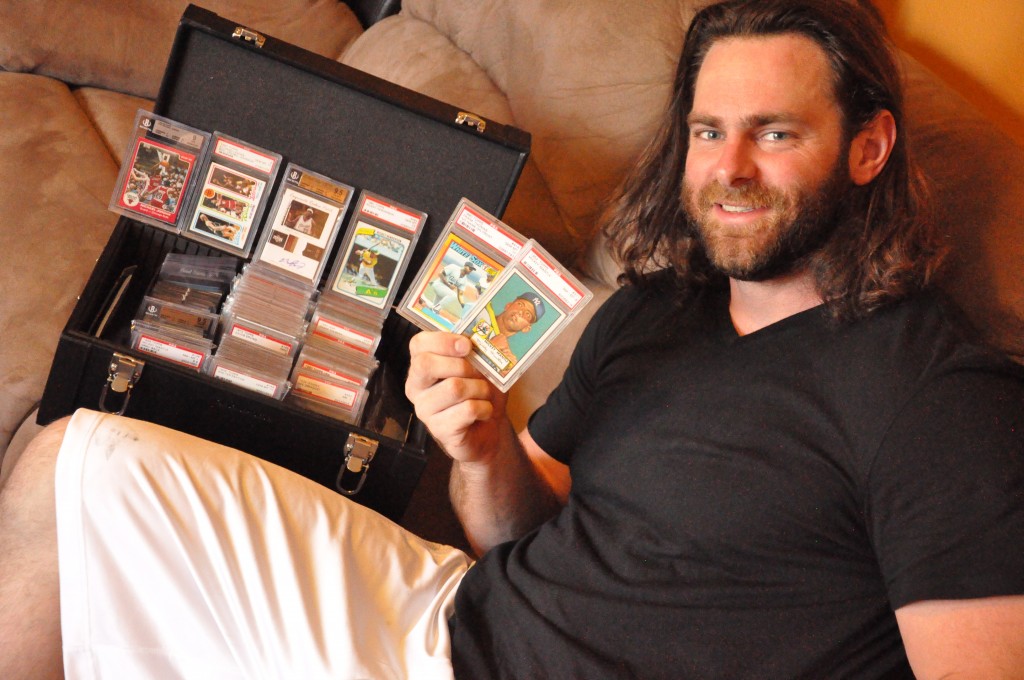 No, it's not another PSA 8 1952 Topps Mickey Mantle – he already owns one of those.
The Philadelphia Eagles guard is an avid card collector. He owns some of the hobby's rarest cards. Beyond the Mantle, his collection includes a PSA 10 1990 Topps Frank Thomas NNOF and a PSA 8 1932 Caramel Babe Ruth.
Mathis started collecting when he was about 6 years old. His first card was a 1988 Topps Bo Jackson that he still has – in a BGS 1 holder.
"I used to always count my Bo Jackson and Frank Thomas cards," Mathis said. "When I first started collecting, Bo Jackson was my favorite player. His career came to an end in the early 1990s and that's when Frank Thomas became my favorite player. I was a hoarder when it came to those two. I loved trading my friends to get cards of my favorite players and nothing beat pulling them out of a pack."
The next card Mathis wants to add is one of his own. He's appeared on just one NFL-licensed card, a 2005 Sweet Spot Rookie Card numbered to 699.
Perhaps Topps or Panini America will get him into a set one day.
"I haven't heard anything yet," Mathis said. "It took me a while to become one of the best guards in the league. I'll do it for a few more years and maybe I'll find my way onto another card."
In the meantime, Mathis continues to collect. He recently participated in a Q&A about his collection with Beckett Media.
Beckett Media: Was there ever a point where you stopped collecting, perhaps in college?
Mathis: I usually go through phases where I go in and out of the hobby. I've never been as active and consistent as I have been the past few months.
Q. What sports does your collection focus on?
A. My collection is built mainly of star players' Rookie Cards in many sports. Baseball, Football, Basketball, Boxing, Golf, and Wrestling.  (Update: Evan also collects hockey cards. He forgot to mention it during the initial interview).
Q. What is the response from your teammates when they learn about your collection?
A. When I buy stuff it's usually shipped to the locker room so some of the guys see me opening things. When I start telling them the value of certain things it blows their mind. A lot of guys respect it because it reminds them of their childhood and they realize that cards can be great tangible assets.
Q. What are some of the cards you want to own, but have yet to obtain?
A. The 1993 SP Derek Jeter in PSA 10 has eluded me. The few times I've come across one for sale, the asking price has been astronomical. I've busted a case trying to pull my own but those foil cards are very tough. Ninety percent of the time they come out of the pack with at least one horrendous corner and the foil surface is so sensitive.
Q. Do you know of other football players who also enjoy collecting cards?
A. I haven't come across anyone who's really that into it.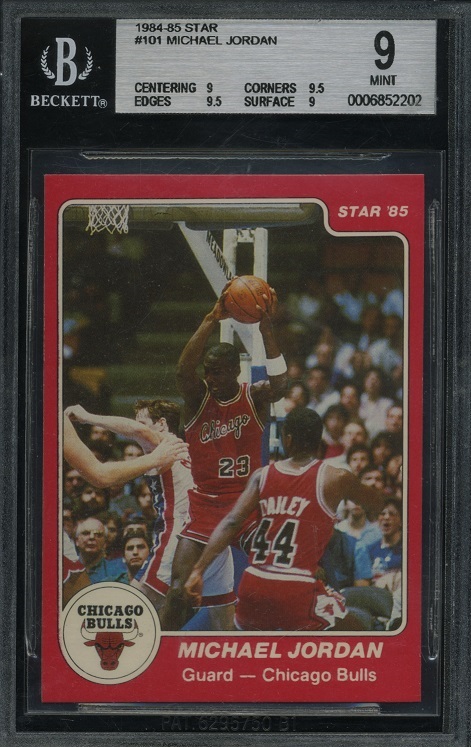 Q. Do you have favorite cards and sets?
A. I'm a big fan of 1986-87 Fleer basketball and the Michael Jordan card from that set. That's one card that I own multiple of and still want many more.
Q. How many cards do you have in your collection?
A. I like to keep my collection consolidated into high-end cards and don't have much quantity anymore. Growing up, I amassed a giant hoard of cards and ended up giving 99% of them away. Any substantial quantity that I have now would come from my unopened collection that is slowly growing. My favorites from that part of my collection would be my two boxes of 1986-87 Fleer Basketball.
Q. Do you collect cards of people you play with or against?
A. I don't have many cards from anybody who is active in any sport other than LeBron and Kobe.
Q. What is the reaction from sellers when they realize who you are?
A. Most guys are pretty cool about it. I try to fly under the radar and never bring up my profession unless someone figures it out. I've met a lot of great people, both dealers and collectors, over the past few years as I've worked to grow my collection.
Q. You were drafted in 2005 and have just one official NFL trading card, how do you feel about that?
A. I opened a few boxes of 2005 UD Sweet Spot just to pull a rookie of mine. It was fun doing that. But I really didn't like the picture they used. It's just a picture of me standing there, breathing out, and looking a little pudgy. I grew up with dreams of playing in the NFL, and even being on cards. The little kid in me would still enjoy opening packs and pulling cards that I'm on. Maybe even ones with action shots.
My uncle, Bob Baumhower, played for the Miami Dolphins from 78-87 so I was able to find packs from those years and pull cards of him when I was a kid.
Mathis has a large collection of high-end cards. Here are some of his favorites:
PSA 8 1952 Topps Mickey Mantle
PSA 10 1990 Topps Frank Thomas NNOF
PSA 10 1980 Topps Rickey Henderson
PSA 10 1975 Topps George Brett
PSA 10 1988 Best Platinum Ken Griffey, Jr.
PSA 8 1932 Caramel Babe Ruth
PSA 10 1980-81 Topps Bird/Erving/Magic
BGS 9.5 2003-04 Exquisite LeBron James Auto RC /99
BGS 9 1984-85 Star Michael Jordan, .5 away from 9.5 and no 9.5s exist
PSA 10 1986-87 Fleer Michael Jordan
PSA 10 1981 Topps Joe Montana
PSA 10 1986 Topps Jerry Rice
PSA 10 1996 Sports Illustrated for Kids Tiger Woods
PSA 9 1966 Panini Cassius Clay