Have Outstanding Redemptions? Panini's Trade-Up Program Returns at The National
Panini's Live Redemption Trade-Up Program is returning to the 2018 National Sports Collectors Convention in Cleveland. So those who have been waiting on cards will have a chance to exchange them for upgrades worth more than their redemptions.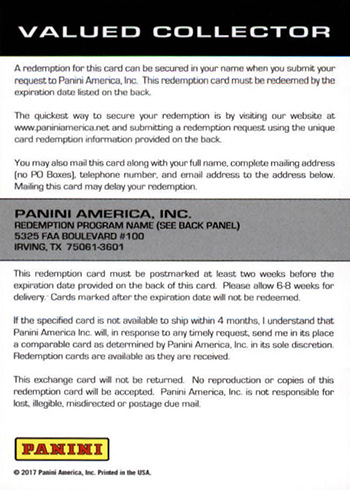 Eligibility Requirements
First, there are some eligibility requirements. Redemptions you're looking to exchange have to already be redeemed in advance. That means you've scratched the code and added it to your account.
Also, redemptions must be at least four months old. So if you pulled a Rashaad Penny from the just-released 2018 Panini Certified Football, you're going to have to hold tight. Redemptions from recent products are not eligible for the Trade-Up Program.
The minimum value of the redemptions being exchanged must be worth at least $35. The maximum value that can be traded is $400.
How the Panini Redemption Trade-Up Program Works
Before you head to the National, print off a copy of your account screen showing the outstanding redemptions you're planning to trade in.
At the show, bring that print out to the Panini booth. They'll verify them and add up what the outstanding redemptions are worth based on Beckett book value. From there, collectors pick the sport they're interested in. Baseball, basketball and football are available.
These grab bags are all worth more than the trade value. So if your redemptions add up to $100, your grab bag might have a value of up to $140. $50 in trade could net $80 in value. They are grab bags, though, so collectors won't know what they're getting other than what sport it's from until it's opened.
Cards, unopened boxes and even a sprinkling of Panini Black Boxes are available in the sport-specific grab bags.
Participants must sign a waiver ahead of time acknowledging that they agree to participate and accept what's in the grab bag.
Redemption Trade-Up Hours
There are specific times each day at the National that the Panini Live Redemption Trade-Up Program is operating:
Wednesday, August 1: 5 PM to 7 PM
Thursday, August 2: 11 AM to 4 PM
Friday, August 3: 11 AM to 4 PM
Saturday, August 4: 10 AM to 3 PM
Sunday, August 5: 11 AM to 2 PM