The Daily: 1985 O-Pee-Chee Pro Wrestling Stars Series 2 Nikolai Volkoff
The Card: 1985 O-Pee-Chee Pro Wrestling Stars Series 2 Nikolai Volkoff #1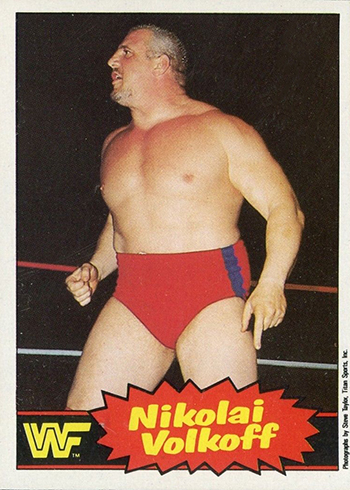 The wrestling world lost of the greatest villains of the 1970 and '80s yesterday with the passing of Nikolai Volkoff.
For more than 20 years, Volkoff, whose real name was Josip Peruzovic, battled wrestling's top stars, usually as the heel. As a singles wrestler, Volkoff headlined alongside Bruno Sammartino, selling out Madison Square Garden and breaking gate records.
Later, during the WWF's Rock 'n' Wrestling Era of the mid 1980s, Volkoff fought on a tag team with another Hall of Famer, the Iron Shiek.
Volkoff's first major cards can be found in 1985 O-Pee-Chee Pro Wrestling Stars Series 2, a Canadian continuation that Topps never released. In fact, Volkoff leads off the checklist with his profile card.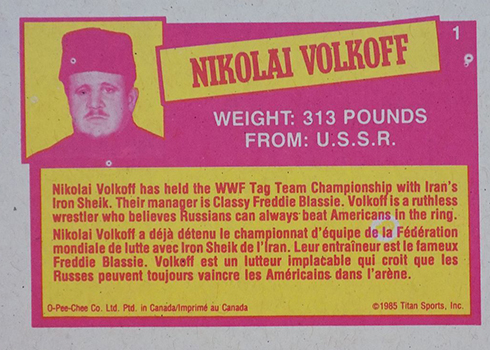 In addition to this card, Volkoff appears on three other cards in the set, all subset cards with the legendary Iron Shiek.
Volkoff's first mainstream American card didn't come until 1995 Action Packed WWE. He does appear in a melee on a 1987 Topps WWF card (#74), but he's part of the background and not very prominent.
The Daily highlights a key player or personality in the world of sports or collecting from the past 24 hours along with one of their key cards.