Local Card Shop of the Week: Omaha Sports Cards (Omaha, NE)
Ever since he opened his first pack of cards at the age of 5, Matt Myers has been a collector and around the hobby. As he got older, he started promoting and setting up tables for the Omaha Card Show with Jim Murphy, who was with the Omaha Police Department at the time. During those card shows, they had discussions of one day opening a card shop together and made plans for making that shop unique.
Matt had dreams of creating a shop that had a "sports bar" feel to it with nice décor, TVs on the wall, and a bar with stools to sit at to chat and look at cards. In 2014, they turned their dreams from those discussions into realty and opened Omaha Sports Cards. I recently caught up with Matt to discuss the shop and the hobby in his area.
Local Card Shop of the Week is brought to you by Southern Hobby, who has been serving the collecting community for nearly 30 years.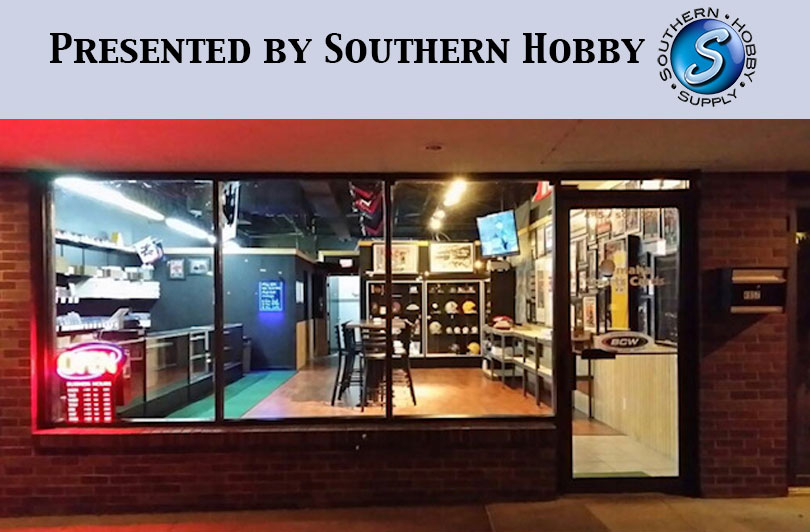 JOEY SHIVER – Thanks for taking the time to talk with us Matt. Can you tell us a little about your collecting background and what led you to opening your store?
MATT MYERS – My dad bought me my first pack of cards when I was 5-years old and because of this, I have collected cards for as long as I can remember. When I was in high school, I started setting up at card shows and began selling the cards I no longer wanted, mainly to buy more cards that I wanted for my personal collection. After college, I really got bigger into card shows — both attending larger shows around the country and also promoting my own show here in Omaha. I believe that it is every card collector's dream to one day own a card shop. So once Jim approached me about partnering with him, I was in from the beginning.
JS – Can you tell us a little about your store? Can you talk about your setup and what type of inventory you carry? Also, what services do you provide?
MM – I feel that our shop is unique because it has a more relaxed, lounge-type feel to it. Also, we try to keep it as uncluttered as possible to allow room for people to walk around freely and not feel like there is too much to look at. We have display cases around the perimeter of the shop and a 16-foot bar height table with stools in the middle. This is for customers to sit at and hang out. I feel like we have created a location for sports fans, not just collectors to come in and hang out. Most days it is rare to find the shop without multiple customers inside, and now regular customers have developed friendships with each other because of the amount of time spent together at the shop. We have framed memorabilia filling one wall as well as three large display cases filled with sports memorabilia. We have nine display cases of single cards as well as shelves filled with base cards for kids. Behind the main counter, we have 30 feet of shelving, full of current unopened wax boxes, as well as collecting supplies. When it comes to supplies, we carry just about every item a collector needs.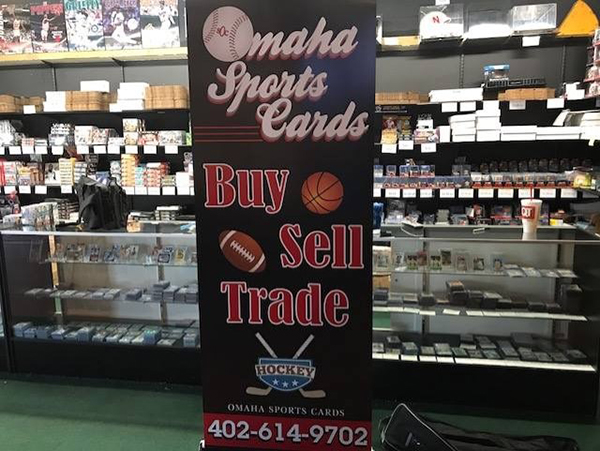 JS – Your shop is located in Omaha, which is the home of the College World Series. Can you tell us a little about that annual event and how it affects your store?
MM – We are fortunate to have this one-of-a kind sporting event right here in our city! Every year, hundreds of thousands of baseball fans flock to downtown Omaha to be a part of this event. Although you never know which teams are going to make it, there are some teams that are somewhat regular to making it to the CWS. We do see repeat customers from around the country because of this amazing event. What most people do not realize is that there are numerous little league tournaments throughout the city of Omaha during this time as well, which really makes Omaha the baseball youth capital for two weekends.
JS – I would imagine that the biggest fan base in your area would be for the Nebraska Cornhuskers. And you are most closely located (geographically) to Kansas City for professional sports. When it comes to college and professional sports, who would you say is the "Home Team" for your collectors? Who would you put on your Sports "Mount Rushmore" when it comes to players your collectors want?
MM – Nebraska football is definitely king around Omaha and all other teams are a very distant second. In some ways, Omaha is quite unique in that not having any major league sports teams does allow for a wider sports collectors fan base. Many people believe that the Royals would have the largest collector base in Omaha, but from my experience I believe it to be the Chicago Cubs, followed by the St. Louis Cardinals. I would then say the Royals at third and the Twins at a very close fourth.
Due to the fact that we are a football state, people are surprised to hear that we have a larger NFL collector base than MLB. Although this can ebb and flow from year to year based on the rookie class. With all these different teams with loyal fan bases in Omaha, we really do not have a "Mount Rushmore." There is one person that we get asked about daily and could be on the mountain by himself, and that is our football coach, Scott Frost!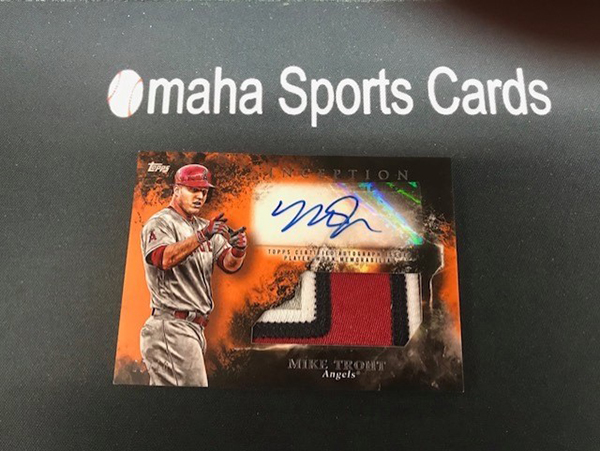 JS – As it relates to particular products, what has performed well in 2019 and what has made those products so popular?
MM – This year it has been hard to beat the MLB rookie class. I cannot remember a year with more big name rookies getting called up and performing as well as they have done this year. Therefore, Topps has been very popular, especially Bowman, Topps Series 2, Heritage, and now Topps Chrome.
It looks like Topps Update could be one of the more anticipated products of the year.
We are just now getting started with the NFL season, so most of the more popular products are just beginning to be released. There does not appear to be as much hype around this rookie class as in some recent years, so we are hoping that the rookies perform well to help the NFL card market.
Lastly, Zion fever is going to drive the NBA card sales this year. I would say that the anticipation for his cards are hotter than any rookie since Lebron in 2003.
JS – Are there any products that are on the release calendar you are really looking forward to in the next few months?
MM – Personally, I am a Contenders Football nut. It is always my most anticipated product of the year. In recent years it has been harder to get the quantity needed to meet demand. For baseball, Bowman Draft is my favorite. It is fun following the prospects to see how many big names make it, as well as how many unknown guys end up being the best players out of the product. In basketball, I would say Prizm is head and shoulders above any other product and Zion rookies are going to be hard to hold on to because of the price they will command.
In hockey, my favorites are Upper Deck Series 1 and 2. I think Young Guns rookie cards are some of the best cards to hold on to.
The last product to mention that is very popular for us is Leaf Metal Draft. It usually is one of the first football autograph products on the market and almost always has at least one former Husker player.
JS – Your Facebook page is active with hits from the shop, event notifications, product releases, and photos. How important has social media become for you as a small business owner?
MM – Yes, we post pictures on Facebook, Twitter, and Instagram. Although, I do not have as much time for social media as I used to when we first opened. Social media has been a great avenue for us to get noticed in the card collecting world. When we first opened, it was very prominent in getting local collectors aware that we existed, and was a great tool for free advertising.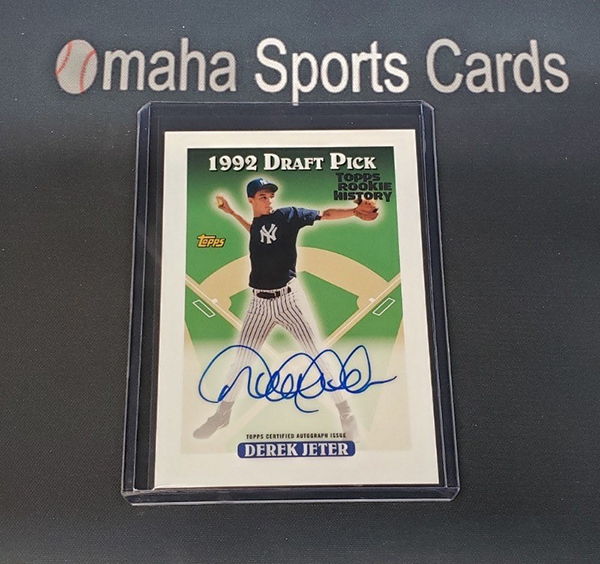 JS – There was a sports card show in your area in July. How prevalent are card shows in your area in 2019 and how active are you in participating?
MM – As I stated before, I promote a monthly show, so it is a big part of the Omaha card market. There has been some type of monthly card show running in Omaha for 30-plus years and I was fortunate to take it over about ten years ago. The Omaha Card Show is one Sunday a month, every month of the year. There is an average of 40 to 50 tables set up and we are fortunate to have a few hundred customers attend the show every month.
JS – Did you attend the 2019 National in Chicago a few weeks ago? What are your thoughts on this year's event and attendance? Do you have any fun memories you'd like to share?
MM – I have gone to the last 12 National Card Conventions and this year's was the highest attended show I have ever seen. It was non-stop customer after customer the entire time. One of the main reasons I love attending shows is for the buying opportunities. You never know what is going to walk up to the table. At this year's National, I was able to pick up a 1951 Bowman Mickey Mantle Rookie Card. Although I am huge Mantle fan, I actually bought this card for a great customer of the store. He purchased my 1952 Topps Mantle last year and this piece completed his full run of Mickey Mantle base cards.
JS – What are some of the major positives within the hobby and industry right now? What are you hearing from your customers right now in regards to the industry? What do they really love seeing from a product or support standpoint?
MM – Obviously, the card market is doing very well right now. We are seeing record sale prices for cards pretty much across the industry. Unopened boxes of cards are also flying off the shelves due to the huge amount of interest and speculation in the market. The one thing I have noticed is that there are more and more kids getting interested in collecting sports cards, which is amazing. In this day and age, kids are often more interested in video games and mobile devices, so any positive thing that can get kids away from screen time is a good thing in my book.
JS – On the contrary, what are some areas you think could be modified to improve the customer experience? What type of feedback do you get from your customers in this area?
MM – Overall, it is hard to be negative about anything in this business right now. The only thing I can think of are collectors that are new or getting back into the hobby are overwhelmed by misinformation online or what the value of the childhood collection is worth. We try to help these customers out as much as possible but it can be redundant and quite time consuming. Cards from the '80s and '90s were so overproduced, collectors are often disappointed in the true value of their childhood collection. While some high graded examples actually sell for big money, they are a small percentage of the cards out there. It is never fun being the bearer of bad news in these situations.
JS – Are there any upcoming events you can tell us about? Will you be having any autograph signings, trade nights, or gaming events?
MM – Outside of the Omaha Card Show we do not have any scheduled events. We have had Beckett grading events in the past, however. Omaha collectors had never had a chance to have their cards graded onsite as many do not travel that far for shows. It is fun being able to see customers open their box of newly graded cards and go through them. We hope to have Beckett back in the future for an RCR event!
Omaha Sports Cards
Matt Myers/Jim Murphy
(402) 614-9702
4857 S 137th Street
Omaha, NE 68137
Hours
Monday-Tuesday: 11AM-5:30PM
Wednesday-Friday: 11AM-6PM
Sunday: 11AM-6PM
Facebook: Omaha Sports Cards
Website: OmahaCards.com