Local Card Shop of the Week: Neuhart Cards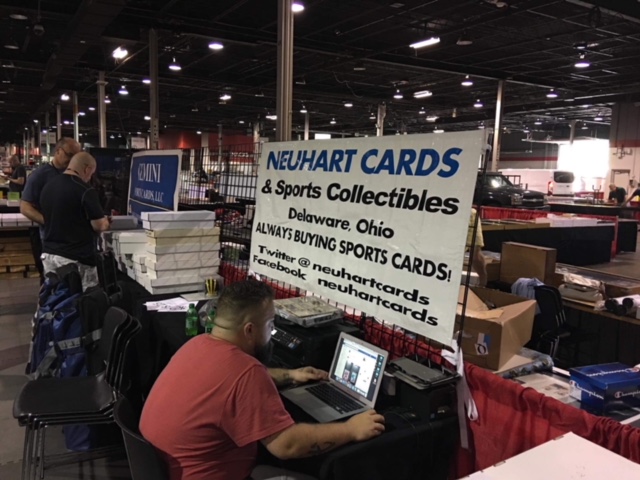 Keith Neuhart started collecting when he was a kid in the late 70's-early 80's. He fell so much in love with sports cards, he opened his first shop in Marion, Ohio in 1988 while he was in high school. That store closed when it was time to go to college. But he didn't stay away for good, as he is now back in the card shop business and keeping the hobby alive in Ohio. I spoke with Keith recently to discuss his shop and the state of the Hobby in Delaware, OH.
JS – Thanks for taking the time to speak with me Keith. You've been collecting for basically 40 years but how (why) did you get started in the sports card shop business in 2010? 
KN – I have always bought and sold collections…it's in my blood. I was a Financial Advisor for a large bank and just burned out of that world. My mother passed away in 2010, and my whole mindset changed about life and being happy with what you do.
JS – Before we dive too deep into the market and your shop, I noticed on your Facebook page that a lot of your posts are family oriented. Can you tell us about your family's involvement in the store and the Hobby? Is this a hobby that they all take part in?
KN – My family has been very involved. When we opened at our original location, it was a family affair. My wife, son, and daughter all were very involved in the planning, naming, cleaning, and remodeling process. My son plays baseball and my daughter plays multiple sports, so we are very involved in the sports world.
JS – What is competition like for brick and mortar shops in 2018 vs when you opened in 2010? How is the local market served when it comes to local card shops? 
KN – When I first opened, it was evident early that it would take some time to gather a client base. Customers would trickle in for curiosity-sake more than anything. We were basically competing against ourselves. We had to increase our cash flow without going into debt. My promise to myself and my family was that I would not use credit to fund the new business. Everything we purchased was bought with cash. I didn't want to overspend and cause issues in the future, so we survived on a shoestring budget. Currently, the local market is very strong. There are numerous advanced collectors in the area and new collectors are joining the hobby daily.
JS – Can you tell us a little about Delaware, Ohio? You are closest to Columbus and OSU but you are surrounded by a lot of professional, minor league and college sports teams. What teams make up your customer base?
KN – Delaware, Ohio is the kind of place you want your children to grow up in. It is a very close-knit community that includes Ohio Weslyan, a fairly well-known smaller college. Branch Rickey was a graduate and coach at Ohio Weslyan. Ohio State is a huge fan favorite locally. We do sell a ton of Buckeye player cards. The pro teams are split between Cleveland, Cincinnati, and Pittsburgh.
JS – Looking at athletes specifically, who would you guess is the most popular athlete in collections in your area? Who do customers ask about more than anyone else?
KN – Michael Jordan, LeBron James, and Mike Trout are our most asked for players. We always buy single cards and collections and those are also our most difficult players to obtain.
JS – Your Facebook page advertises a wide array of products. What can you tell us about your inventory in store? What do you always make sure you have on hand?
KN – We always have the newest hobby releases on the day they release. Not only are those products the easiest to sell, but it also brings in clients who purchase singles and supplies. 99% of our sales are cards. Memorabilia is definitely not our specialty, so we typically don't carry memorabilia unless we purchase it in a card deal. Our specialty, and the thing we our most proud of, is our collection of singles. We sell a ton on eBay and in the shop, so every time you come in, you will see different items in the showcases.
JS – I also noticed a connection with Pacer Breaks on your FB Page, which was formed in 2017. Is this a breaking area of the card shop or a separate business for you? What led you to that area and how has the success been with breaking?
KN – A few years ago, I made the best decision of my business life, and hired my right-hand man, Brian Rideout. Brian opened my eyes to opportunities on social media sites such as Facebook and Twitter. This is part of our business, but in no way is it one of our focuses. As we continue to expand, we may look at breaking as a bigger piece, but right now it is only a small piece of the pie.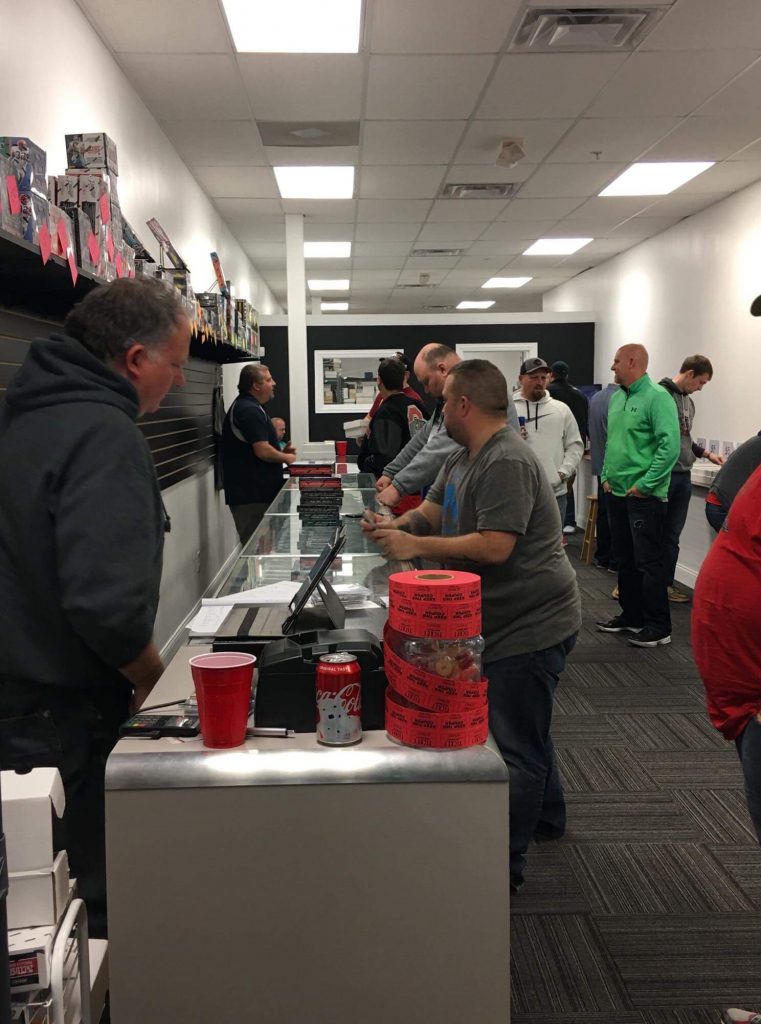 JS – What sport is performing the best for you right now? Do you see much crossover in your customers from sport to sport or are the collectors mainly focused on a particular sport or player?
KN – Football is, and always will be number one in our shop. However, the last couple of years, baseball has continued to climb. Some truly great young talent and top-notch rookie classes have made baseball a much easier sale.
JS – What have been some of the hottest particular products in store over the last 12 months? Why do you think customers have been drawn to them?
KN – Historically, basketball hobby boxes have been a tough move for us. However, the last 12 months we have sold more basketball boxes than anything else. Again, it helps when you have a couple of top draft classes and talent such as Ben Simmons and Jayson Tatum leading the way.
JS – Can you share with us some of the bigger hits you have had at your store? Any big success stories you'd like to share?
KN – We gained a ton of notoriety when the Kris Bryant Bowman Chrome Superfractor was pulled from one of our boxes. The client who pulled the card sent Brian to Texas to get the card graded on site. Beckett did a story on us and we were mentioned on numerous media sites, as well.
JS – How important have you found Facebook, social media or an online presence in general to be for your success? Even when you own a brick and mortar store, most owners have found a way to expand their presence in some way to their benefit. What has been your experience?
KN – As mentioned before, Brian Rideout opened my eyes when he came on board a few years ago. Brian has a very strong background in social media, and has definitely expanded our footprint within the hobby. In our 8 years, one of the biggest secrets to success is the ability to adapt to an ever-changing environment. If your business model is never-changing, you will get left behind.
JS – What have been some of the biggest changes you've seen from a product perspective over the last 40 years? When you are I started collecting, sets were pretty straightforward with 700 player checklists and no frills. What are some things you have seen over time that you never thought we would have in the Hobby?
KN – Just before I went to college, inserts were the new mania. I got away from collecting while in college and in my first few years in the job market. I returned in the late 1990's when refractors and autographs became all the rage. Some of the items that are really creepy, but also interesting, are locks of hair and prehistoric animal fossils.
JS – Your website states that you are always looking to buy collections or cards. Do you have any fun stories from purchases you've made over the years?
KN – We thrive through buying collections. That is the best part of everyday. We love the thrill of the hunt and uncovering cards that may have been hidden away for years. It is just amazing to look back at pictures of items that we have purchased over the years that have walked through our doors. Babe Ruth autographs, multiple Michael Jordan rookies, and plenty of higher end LeBron items.
JS – What do you think is going really well within the Hobby right now? The industry now has to cater to brick and mortar, online, breakers, and other aspects of the hobby. What are the card companies really doing right at the moment?
KN – A rising tide lifts all boats. It seems like the right time to be in the Hobby. Nearly every product that releases sells out due to the number of new collectors. You will see this word a lot in most of your interviews, I would assume…allocation. You will also see this word on the negative side, as well. When supply is less than demand, we all win. Prices stay up…quantities are limited (perceived that way, anyway).
JS – On the contrary, what are some of the things you hear most from your customers that they would like to see done differently? What are some of the biggest headaches for collectors in your area?
KN – The same word as above….allocation. It is very frustrating to be limited on the amount of product we can get. We have been in business nearly 8 years, and we still can't get as much new product as we need. Like I said before, this is a good and a bad thing. Grading has also become a very frustrating part of the hobby. Again, with the current influx of new collectors, grading times are much longer than they used to be. A hobby shop can pay for a 10 day service, only to be told that the true wait time is 30 days. That can be quite frustrating for both us and our customers.
JS – It looks like you plan to attend the National Sports Card Convention in Cleveland the first week of August. How many conventions have you been to? What are your plans for this year?
KN – We have been to the last 5 Nationals and this will be our third setting up. We have doubled our space every year and this year should be our best. This is the Hobby's top event and it has become imperative in our business plan that we attend every year. We will be bringing 8 showcases with top tier cards. We also cater to people who like to dig through boxes with our 100,000 quarter cards and 50,000 $1 dollar cards.
JS – What do you think sets your store apart from online sellers and other shop owners? What makes Neuhart Cards unique?
KN – We try to get to know our clients. We don't want someone to come in once and not come back. We try to be very fair and honest with our customers….especially when buying deals. More than once, we have shared in the profits when we felt our profit margin was too high after a sale. We also are "always buying". We love the art of the deal and negotiating. If you bring us something we can use, we will buy it.
JS – In closing, is there anything going on in store during the next few weeks or months that you want to tell us about? 
KN – We will be at the National in Booth 1816-1820. We also hold quarterly Trade Nights that are quite popular. Please follow us on Twitter, Instagram, and Facebook for the next date and time of our next Trade Night.
Neuhart Cards
Keith Neuhart
820 Sunburt Rd Ste 621
Delaware, OH
(740)417-4877
Hours of Operation
Sunday – 10am:5pm
Monday – Friday – 10am:7pm
Saturday – 1pm:7pm
Facebook – Neuhart Cards
Twitter – @NeuhartCards
Email – neuhartcards@aol.com
Website – www.neuhartcards.com